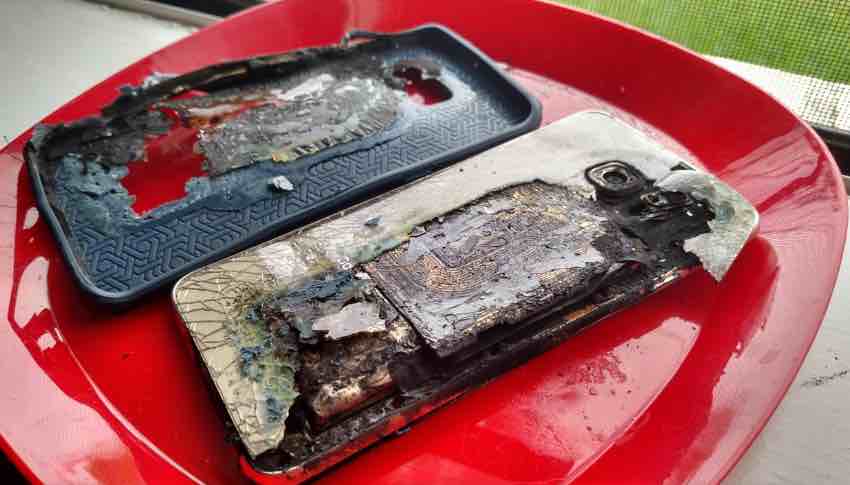 Short Bytes: A Reddit user has posted some scary pictures of a roasted Samsung Galaxy S6 Edge Plus. While the causes of the fire are still unknown, it could've been due to some defect in the battery. Meanwhile, Samsung has promised to replace the phone and damaged property.
Another day and another smartphone on fire! This time the phone's from the house of Samsung — its previous flagship device Samsung Galaxy S6 Edge Plus.
The incident was reported by the Reddit user Turkeylord_2 who posted the images on Imgur and shared them on Reddit. Actually, the phone belonged to his roommate, who told the complete backstory later.
Notably, the user of the phone was not using the charger it came with. Instead, he was using a Samsung charger that came with his Samsung GS3 and the phone was lying next to him on the bed. 

"I woke up to the sound of it sizzling and nasty fumes erupting from it," he wrote.
Since GS3's charger output is 1 A i.e. much lower than needed for Galaxy S6+, it doesn't look like charger's fault.
While I'm not an expert of smartphone fires and its caused, this problem could've happened due to some faulty battery or exposure to water or dust. Such types of incidents don't happen very often, but are certainly very scary when they happen.
Meanwhile, owner of the phone has contacted Samsung and the company has promised to replace the phone and damaged property.
Also read: USB Killer Version 2.0 Burns and Destroys Your Computer