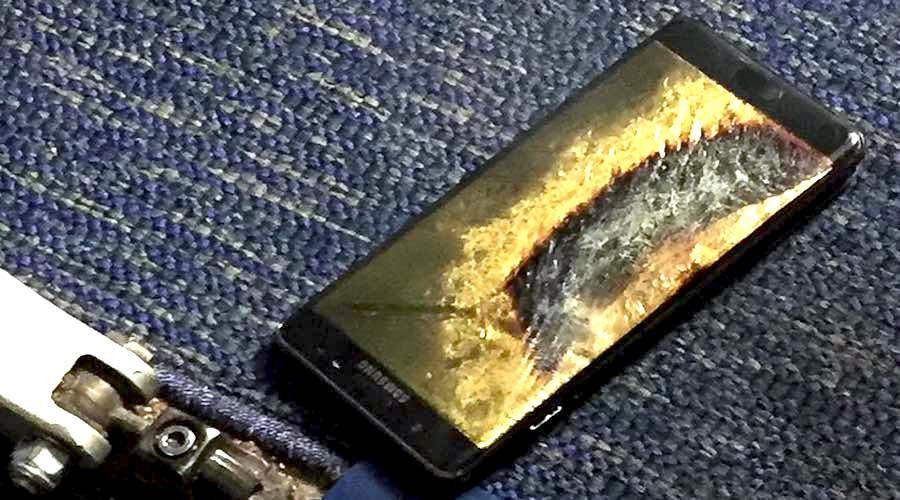 Short Bytes: After an explosion spree, Samsung recalled its Galaxy Note 7 devices. Unfortunately, the replacement phones are also in question. In a recent incident, a replacement Samsung Galaxy Note 7 caught fire on a plane. While Samsung has refused to share some concrete information, the owner of the device has already bought a new iPhone 7.
I
t looks like Samsung desperately needs to get its shit together. Wondering why? While Google has released its
Pixel smartphone
 and clinched the 'best Android smartphone title', Samsung can't stop its phones from exploding.
According to a report from The Verge, a Southwest Airlines flight was grounded and evacuated when a Galaxy Note 7 started smoking in a passenger's pocket. This incident happened on October 5.
The Airlines spokesperson told that all the passengers and crew exited the plane via main cabin door. Fortunately, nobody was injured in the incident.
It was a replacement Galaxy Note 7
Surprisingly, the smartphone in question is a replacement Galaxy Note 7, which was deemed safe by Samsung. Brian Green, the phone's owner, confirmed that he had picked the new phone at an AT&T store on September 21. Green also claims that he has only used a wireless charger.
Confirming his claim, there's a black square symbol in the box, which indicates a replacement Note 7 model. On running phone's IMEI on Samsung's website, it showed the following message: "Great News!" message saying that Green's Galaxy Note 7 is not affected by the recall."

Describing the incident, Green said that he had powered down the phone and put it in his pocket before it started burning. Soon he dropped it on the floor and noticed a "thick grey-green angry smoke". The phone had burned through the floor carpet and scorched it.
In a statement, Samsung has said that they can't confirm the incident until they retrieve the device.
Meanwhile, Green has already replaced his burnt Note 7 with an iPhone 7.
Have something to add? Tell us in the comments section below.
Also Read: iPhone 7 Explodes — Apple Copies Samsung's "Turn-Into-A-Bomb" Feature