Runtopia is a company that lets you earn "money points" for running. The points can then be spent on a variety of coupon-like deals, or even gift cards. It could provide that extra bit of motivation you need to get into better shape. The Runtopia S1 can help earn those points, even without your phone.
Runtopia has been around for a while but the S1 was launched only a few weeks ago. The Runtopia S1 is a device targeted not at fitness enthusiasts, but runners specifically, it seems. The device has options for two workouts — an indoor run, or an outdoor run. That isn't to say that it's bad, only that the S1 is targeting a very specific audience.
The S1 is a bit bulky in size, has a large bezel, and could almost pass as hollow. Despite this, due to the monochromatic LCD screen, it doesn't feel as un-premium as a full-blown smartwatch would. The LCD is rather suitable, given the conditions that the device is meant to be used in. The display is always clearly visible, even in direct sunlight, and there is also a backlight.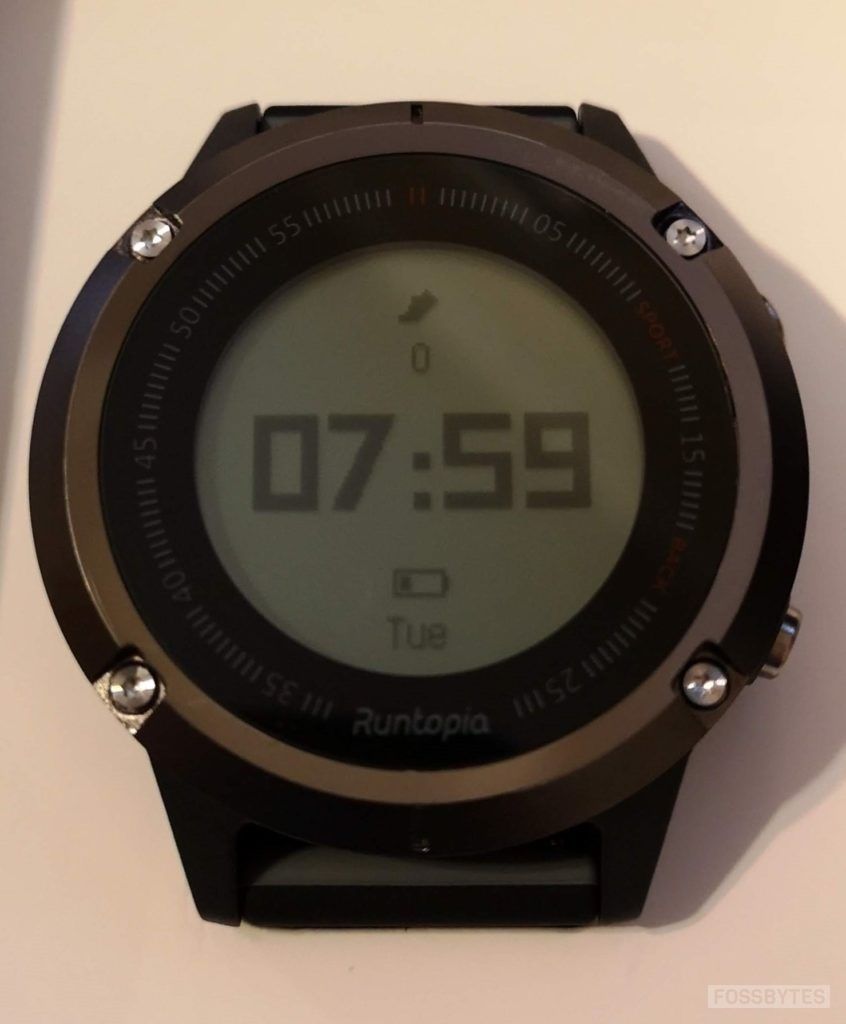 I found the device interface to be interesting. It's rather odd operating a device with a monochromatic display using a touchscreen. It's a bit of a retrofuturistic feeling. I liked it. It struck some sort of nerdstalgia.
The Runtopia S1 addresses its niche audience of runners by providing only the necessities for the hobby. There is a pedometer, GPS for run tracking, a heart-rate sensor, a stopwatch, and a compass (in addition to the typical watch features). This general lack of features might look like a reason for the tech aficionados to refrain from this device, and they should, it's not for them.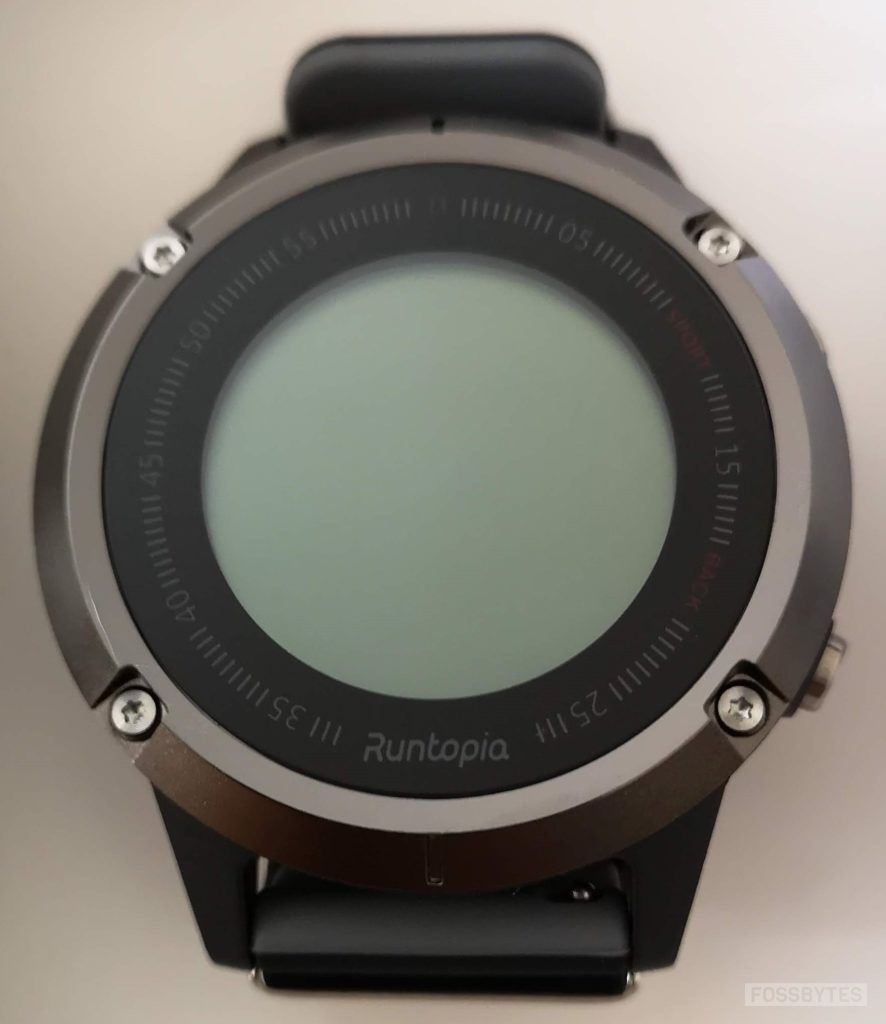 The battery can last up to twenty-five days on a single charge without all the bells and whistles of the fully-qualified smart devices, provided you don't have the GPS enabled the whole time. With that said, the device does allow for limited notifications from a Bluetooth-paired smartphone, so you can still get some message previews while out and about.
While I don't run enough to make use of a product in it, and the value proposition doesn't come out in black for me, I can definitely see the value that it has for the avid runner.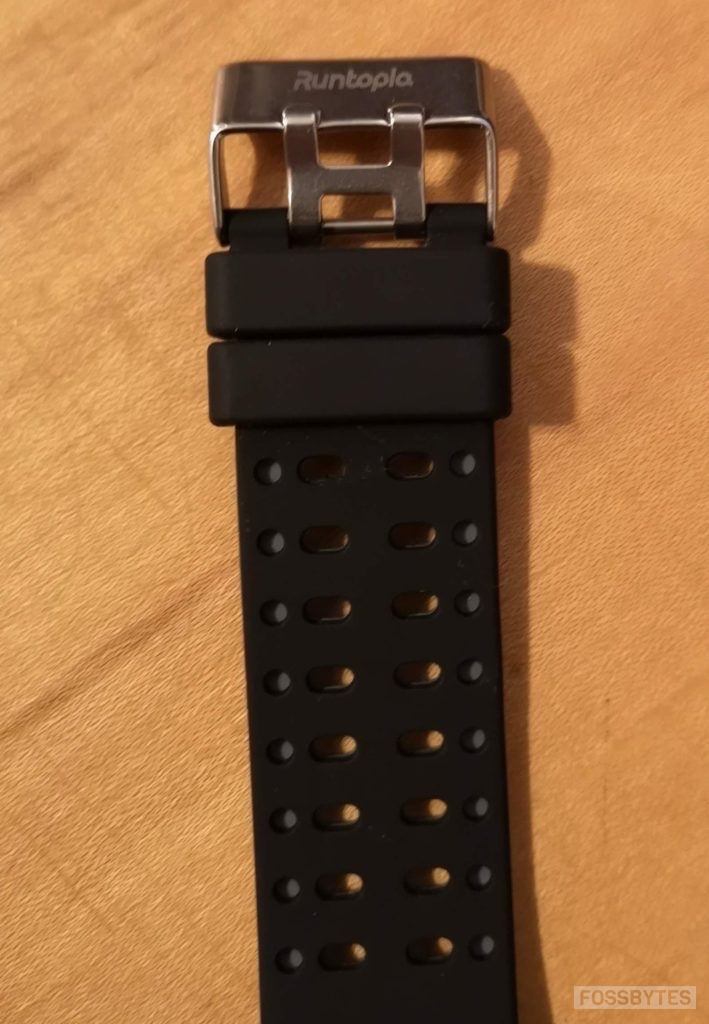 So, what are the drawbacks of this device? The general construction, while aesthetically pleasing, doesn't give the impression of any particular quality. The design is premium looking, but the plastic back and excessively wide wristband combined with the large clasp detract from the overall appeal. The wristband and clasp look like they can be swapped out for any 22mm band, so this should be a deal-breaker.
So, what we're left with is neither a smart device or a general-purpose fitness device, it's something somewhere in between, but also distinct from either. The Runtopia S1 is a device that should appeal to the dedicated runner given pruned features, excellent battery life, and points benefits provided by Runtopia, especially at the very fair price-point. A price point that's been made even better with the ongoing sales on Amazon placing the S1 at $69 right now (ending next week).