If a recent rumor is believed, we might see a Jurassic Park game shortly. The leak and rumor, whatever one might call it, was first posted on anonymous sharing platform 4chan. Yes, 4chan, the not-so-reliable source. However, once in a blue moon, rumors or leaks posted on the platform do come alive. On the brighter side, hopefully, we'll get to see a Jurassic Park FPS horror game sometime soon.
The Jurassic Park franchise saw its dawn with a novel by Michael Chrichton. Meanwhile, it wasn't until Steven Spielberg made a movie that the Jurassic Park franchise saw its peak in popularity. Additionally, the Jurassic Park franchise has seen multiple movies, TV shows, and video games over the years.
What would a Jurassic Park horror FPS game be like?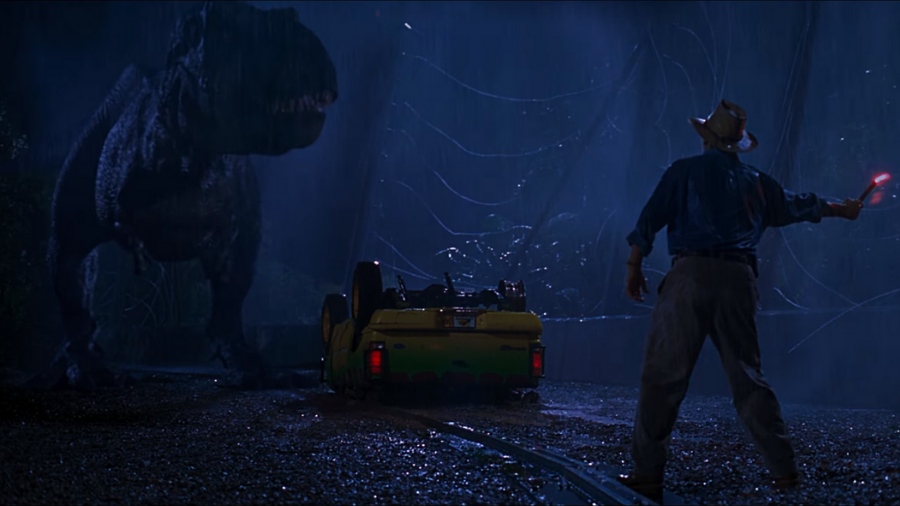 The news of the new Jurassic Park game under development is undoubtedly tempting. However, this rumor is even more appealing because the Jurassic Park game is rumored to be an FPS horror game, which would be a first for the franchise.
Interestingly, to bring this kind of a game to life, the studio behind it must take notes from previous successful FPS horror games like Condemned, S.T.A.L.K.E.R. In addition, a horror FPS Jurassic Park game should limit the action aspect of the game to heighten the overall horror style of the game.
However, none of this should potentially harm the true essence of the Jurassic Park franchise. To stay true to the original franchise, the Jurassic Park horror FPS game should have rifles and other miniguns scarcely laying around the Jurassic Park. Moreover, confrontations with dinosaurs should be largely dependent on stealth mechanics. This should include escapes while creating distractions using the game's environment.
Now, coming back to the rumor, the Jurassic Park horror FPS game might launch for the next-generation PS5 and Xbox Series X consoles. Furthermore, if the rumor is true, players would find themselves in the shoes of a hired gun trying to survive and evade the Velociraptors and T-Rex.
Don't get your hopes high!
Ultimately, at the moment, it seems highly unlikely that the game will see the light of day, as there's no concrete information about the game being under development. We suggest you take this information with a grain of salt and sit tight. We'll make sure to post a story in case any information about the Jurassic Park horror FPS game pops up.