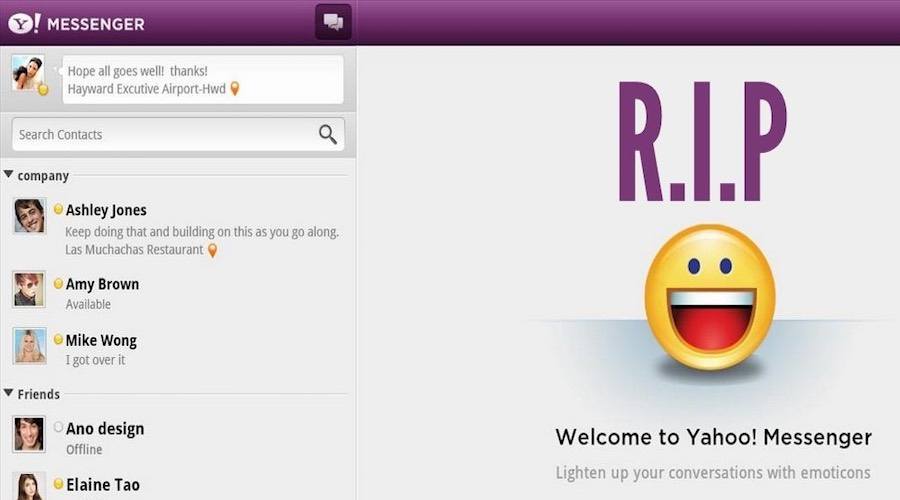 Short Bytes: Yahoo has announced that it is shutting its legacy Yahoo Messenger on August 5th. After this date, the users will need to download the previous conversations to access them. With this change, Yahoo wants to continue focusing on its 7 core products, including Mail, Search, and Tumblr.
D
o you remember your early days on the internet, much before services like WhatsApp and Facebook Messenger became a rage, when you spent half-an-hour to set up your first chat room on Yahoo Messenger?
Yahoo has announced that it's going to shut down its old Messenger application on August 5th. Now, this messaging service with a purple interface would soon become a history.
However, in last December, when Yahoo unveiled the new Yahoo Messenger, it was expected that the new and old services will be merged. But, Yahoo has decided to shut down the old service completely.
In an announcement post, Yahoo told the world that users are expected to make the transition to the new Yahoo Messenger before August 5.
It should be noted that the old Yahoo Messenger is still popular among the users in Asia-Pacific region. Apparently, the service is also a popular phenomenon among the oil traders who used the app to talk about their bids and prices.
This change will affect the desktop clients of the legacy Messenger on Windows, Mac, iOS, and Android. Yahoo has mentioned that the users will need to download all the previous conversations after August 5th.
With this change, Yahoo aims to focus on its 7 core products — Mail, Search, Tumblr, News, Sports, Finance and Lifestyles.
If you are familiar with the new Yahoo Messenger, you might be knowing that it has been made an integral part of Yahoo Mail. However, the users can't download the app on the desktop.
Are you going to miss old Yahoo Messenger? Don't forget to drop your views in the comments section below.