Raphael Kim and Stefan Poslad from the Queen Mary University of London have pointed out that bacteria are similar to the internet of things (IoT) devices.
This is owing to the fact that they have an immaculate means of communication and in-built engines and sensors, processing architecture and effective information storage.
After pointing out the similarities between the two, they want to create a biological version of the internet using bacteria.
Escherichia Coli is a specific type of bacteria (amongst other types) that store information in ring-shaped structures similar to DNA. These structures are called plasmids and bacteria transfer these plasmids from one organism to another via a process called conjugation. The reason why scientists prefer using E.Coli is the fact that they are easy to program through genetic engineering.
Previously, Federico Tavella at the University of Padua in Italy along with his colleagues built a circuit in which a "Hello World" message was transmitted from a strain of immotile (not capable of motion) E.coli to motile strain.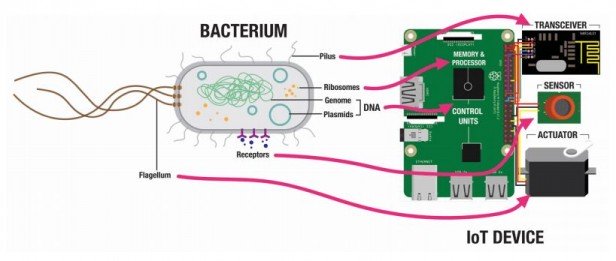 This proof-of-principle experiment concluded that such information transfer in the world of bacteria can be used to create a complex network, therefore, a biological version of the internet.
One of the hurdles faced by scientists in creating a network using bacteria is the lack of a mechanism similar to GPS. This makes it difficult for researchers to track them and the information sent by them.
According to Kim and Poslad, "Such challenges offer a rich area for discussion on the wider implication of bacteria driven Internet of Things systems."
While the project is far away from fruition, the idea and work being done to achieve is commendable. Nevertheless, a network created entirely by bacteria would be an interesting innovation in the world of science and tech, if at all possible.