Shasheen Ediriweera, a developer of Rescuezilla, has released a new point version Rescuezilla 1.0.6. It comes with major new features and enhancements such as EFI support, a new 64-bit ISO, and more.
Rescuezilla is a Ubuntu-based Linux distro, and a fork of the old and abandoned 'Redo Backup & Restore' application. It is a complete system recovery solution that you can use for several purposes, such as full system backup, bare metal recovery, partition editing, undeleting files, and web browsing.
Rescuezilla 1.0.6: What's New?
With v1.0.6, Rescuezilla is now available in a 64-bit version based on the latest Ubuntu 20.04 LTS. Since Ubuntu has already dropped all support for the 32-bit architecture, Rescuezilla 32-bit remains based on the previous long-term Ubuntu 18.04 release.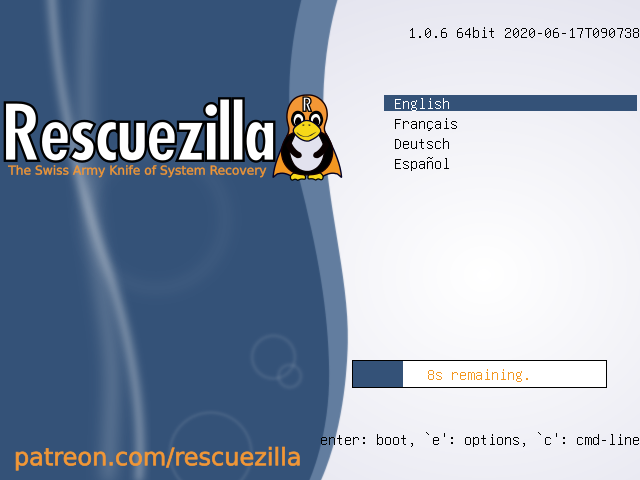 Rescuezilla 1.0.6 has also added support for booting on EFI-only machines along with Secure Boot enabled for the 64-bit version. Now, if your system does not support legacy boot, you can use a 64-bit version and restore your data from any Windows, macOS, or Linux machine.
Among the applications, v1.0.6 has introduced a lightweight text editor called Mousepad in place of the unsupported Leafpad. Moreover, it now comes with Firefox as the default web browser replacing Chromium to avoid Ubuntu 20.04 Snap-based packaging.
With the addition of new GRUB packages in v1.0.6, you can now use Rescuezilla for GRUB repairs. Additionally, v1.0.6 switches to the most popular GRUB bootloader replacing ISOLINUX.
To give you a glance at other key improvements and bug fixes, here's what Rescuezilla 1.0.6 has included:
Fixed issue preventing backup/restore of partitions smaller than typically ~40 megabytes
Removed false menu items such as "Windows Boot Manager"
Restrictions removed to enter special characters into file names and paths
Added a boot menu item to enter "BIOS" firmware setup (EFI-boot only)
Replaced Redo Backup logo with new Rescuezilla logo
Switched the ISO naming from redobackup-livecd to rescuezilla-1.0.6
Minimized divergence of Rescuezilla 32-bit and 64-bit package environment
Removed 'maximus' auto-maximize package (as behavior replaced by OpenBox config in v1.0.5)
If you want to try Rescuezilla 1.0.6, download the ISO image from here, create bootable USB media, and reboot to use without installing it.