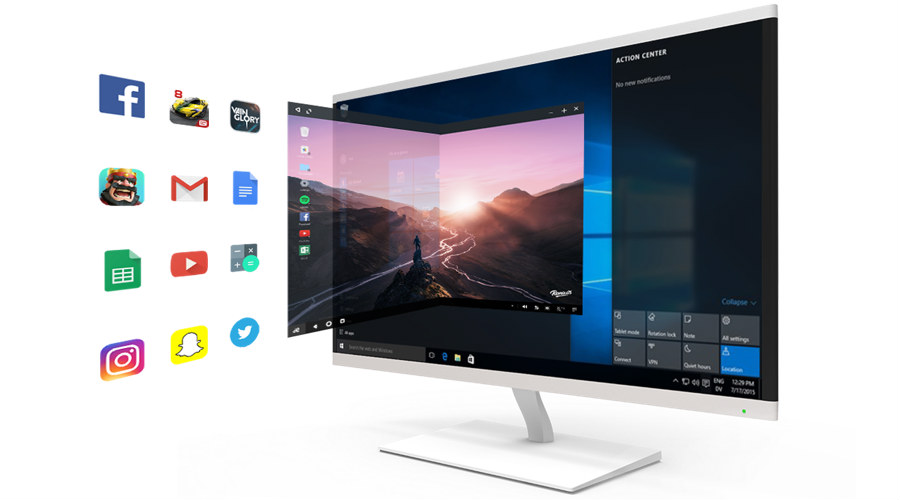 Short Bytes: The popular Android-based Remix OS for PC is now available as an emulator application for Microsoft Windows OS. Known as Remix OS Player, the free application can be used to download and run Android apps and games on your computer without installing a separate OS.
Y
ou might be familiar with the
Remix OS
, an Android-based operating system for ARM and x86 platform. It lets you run Android apps and games on your computer. In fact, you have the complete Android with the advantage of a mouse, keyboard, a bigger screen, and powerful processing.
Jide Technology, the maker of the Remix OS for PC, has transformed the popular light-weight OS to an emulator. Now, the Remix OS Player can be installed like a software on an existing operating system. This gives you the advantage of having Android with other powerful operating system like Windows and saves you the effort of dual-booting your machine.
Remix OS Player is not something that has been done for the first time. We already have names like BlueStacks. But the thing which sets it apart is that it's based on the Android Marshmallow. Many other Android emulators are based on older Android versions like Lollipop and even Kitkat.
Using Android on your computer also has other perks. You have the freedom of using multiple apps at a single time using the windows in Remix OS Player. So, you can multitask and play more than one game at a single time. Also, just like the Remix OS for PC, the Remix OS Player is free of cost.
System Requirments for Remix OS Player
Processor: Intel Core i5/i7 (Minimum: Intel Core i3)
RAM: 4GB or higher
Operating System: Windows 7 and later.
Storage: 16GB (Minimum: 8GB)
Currently, the Remix OS Player is not compatible with AMD processors and you also need to enable hardware virtualization in your BIOS settings.
You can visit Jide's website for the download links. Try the Remix OS Player on your machine and let us know about your experience in the comments below.
Also Read: Run The IBM PC XT And Windows 1.01 In Your Web Browser