Reliance Jio, one of India's biggest telecom networks, has announced mixed reality glasses called "Jio Glass" at its 43rd annual conference.
The mixed reality headset targets teachers and students, and aims to revolutionize classroom teaching in the country. Reliance claims the product will enable 3D virtual rooms and holographic classes in real-time through the Jio Mixed reality cloud.
The Jio Glass weighs just 75 grams and will come with a "personalized audio system." Apart from that, it features a "high-resolution display" and comes with a cable that will connect to the user's device. The Mixed Reality headset supports more than 25 apps; however, the number will get bigger over time. Jio claims that it can also be used for conducting virtual meetings.
At the event, Reliance President Kiran Thomas gave a demo of how Jio Glass will have virtual meetings. Thomas called Akash Ambani and Isha Ambani by saying, "Hey Jio, call Akash and Isha." This indicates that the headset will come with real-time voice command recognition. Later on, we see a 3D avatar of Akash while Isha joins in through the standard video call and 3D interactive images of notes and documents.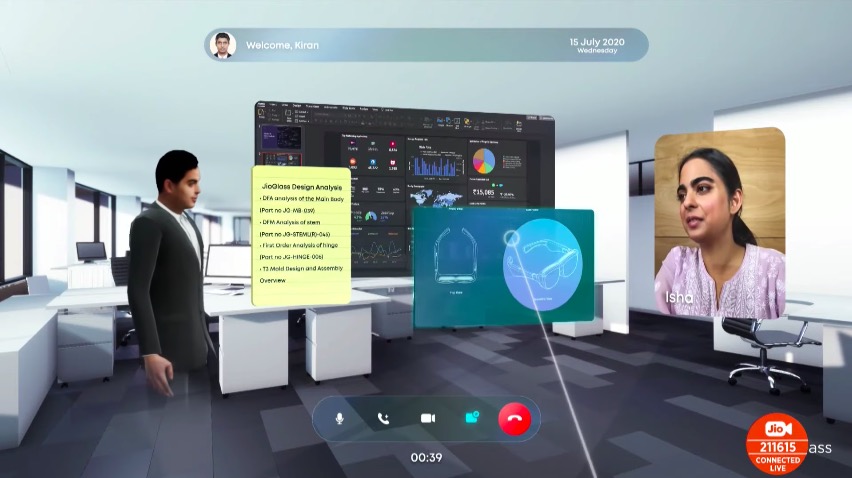 The company has refrained from revealing the price of Jio Glass and its availability. But we will likely hear more about it in the coming days.
Apart from Jio Glass, the Reliance event was tightly packed with several announcements such as Google-Jio's new Android OS for budget smartphones, a "Made in India 5G" network developed from scratch, Jio TV Plus that brings all major OTT platforms under one roof and a lot more.