Short Bytes: Cloud storage provider Backblaze has released their hard drive failure stats for Q2 2017. These Most Reliable Hard Drive stats act as a pretty good indicator of the hard drive reliability. In the popular 3TB category, HGST has turned out to be the winner. A similar trend has also been observed in the 4TB category. As per the latest Q3 2017 data, HGST hard drives have continued to be the most reliable hard drive brand of 2017.
N
o matter how fast-paced is the innovation in the data storage field, our good-old hard drives aren't going away anytime soon. This also raises an important question related to the factors influencing the reliability and performance of a hard drive.
Backblaze is a reputed name when it comes to online backups. They keep saving the daily stats from the drives in their data centers. Twice a year, they share this data with the users to help them make an informed decision while investing their money. The hard drive brands in question are Seagate, Toshiba, HGST, and WDC.
The latest Q2 2017 data is based on a total of 83,151 drives, which is 635 more as compared to Q1 2017 report. This huge number was distributed among 17 different 3 ½" drive of 3TB to 8TB capacity.
As you can see in the table below, there's a Q2Q column at the end, which stands for last quarter to this quarter. This will give you a basic idea of the reliability of a brand over the time and help you come to a conclusion while looking for the most reliable hard drive of 2017.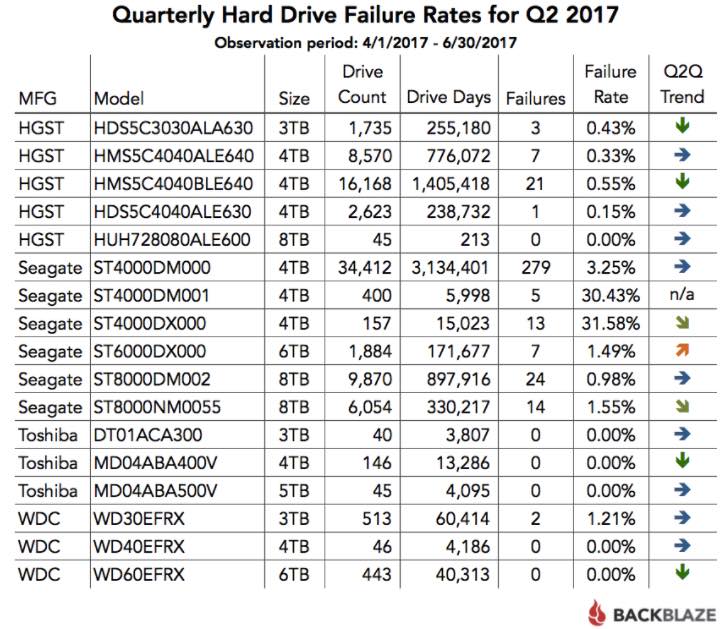 Hard Drive Failure Rates: Most Reliable Hard Drive
Backblaze has also shared the lifetime hard drive failure rates for the current drives. This data is from the period starting from April 2013 and ending June 30, 2017.
As you can see in the table below, if we focus on the 3TB category, HGST, with 0.82% failure rate, performs way better than its competitors Toshiba and WDC. Probably, HGST is the most preferred brand. The same trend is observed in the 4TB models.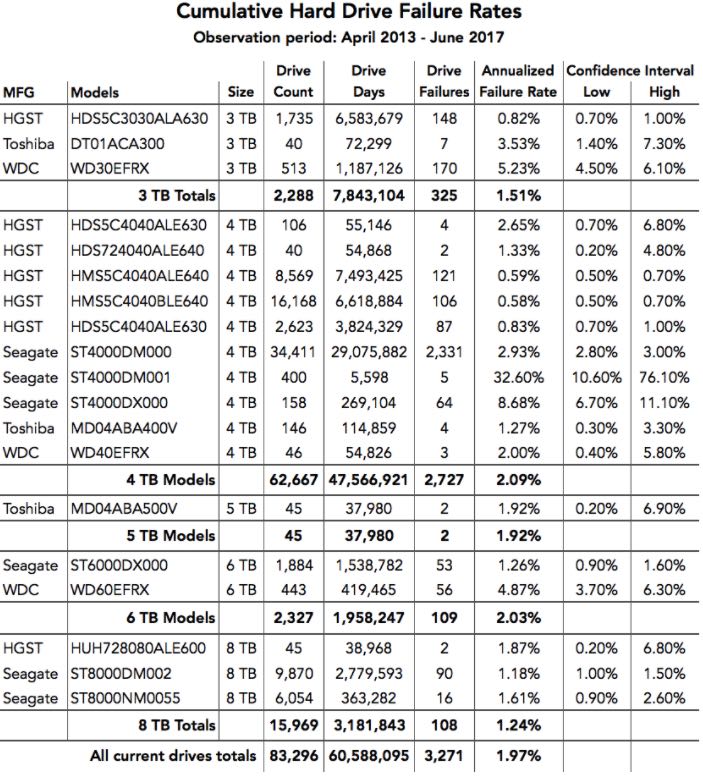 If we compare the hard drive failure rate by size, then 8TB model turns out to be the most reliable, followed by the 3TB models. The 4TB, 5TB, and 6TB models perform with comparable reliability.
You can read the complete most reliable hard drive 2017 report by Backblaze here on their blog.