Today, most of our important interactions with the world, whether a work conference or a school seminar, happen on the web. Services such as Google Meet make it possible for us to communicate from the comfort of our homes in just a few clicks. We understand that some interactions have big significance and that you might want to save them for later. So, in this article, we'll tell you how to record a meeting on Google Meet.
Whether it be an important class lecture or a mock interview for training purposes, there are many scenarios where recording a Meet session seems reasonable. Saving such video conferences allows us to revisit it at will, analyze it better, and keep it for future reference.
It's important to note that only specific Google Workspace editions can use the native recording feature. Other Meet users would have to rely on a third-party extension to record video meetings. This guide covers both ways.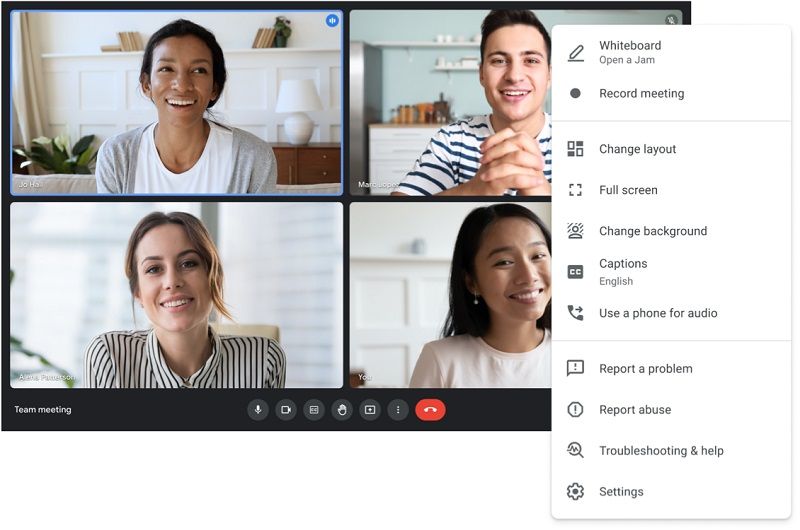 How To Record A Google Meet Session?
First of all, make sure that you have one of the following Google Workspace editions: Essentials, Business Standard, Business Plus, Enterprise Essentials, Enterprise Standard, Enterprise Plus, Education Standard (staff/student license), Education Fundamentals (staff/student license), Education Plus (staff/student license), Teaching and Learning Upgrade (Teaching and Learning Upgrade license), and Workspace Individual Subscriber.
Second, make sure that the admin of Google Workspace has turned on the recording feature for your account. Remember that you can only record using Meet's built-in feature if you are the organizer or part of the same organization as him. By the way, this feature is only available for desktop/laptop users.
Finally, before you go ahead with recording a session, note that besides the audio and video of active participants, screen presentations and the Meet chat log will also be saved.
Start recording a Google Meeting
While signing in to Google, create a new meeting or join an existing one.
Click on Activities in the bottom-right corner.
Select "Recording," and then click on "Start recording."
Choose "Start" in the new window that appears and wait for the recording to begin. (Note: Meeting participants get a notification whenever a recording starts or stops.)
To stop recording, click on Activities again.
Go to "Recording" and select "Stop recording."
In the window that pops up, choose "Stop recording." (Note: Recording stops automatically when all participants leave the session. The maximum recording duration on Meet is eight hours.)
As the organizer, you can access the recordings from the "Meet Recordings" folder in Google Drive. As a member, you will receive your recording as a link in the mail.
How To Record A Google Meet Meeting Using An Extension?
To record a Meet conference without a Google Workspace account, you can download and use the "Video record & timestamp notes — Google Meet" extension. Here are the steps you need to follow:
Log in to Google and create or join a Meet session.
Click on the "Record & Highlight" button at the bottom-left of the screen. (A new tab will open asking you to register/log in with your Google account to use the extension, make sure you do that.)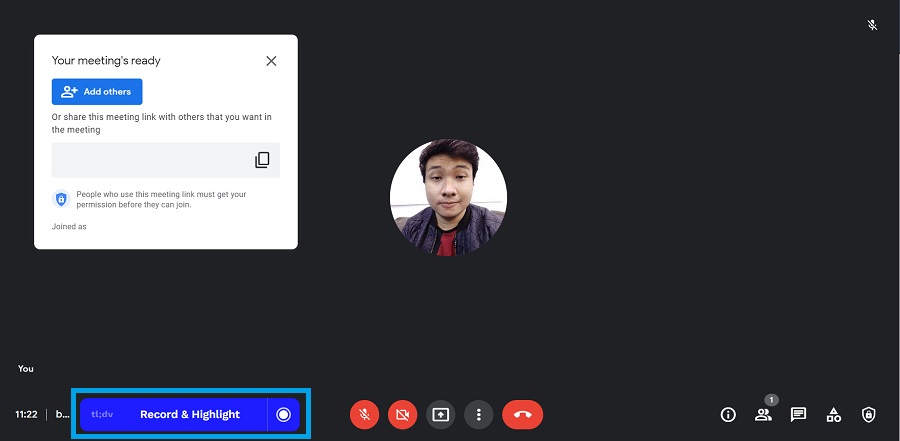 3. Click on "Admit" when the "tl;dv Meeting Recorder" asks you to join.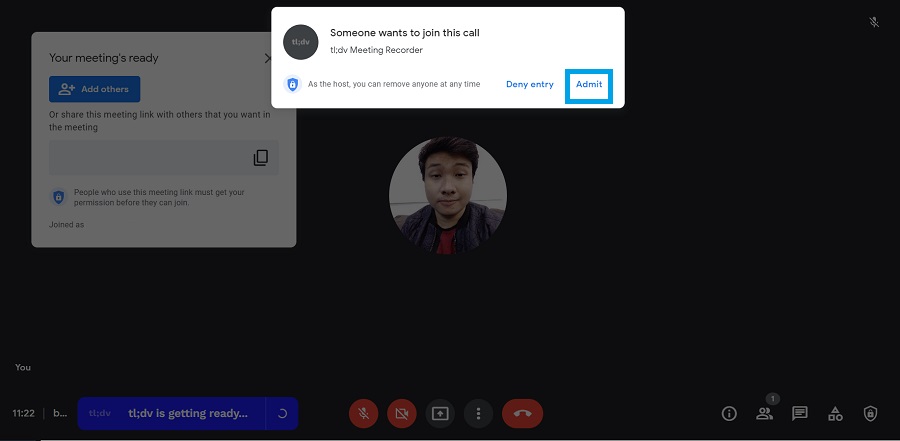 4. Your recording is now underway. In the "tl;dv" widget, you may enter notes for important meeting parts to view as timestamps later. You may also change with whom to share the recording.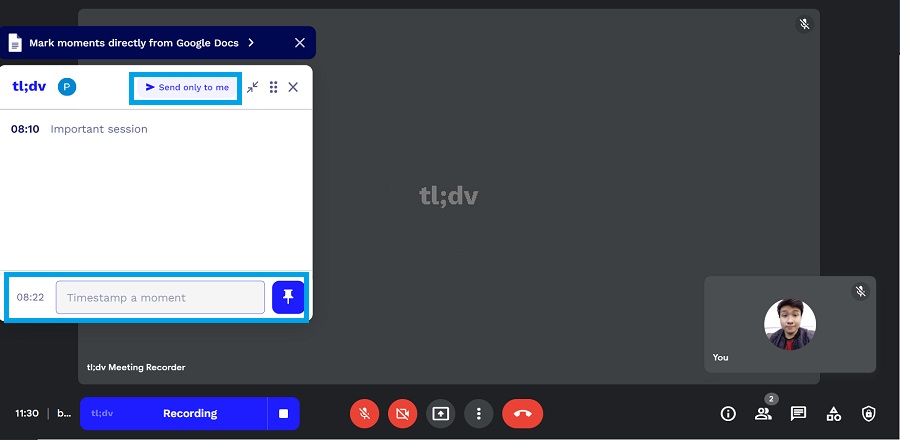 5. Once done, click on the stop button to stop recording. Then, click on "Stop and save" in the widget to confirm.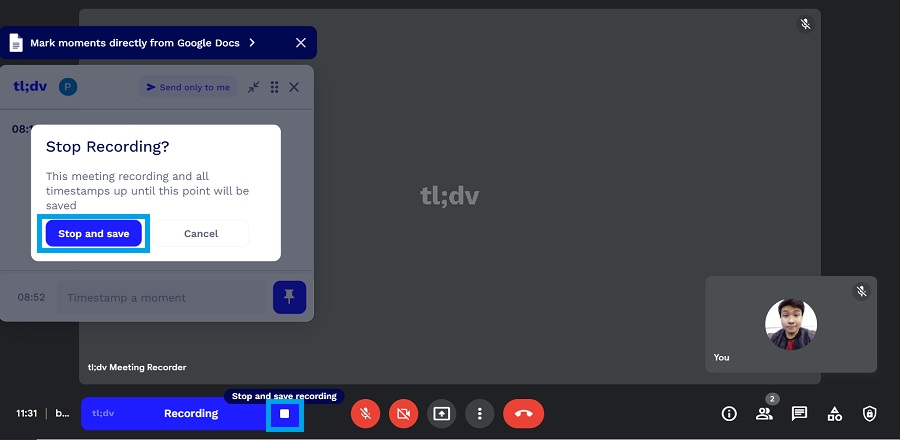 6. A pop-up will soon appear; click on the "Open recording" button to view the saved video. You can access these recordings at any time by clicking on the extension's icon and selecting "View Meeting Recordings." (You will also receive the recording in your email shortly after it's over.)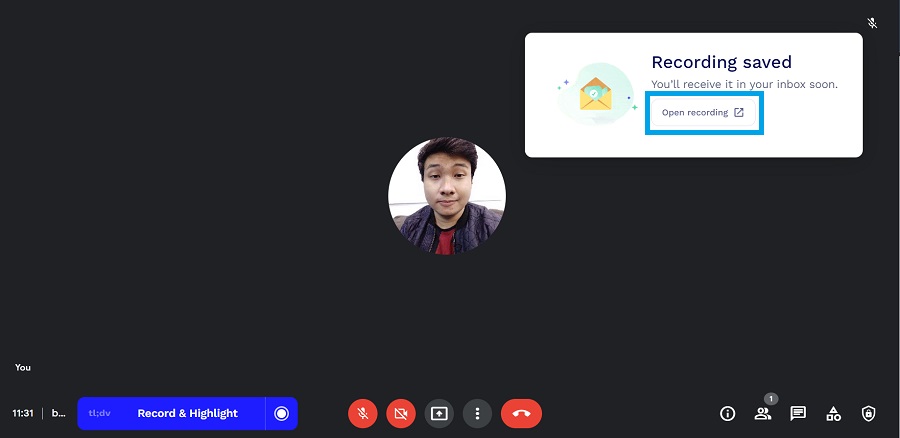 Besides these dedicated methods to record Google Meet calls, you can also use screen recording software for this purpose. Take a look at the best screen recording software for Windows here.
FAQs
1. Can you record a meeting on Google Meet?
Yes, you can record a Meet conference using the built-in feature (Google Workspace edition required) or third-party software. You can record active audio/video, presented content, and chat logs.
2. Where do Google Meet recordings go?
If you use Google Meet's native recording feature, you'll find the recordings in the "Meet Recordings" folder in your Google Drive.
3. Will others know if I record them in Google Meet?
Yes, whether you use the built-in recording feature or the browser extension shown in this article, others will be able to figure out whenever a recording is in progress.