The Realme GT Neo 3T is another wonderful addition to the mid-range smartphone segment. The GT Neo series has always been full of performance-focused smartphones, and this one is not so different. So we reviewed the Realme GT Neo 3T for two weeks, and here's what we thought.
For a few years, the GT Neo series has been one of the most popular models in the mid-range segment. This year wouldn't be any different as the Realme GT Neo 3T is quite a balanced smartphone with a flagship chipset. It features Snapdragon 870 chipset,120Hz refresh rate, 5000mAh battery, and 80W fast charging.
With features and a price range like this, it is the most affordable mid-range smartphone with Snapdragon 870. But how does the smartphone fare in real-world scenarios? Although it is not much different from its predecessor, it is still the best value-for-money smartphone in its price range.
Realme GT Neo 3T Specs
Specifications
Realme GT Neo 3T
Chipset
Snapdragon 870 5G
Display
6.62″ 120Hz E4 AMOLED
1300 nits (peak) with HDR10+
Resolution
2400 x 1080
Battery
5000mAh
80W charging
Memory
128GB 6GB RAM, 128GB 8GB RAM, 256GB 8GB RAM
Back Camera
64MP + 8MP + 2MP Triple Camera
Front Camera
16MP
Colors
Shade Black, Drifting White, Dash Yellow
Price
₹30,000 / $559/ £369/ €430 (starting price)
Operating System
Realme UI 3.0 (Android 12)
Realme GT Neo 3T Price
The starting price of Realme GT Neo 3T is ₹30,000, which comes with 6GB RAM and 128GB internal storage. Then there's the 8GB RAM variant with 128GB memory that goes for ₹30,000 / £369/ €430. In the US, this smartphone variant is available on Amazon for $559.
There is also the high-end variant with 8GB RAM and 256GB internal storage that goes for ₹34,000. Each variant comes in three colors: Dash Yellow, Drifting While, and Shadow Black. Users can easily grab the smartphone for less than ₹25,000 by buying it on a sale or using the numerous offers on Amazon or Flipkart.
Right out of the box, the smartphone comes with a protective case and an 80W charger, which is really nice to see in this day and age.
Design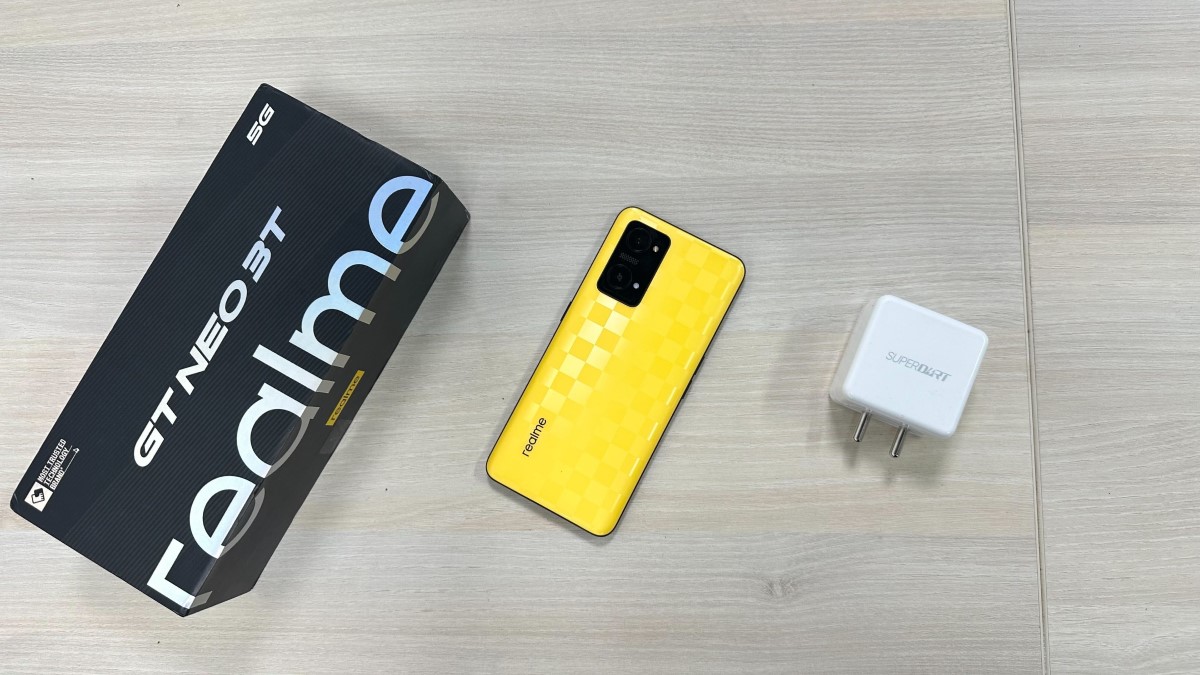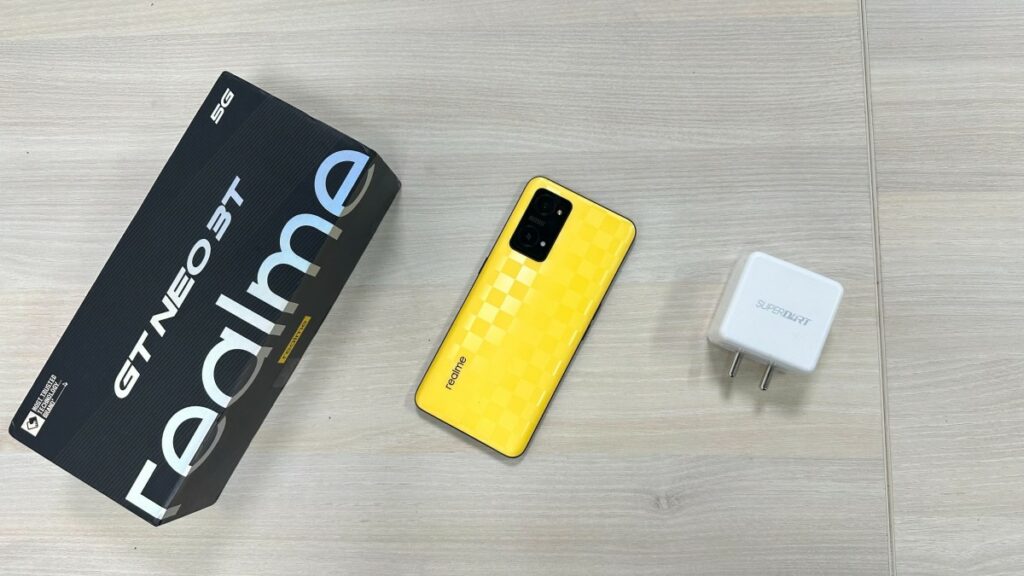 There's not much to say about the design of the Realme GT Neo 3T. It is what one would expect from a generic Realme smartphone. However, there is a unique race flag design on the back of the smartphone (only for the white and yellow variants).
The back is made from polycarbonate material which is resistant to fingerprints and gives the smartphone a nice feel. The Realme GT Neo 3T is definitely on the heavier side due to its massive screen size, so it might be better to use it without a cover.
Someone who hasn't used a Realme smartphone will also quickly realize the positioning of the volume and power buttons are a bit different. Compared to other smartphones, the buttons are positioned more toward the center for easier access. It is a useful addition, but it may take some time to get used to it.
Display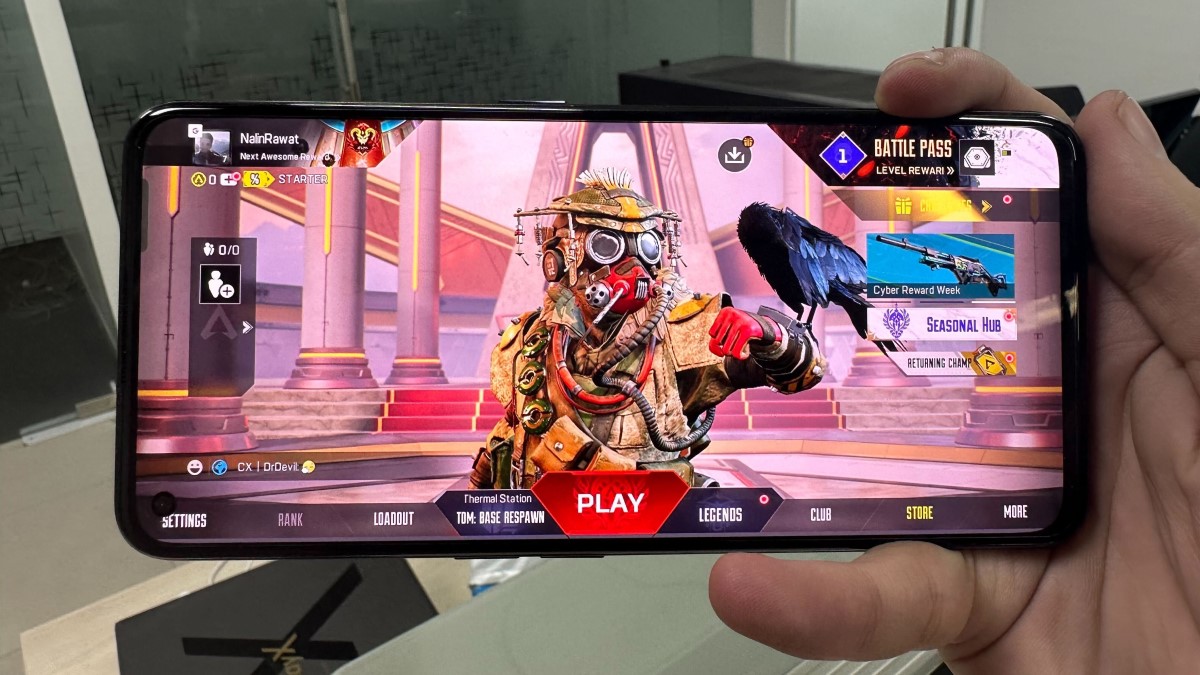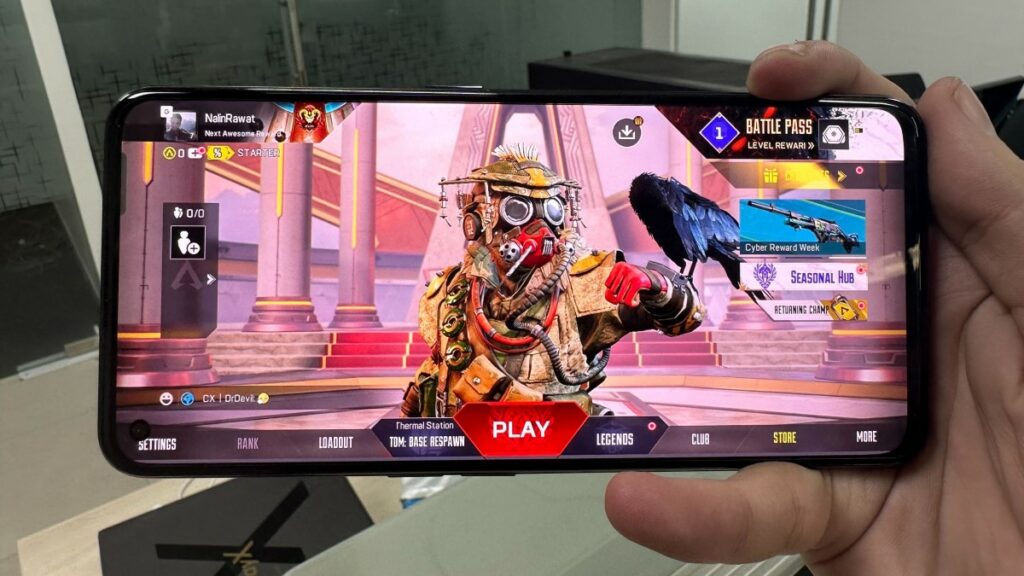 The Realme GT Neo 3T features a 6.62-inch FHD+ E4 AMOLED display. With a screen like this, it is a great experience to watch content on Youtube, Netflix, Amazon Prime, etc. Fortunately, the camera hole is on the top-left side of the screen, making it barely visible when watching videos or playing games.
It also has a 120Hz refresh rate with a touch sampling rate of 360Hz. Due to this feature, gaming is slightly better at a higher framerate, and apps feel smooth to scroll through. The smartphone has a peak brightness of 1300 nits, so it is easy to see the screen clearly, even in broad daylight.
Users can even change the UI from dark to light if they are using it under direct sunlight. Due to HDR10+ support, the colors pop out more clearly than other smartphones in this range. There are also features like a 60Hz mode, image sharpener, and video color enhancer.
Realme GT Neo 3T Performance Review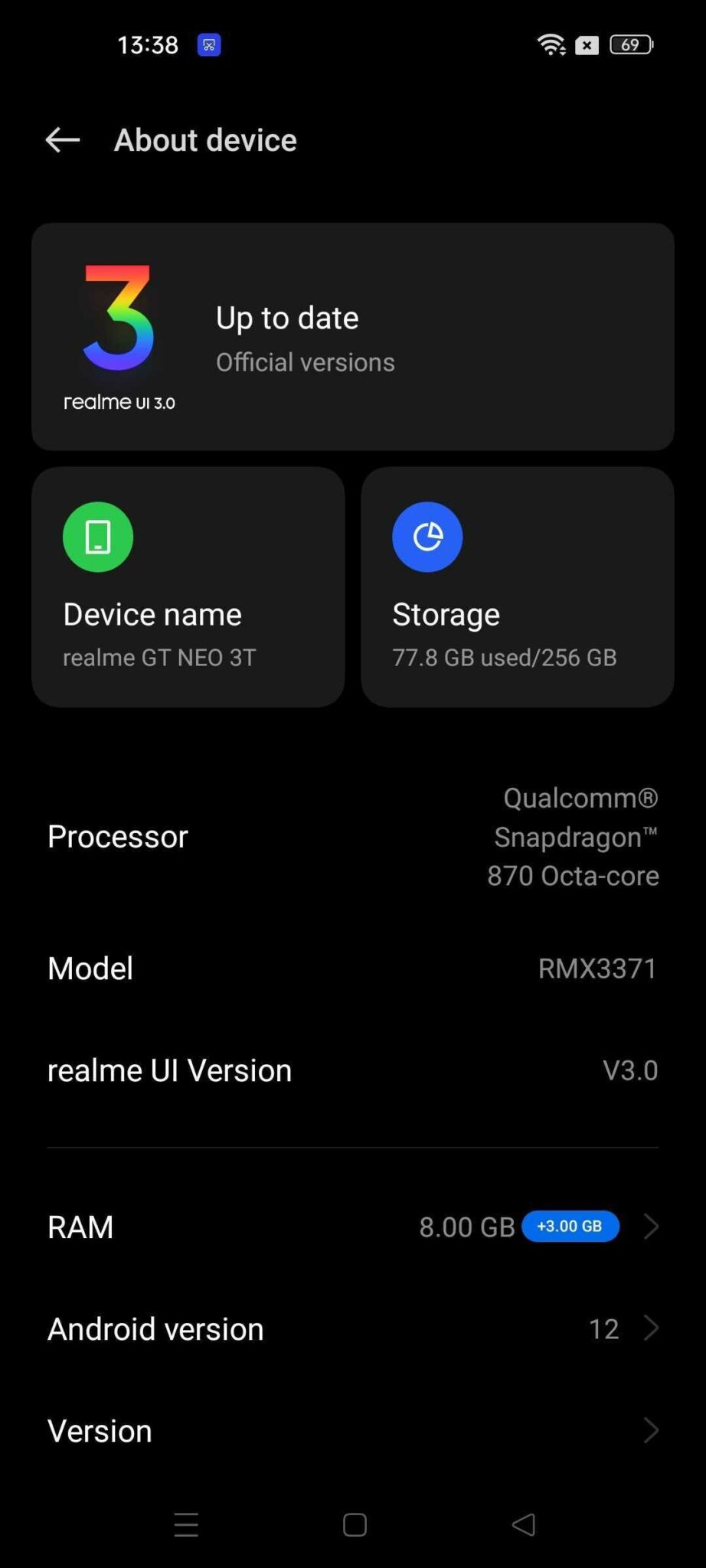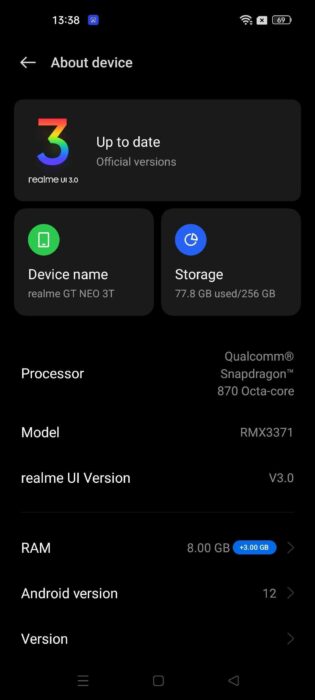 Now we come to the most highlighted feature of the entire GT series, i.e., performance. The Realme GT Neo 3T features the Qualcomm Snapdragon 870 processor, which is excellent for a mid-range smartphone. Regardless of the RAM variant, users also get 5GB of virtual RAM.
Gamers can easily play even the most power-hungry games with high graphical fidelity with no issues. The Snapdragon 870 chipset is a power-efficient chipset that can deliver a smooth gaming experience. There's even a GT mode that boosts CPU and GPU performance if you need it.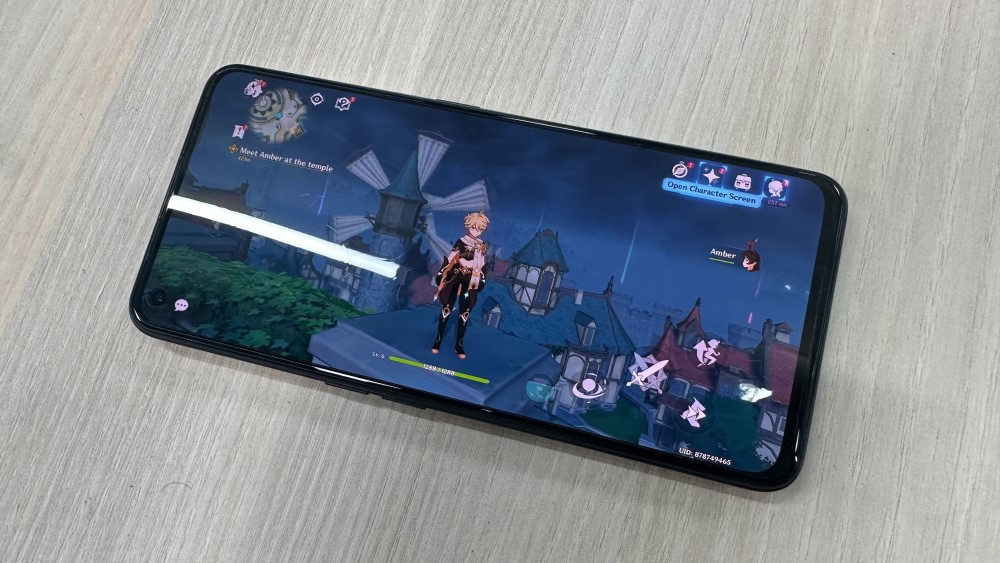 We tested games like Genshin Impact, CoD Mobile, and Apex Legends at maxed-out settings. Fortunately, we didn't notice any frame drops in any games, even at max graphics. However, the smartphone did get slightly heated during a lengthy gaming session.
The Realme GT Neo 3T features the Realme 3.0 UI based on Android 12 (straight out of the box). Unfortunately, it comes with bloatware apps that can be a bit of a turnoff, but the good news is that they can be uninstalled. The Realme 3.0 UI also brings many useful features to the gaming smartphone.
Users can enable features like Flexible windows, Quick return, Quick launch, Smart Sidebar, Simple mode, and Kid Space. We found the Smart Sidebar helpful and were genuinely surprised by the two new features added to the fingerprint scanner. Users can launch apps straight from the scanner and check their heart rates using these features.
As for the audio, the smartphone's stereo speakers are pretty good, even at max volume. We noticed little to no distortion during our Realme GT Neo 3T review period. The smartphone has also been tuned by Dolby Audio and delivers a loud and clear audio performance. However, it is a shame that the smartphone has no 3.5mm jack.
Camera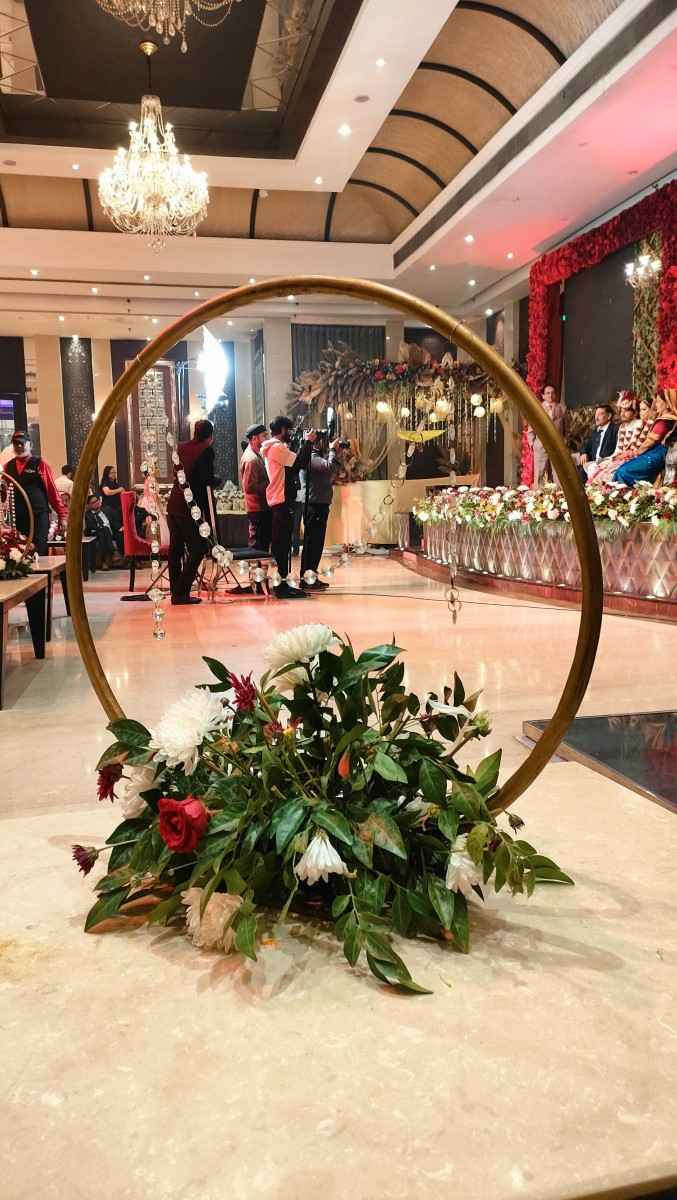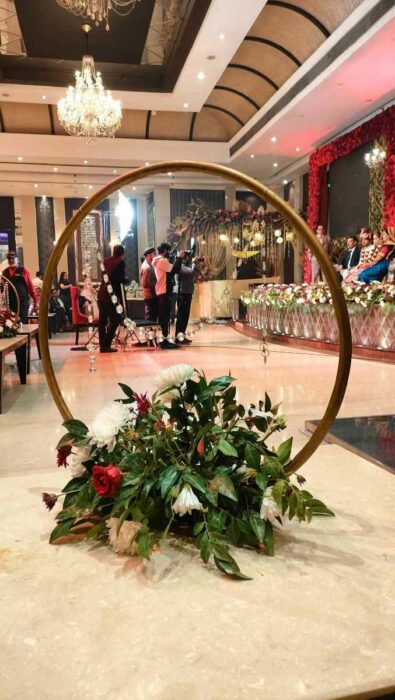 The Realme GT Neo 3T features a triple system, including a 64MP primary sensor, an 8MP ultra wide-angle sensor, and a 2MP sensor. The primary camera has a slightly higher resolution, making it more reliable in different circumstances. However, the lack of optimization can certainly be felt due to the lack of image and video stabilization.
The camera performs quite well in daylight, but there's visible noise when taking photos in low-light conditions. So far, the camera is the only downside we have noticed for a smartphone in this price range. Then again, the Realme GT Neo 3T is not a camera phone, but it serves its purpose.
Battery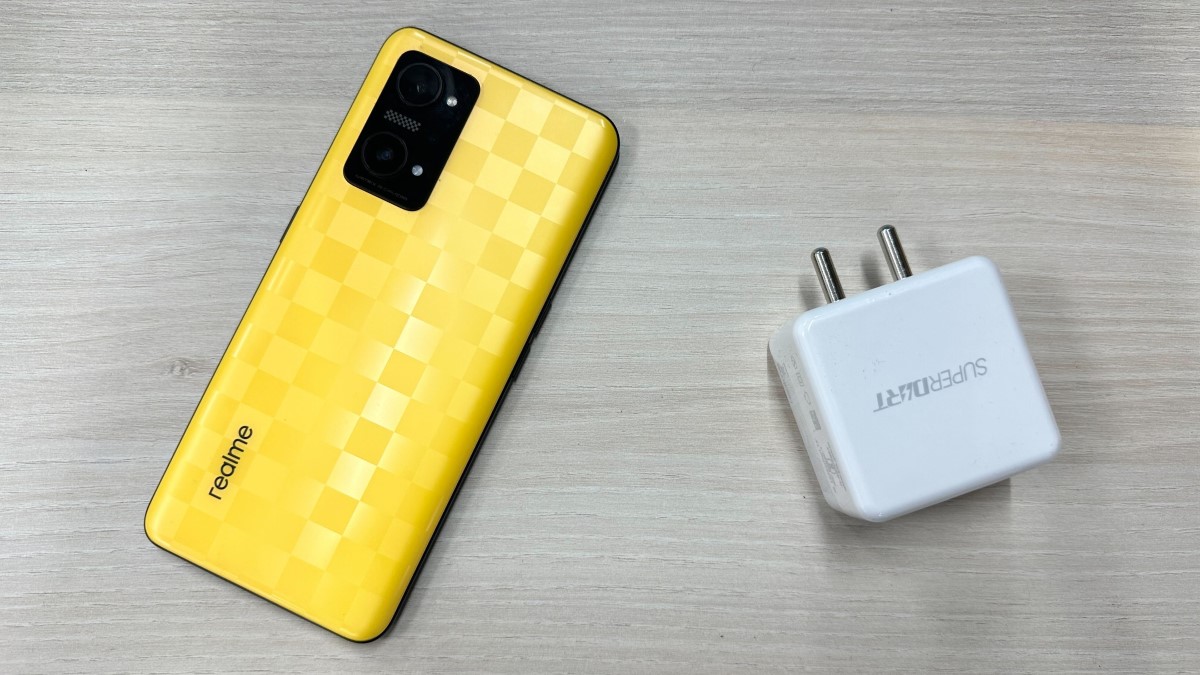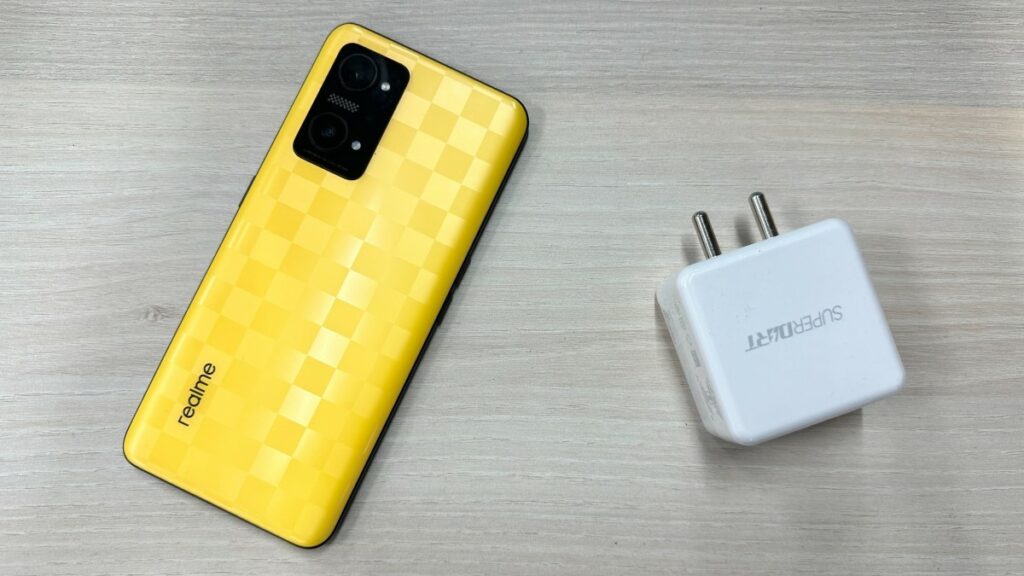 The impressive battery life of the Realme GT Neo 3T is also one of its major selling points. The smartphone comes with a 5000mAh battery that can easily last an entire day. For regular day-to-day use, the battery can last from one and a half to two days on the 60Hz mode with the battery saver on.
The Realme GT Neo 3T also comes with an 80W Superdart charger that can quickly charge from zero to 100% in only 40 minutes. Even when playing games heavy Android games for an hour, the battery only loses around 10% of its charge.
Realme GT Neo 3T Review: Verdict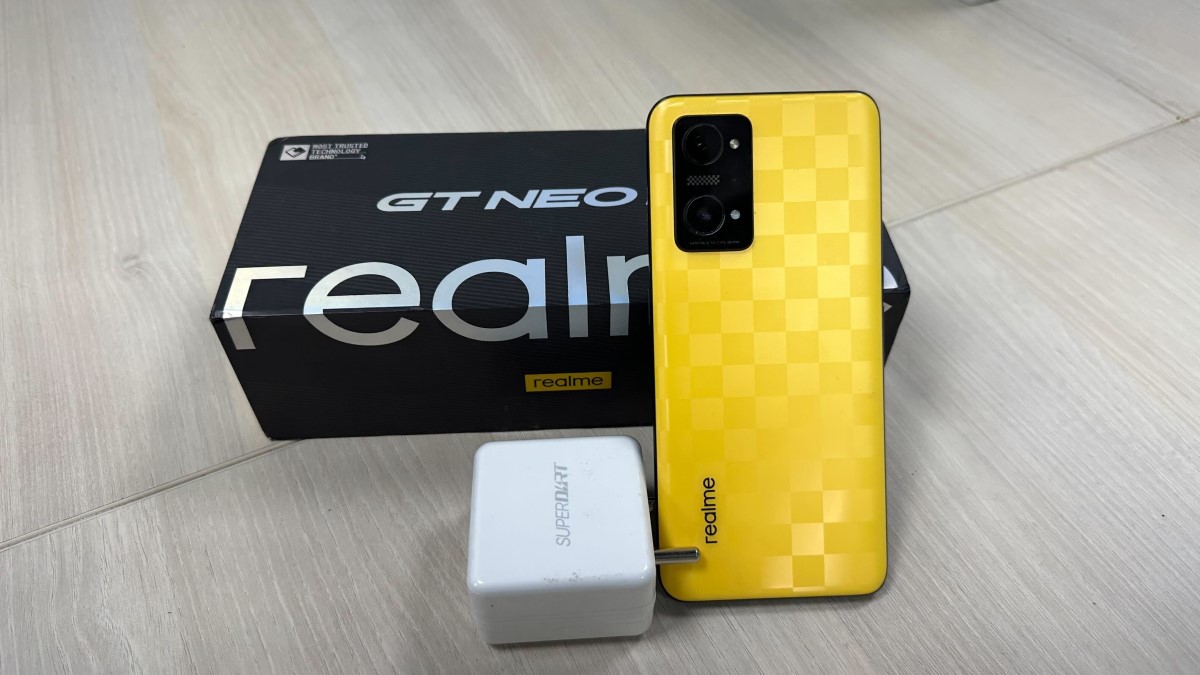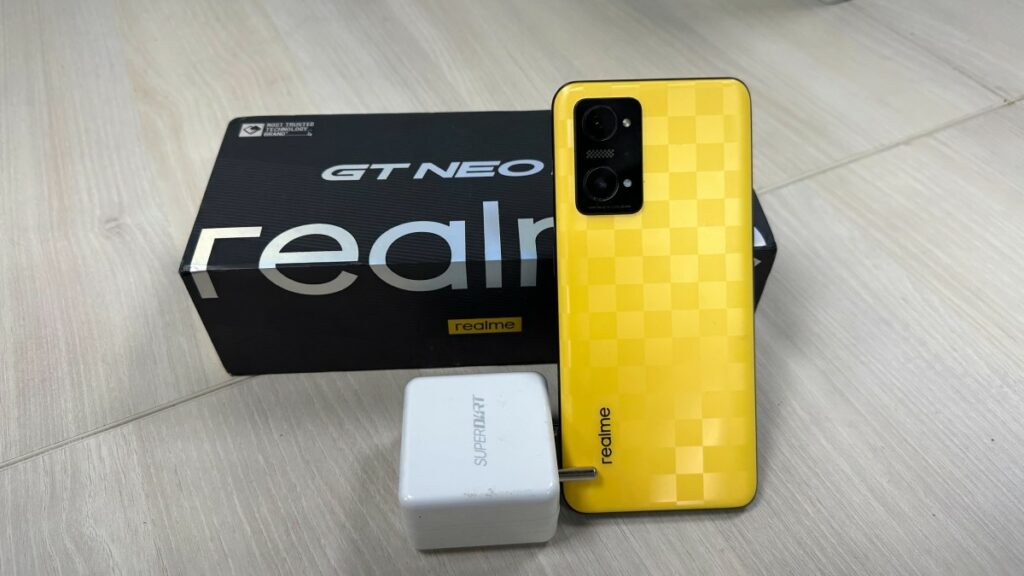 Realme has definitely found a good balance between price and performance with the GT Neo 3T smartphone. It should be noted that the smartphone is not much of an upgrade from its predecessor. However, the company has combined all the great features from its previous smartphones to create the best all-around smartphone in the mid-price range section.
Gamers would also definitely want to check out the Realme GT Neo 3T for its amazing performance and reliability. If you are looking for a gaming smartphone under ₹30,000 / $559/ £369/ €430, this is a perfect choice for you.