One of the Smartphone giants, Realme, is making its debut in the laptop segment in the coming days. Confirming the rumors, Realme revealed it would soon announce Realme Book and Realme Book Slim for China and India respectively. These laptops will launch on Wednesday, August 18, at 12:30 PM IST (3 PM CST).
Not much is known about Realme's new laptops, besides the fact that they will resemble Apple's MacBook in their look and design. This was confirmed through the official Realme Book poster spotted by Digital Chat Station and a picture posted by Realme India CEO Madhav Sheth in the run-up to the launch.
Going by the image, Realme's first-ever laptop sports a metallic chassis, a large screen, and a big trackpad. The silver-black color combo and the MacBook-like keyboard design add to the similarities with its Apple counterpart.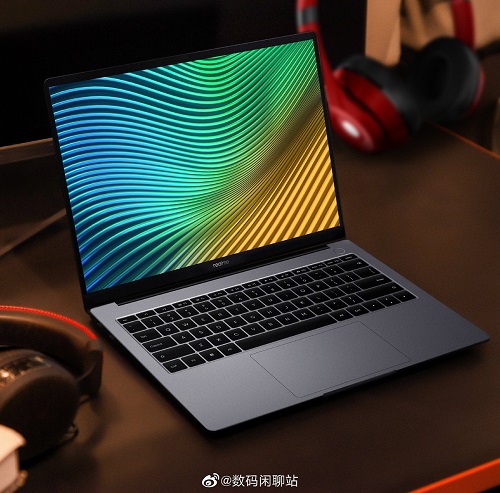 The Realme Book would likely be the base variant, whereas Realme Book Slim would be a lighter, thinner alternative. Both these variants supposedly share the same look and aesthetics.
Moreover, Sheth shared a promotional image that claimed Realme Book Slim to be "one of the slimmest laptops in India." According to a leak, the laptop weighs about 1.3 Kgs, which means it is fairly lightweight.
The Realme Laptops Are Designed For Work
Regarding the specifications, there are not enough concrete details. However, rumors say that both the variants pack an 11th Gen Core i5 processor, a 1440p display (4:3 aspect ratio), and 16GB RAM. The laptops will ship with Windows 10, and eventually, get an upgrade for Windows 11. In addition, Realme laptops will support 65W fast charging to help you get the most out of them.
Talking about the Slim variant, the Chinese firm said, "Realme Book Slim will come with a screen ratio, which will show more content when viewing documents or browse websites, making it the perfect tool for your work and creation needs."
Realme's statement clearly highlights that the laptop focuses on optimizing the work experience. Considering the on-paper specs and the MacBook-ish design, Realme could attract many users who want a more affordable MacBook alternative. Keeping in mind Realme's penchant for combining top specs with an affordable price, it will be worth checking out the launch of its first laptop lineup next week.