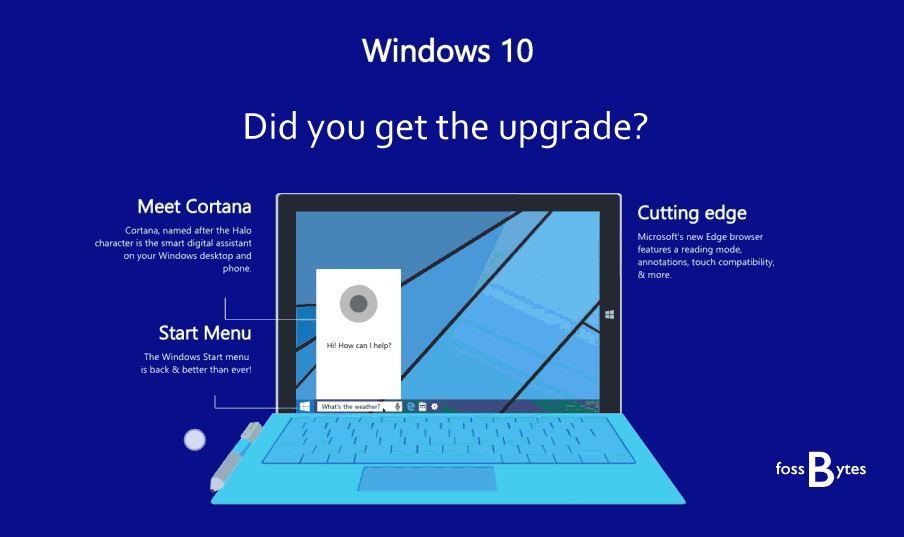 Short Bytes: Windows 10 is now available for upgrade and reportedly about 27 million people have downloaded Windows 10 on their PCs. This indicates a strong demand for Windows 10 and a good sign for Microsoft's long-term goals. Did you upgrade your Windows 7 or 8.1 PC to Windows 10?
A
fter about a year-long anticipation,
Microsoft released its Windows 10
OS on July 29. While some privacy concerns remain, the OS was well received by the masses. After the July 29 release of Windows 10, users are downloading the OS in large numbers. The free and easy upgrade offer from Redmond has accelerated this process. For those who were waiting in line, the tech company made their life easier too with
Windows 10 Media Creation tool.
More on Windows 10 downloads' number: Just after 24 hours of Windows 10 release, Microsoft said that its next iteration of Windows is now running on 14 million devices and it's being downloaded at a pace of 16 computers per second. It has been about 10 days and the interest of users in Windows 10 doesn't appear to be waning. According to Neowin, Windows 10 downloads have now crossed the 25 million number.
Neowin writes that company initially announced 14 million installs in 24 hours, and now sources are telling them that Windows 10 downloads have surpassed the 25 million mark, and it could be as high as 27 million. Last week's rate of 16 installs per second has been decreased, but the strong demand for Windows 10 continues to exist.
Overall, it appears that Windows 10 launch has been a great success. People are calling it the "most complete Windows" yet and the easy upgrade process is the reason of this fast pace of install.
But, everything's not good about Windows 10. Security experts have bashed Windows 10 on widespread privacy concerns. To make your Windows 10 experience more secure, you can check out this open source app to stop Windows 10 from spying on you.
You can also check out our dedicated Windows 10 guide.
Did you upgrade your Windows 7 or 8.1 PC to Windows 10? Share you experience with us!
Check out our homegrown product viralnews.fossbytes.com for hottest tech news on the web. For more updates, subscribe to our newsletter. [newsletter_signup_form id=1]