Short Bytes: The CM3 and CM3 Lite are the two new entrants in the Raspberry Pi Foundations' Compute Module family. Designed as per the SODIMM form factor, both CM3 and CM3 Lite pack a Broadcom BCM2837 SoC with 1 gigabyte of RAM. CM3 Lite ($25) excludes the 4GB eMMC flash memory present on the CM3 ($30) standard variant.
T
he Raspberry Pi Foundation has
launched
new versions of the Compute Module series SoMs (System on Module) which originally debuted in 2014. Compute Module boards are smaller than the regular RPi boards. These are intended to make the open source Raspberry Pi hardware a part of embedded systems, IoT, and automation devices.
Compute Module 3 or just CM3, chopped off from the RPi 3's hardware, is designed according to the DDR2 SODIMM form factor to ensure ample availability of sockets. There are two variants of the latest Compute Module, the CM3, and CM3 Lite.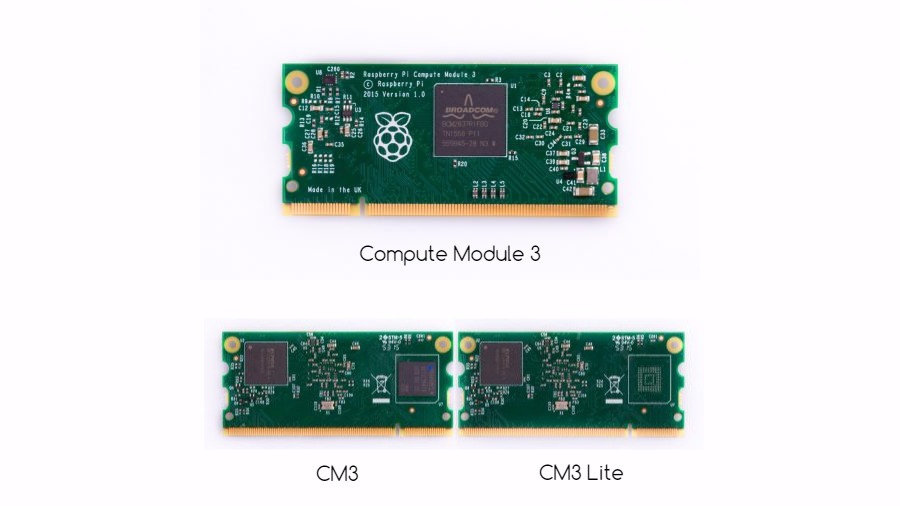 Both variants feature the same BCM2837 1.2GHz processor and 1GB RAM, boosting the processing to power ten times. CM3 adds an extra 4GB eMMC flash memory. In the case of CM3 Lite, the SD card interface is facilitated via the module pins, allowing a user to hook up their memory option.
Alongside these chips, the Raspberry Pi Foundation has also released the Compute Module IO Board V3 or CMIO3. It is released to use the CM3 board as a regular Rpi computer. CMIO3, featuring the DDR2 SODIMM socket, adds USB, microUSB, HDMI, and other connectors.
The CMIO3 board allows you to add a microSD card and also access the eMMC flash memory present on the standard CM3 chip. Other than CM3 and CM3 Lite, the CMIO3 board is compatible with the original CM.
You get Compute Module 3 for $30 and the Lite variant for $25 via the Foundations partners RS Components and element14.
Would you like to try the new CM3 board? Drop your thoughts in the comments.

Also Read: ZeroPhone — An Open Source, Dirt Cheap, Linux-powered Smartphone Is Here