The Raspberry Pi Foundation has unveiled the Raspberry Pi 4 which is touted to be the fastest Raspberry Pi ever. The foundation promises a "complete desktop experience" with the upgrades it has included in the Raspberry Pi 4.
Physically, you wouldn't notice any difference as the Raspberry Pi 4 Model B looks similar to the Raspberry Pi 3 Model B+. However, you'll feel the upgrades inside the hood as the latest Raspberry Pi edition comes packed with a faster SoC. The Raspberry Pi 4 now comes with a Cortex-A72 architecture (ARM v8) 64-bit SoC at 1.5Ghz.
New RAM options have also been provided as you can now choose from 1GB, 2GB and the highest RAM option available now is 4GB LPDDR4-2400 SDRAM, which is a massive upgrade as previous models were limited to just 1GB of RAM. With LPDDR4 RAM, we're expecting improved memory transfer speeds.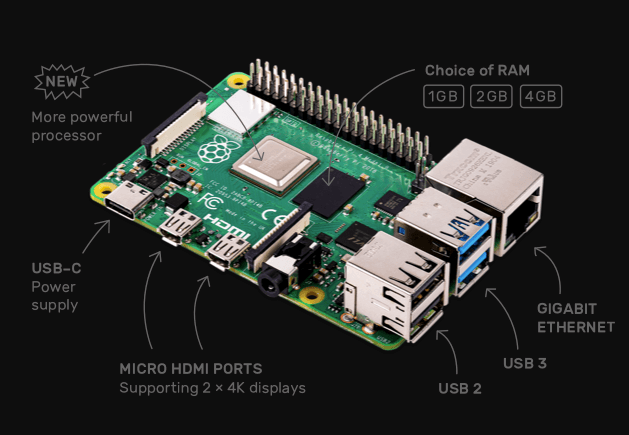 New ports have also been added to the Raspberry Pi 4 in the form of Gigabit Ethernet, which has replaced Ethernet over USB 2.0. There are two USB 3.0 and USB 2.0 ports. A USB-C port has also been added for powering the device.
The new Raspberry Pi 4 brings improvements in connectivity as the company has introduced Bluetooth 5.0.
Other major improvements include two mico-HDMI ports instead of a full-size HDMI port and the inclusion of a 3.5mm audio jack.
The new Raspberry Pi 4 starts at $35 for the 2GB RAM variant and the 4GB variant can be purchased for $55. You can purchase the Raspberry Pi 4 from the official website as of now.