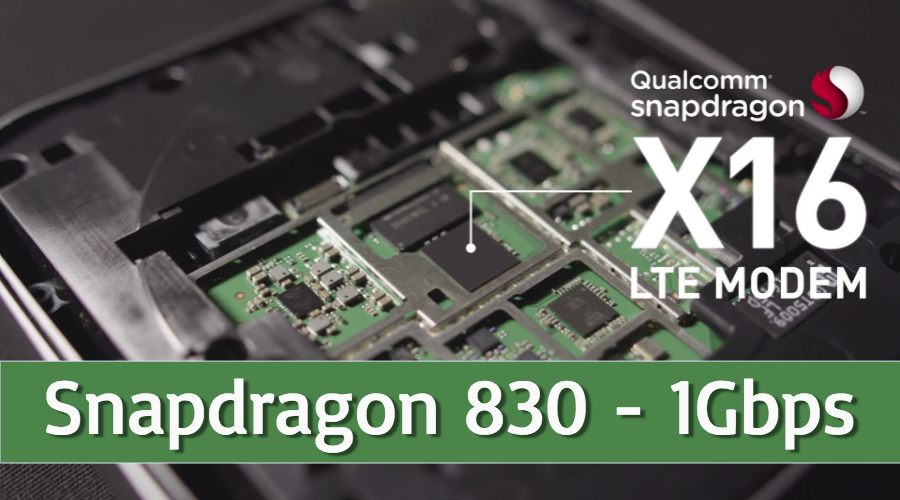 Short Bytes: The next flagship SoC (possibly Snapdragon 830) will include the X16 LTE modem, Qualcomm announced at the 4G/5G Summit in Hong Kong. Launched in February this year, the Snapdragon X16 LTE modem can achieve download speeds up to 1Gbps over a capable 4G LTE network.
A
t the 4G/5G Summit in Hong Kong, the mobile chipmaker Qualcomm announced that the next chipset of the Snapdragon 800 series (most probably Snapdragon 830) will feature the Snapdragon X16 LTE modem.
The special thing about the Snapdragon X16 LTE modem, announced in February, is that it's the first commercial modem to support Gigabit-Class LTE speeds up to 1Gbps. It supports upload speeds up to 150Mbps. The X16 LTE modem is also included in the recently launched Netgear Mobile Router MR1100.
The Snapdragon 830 SoC is rumored to be based on the Kryo 200 micro-architecture and built using the 10nm fabrication process. It also includes the Adreno 540 GPU, DDR4 RAM, Bluetooth 4.2, and WiFi ad. It will replace Snapdragon 821 as the fastest Qualcomm processor. There is no word when the Snapdragon 830 will arrive in the market.
However, Digitimes has reported that Qualcomm has been experiencing delays in the production of Snapdragon 830. The reason is that Samsung, the manufacturer, is facing a hard time sticking to the calender. The delay is because the chipset samples are yet to reach the smartphone makers for testing.
In order to reduce the delay, Qualcomm is expected to reach Taiwan Semiconductor Manufacturing Company (TSMC) with follow-up orders of the Snapdragon 830. The delay in the delivery of 830 chipsets can affect the sales performance of the device makers.
Qualcomm Announces World's First 5G Modem
At the Summit, Qualcomm has also announced the Snapdragon X50 5G. It's the world's first modem for the fifth-generation mobile networks and capable of delivering download speeds up to 5Gbps putting Qualcomm ahead in the race. The X50 5G will initially support the 28GHz mmWave band. Using MIMO techniques like adaptive beamforming and beam tracking the 5G modem can handle the situations when the device is not in the line of sight.
If you have something to add, tell us in the comments below.
Also Read: Nokia Surpasses Google, Reaches 65Tbps Bandwidth Over Fiber Cable