Qualcomm has announced X55, its second generation 5G modem chip that supports wireless speeds up to 7 Gbps and also supports 4G LTE, 3G, and 2G for the backward compatibility.
Qualcomm X55 supports both the 5G bands – mnWave (high-bandwidth) and sub-6GHz (better coverage). To support new chips, the company has also announced a new 5G mmWave RF antenna named the QTM525 which succeeds QTM052 which was paired with X50 modem.
These second generation 5G modems won't be available until "late 2019" as per Qualcomm which means that most of the 2019 smartphones will be equipped with X50 and QTM052.
Qualcomm X55 also supports 4G network and with speeds up to 2.5Gbps and 0.3Gbps up. 2G and 3G networks are also supported by X55 which means that the Qualcomm's new chip is compatible with any cell network.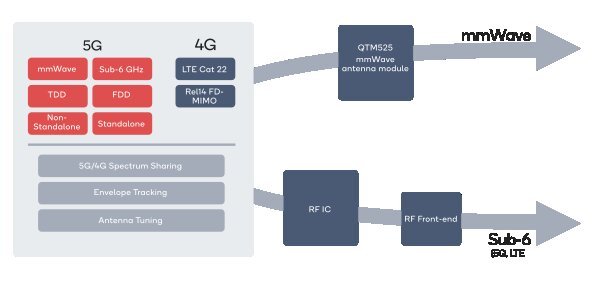 When compared to its predecessor X50, X55 has a Stand Alone mode to support only one cell network at a time. This mode will be helpful in the future when only the 5G network is available.
One of the biggest advantages of X55 is that it can be connected to a chipset without a modem as it supports older networks in addition to the upcoming 5G. Previously announced X50 needs chipset's LTE support for it.
As Qualcomm X55 is meant for 2020 smartphones, we will have to wait for quite some time before we can see it in action.