W
hat's that one thing you have been wanting smartphone makers to put in your next device, a tech that could charge your device within minutes and make it last for hours or even a whole day if one is being slightly optimistic?
You might be able to do so if your device already has Qualcomm's Quick Charge technology, but everything needs an improvement. Qualcomm has announced a new upgrade to their fast charging technology, known as Quick Charge 4+. This has been done after almost 6 months since the release of Quick Charge 4 which promised charge device's battery up to 50% capacity in just 15 minutes.
Now, with Quick Charge 4+, the company claims a 30% increase in battery efficiently, 15% faster charging, and a cooler battery up to 3 degrees. This has been achieved by improving features such as Dual Charging (dividing the current with the help of a second power management IC), Intelligent Thermal Balancing, and advanced safety features.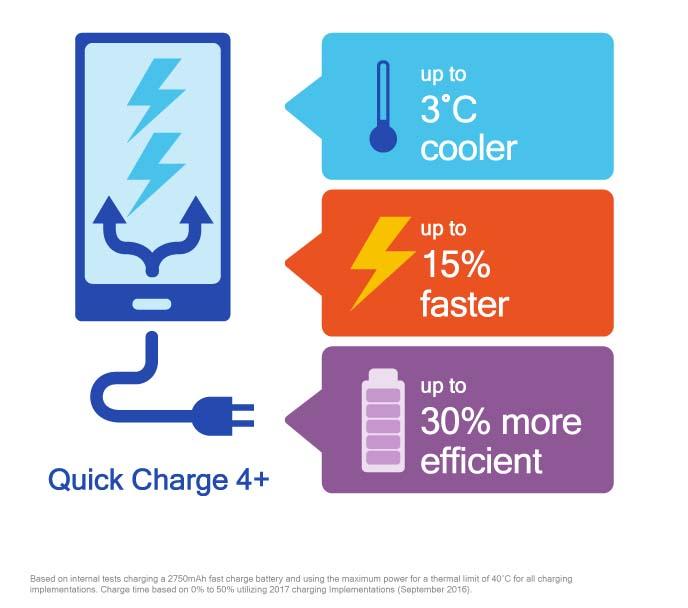 QC4+ can simultaneously monitor case and connector temperature levels. It acts as an extra security layer and prevents device overheating and damage to the Type-C connector.
Qualcomm's most recent Snapdragon 835 chip is compatible with Quick Charge 4+, and Nubia Z17 is the first smartphone to support the latest version of Quick Charge technology.
You can check out the extensive list of Quick Charge-certified devices [PDF]. However, the list doesn't include any device with QC4 despite the fact that it was released last year. So, QC4+ might be better termed as a replacement rather than a successor to QC4. Also, Qualcomm said devices and accessories with Quick Charge 4+ will be backward compatible with Quick Charge 3.0 and previous versions.
Got something to add? Drop your thoughts and feedback.