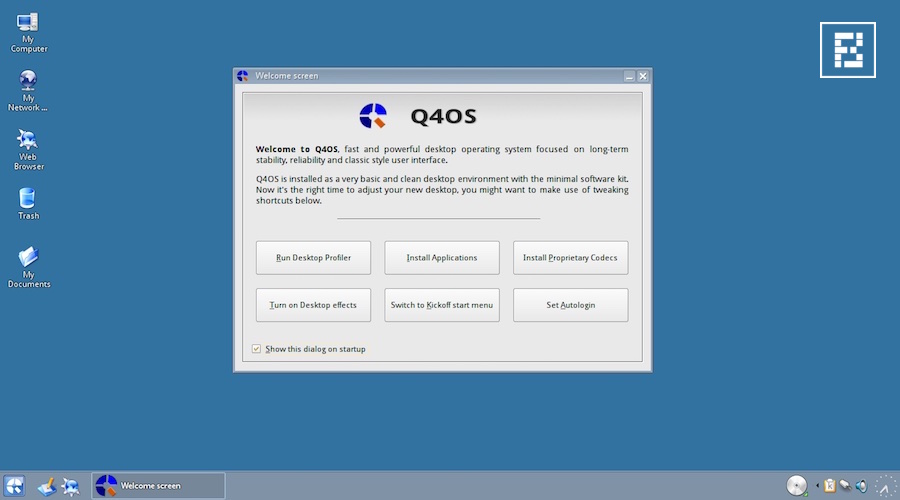 Short Bytes: Q4OS is a Debian-based open source Linux distribution that comes with Trinity desktop environment, which is forked from KDE. The latest release, Q4OS 1.6.2 'Orion', improves the previous version and fixes the bugs reported by users. The existing Q4OS 1.6 or 1.6.1 OS users are advised to update their systems to the latest version.
L
ast month, Q4OS development team released significant Q4OS 1.6 'Orion' loaded with multiple improvements. This release arrived with Trinity R14.0.3 stable version. Orion is a Long Term Support release that will be supported till May 2020 and provide your security patches and updates.
In the 1.6 release, the default desktop look was slightly changed. The Q4OS 'Bourbon' start menu, which reminds me of Windows XP, and task bar were polished. The Native Desktop profiler tool also got a new 'software to install' list.
Now, after two weeks of Q4OS 1.6 release, the second maintenance update has been released in the form of Q4OS 1.6.2 'Orion'. This release improves the experience of the previous version and brings along a bunch of bug fixes. It's based on Debian GNU/Linux 8.5 'jessie'.

This release also fixes the issues reported by the users and the newest software versions released since August 28, 2016, notes Softpedia's Marius Nestor.
If you are using Q4OS 1.6 or 1.6.1 operating system, the development team advises you to upgrade your operating systems. You simply need to visit the official software repos and download the updates.

New to Q4OS? Tons of options — Live CD, Raspberry Pi Image, ARM port
Q4OS Linux distribution brings along many options for the beginners. If you are interested in installing this free operating system on your computer, you can download the installation ISO available in 32-bit and 64-bit formats. This small footprint operating system needs minimum Pentium 300MHz CPU, 128MB RAM, and 3GB storage space. If you just want to give it a try without installing on your machine, you can do so by downloading the Live CD.
You can also freely download the Q4OS 'RPi' port and give it a run on your Raspberry Pi single board computer. The Q4OS 'armhf' port provides you an option to experience the OS on a wide range of ARM processor-equipped hardware.
You can find the download links here on Q4OS website.
Did you find this article helpful? Don't forget to drop your feedback in the comments section below.
Also Read: GNU Bash 4.4 Released With New Features And Changes