We all know how immensely popular is PUBG Mobile. And why shouldn't it be? I mean, the game is spectacular, and you never get bored playing it. However, being crowned with a title like "Best Ongoing game" isn't enough for PUBG Mobile. That is why the PUBG Mobile marketing team is now promoting the game as a dating app.
In a recent video on PUBG Mobile's social media handles, we can see two couples discussing how they found the love of their life through PUBG Mobile.
All four people in the video play at a professional level; it's not like PUBG will feature just any noob who found love in the game. 
PUBG Mobile: A Place To Find Love?
It's no secret that almost every PUBG player has found some friends among the random strangers they are auto-matched with. So, it's also possible for people to start dating after getting to know each other through the game. And the voice chat in the game surely helps in that.
However, the funny part is looking at PUBG Mobile being promoted like a dating app. For instance, I am sure that several folks might have ended up dating someone they met in a local cafe or restaurant. But I don't see such restaurants stating that they are the best place to find someone to date.
Nevertheless, in PUBG's promotional video, when you hear a player saying that he found love through PUBG Mobile, you feel like you're watching an advertisement for a dating app.
PUBG Mobile is already one of the most celebrated battle royale games around the world. So, in my opinion, promoting the game as a way to date people to gain more users is ridiculous.
Also, it's not only me who finds this "Finding love in Erangel" a wrong advertisement of the game. A bunch of people in the comment section felt precisely the same.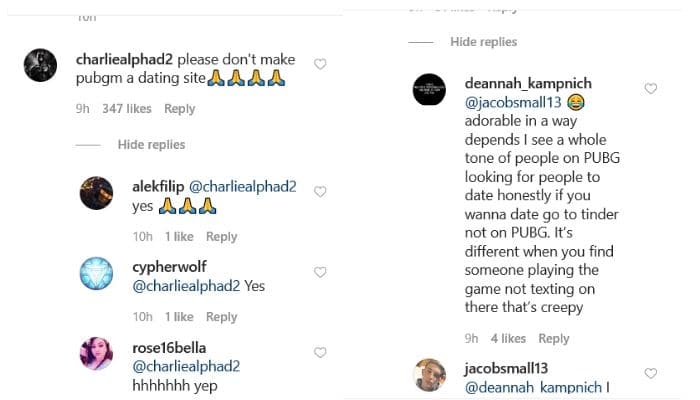 It's already bad enough that the gameplay experience is ruined by hackers for many of us. Now we'll have more creepy players looking for the "love of their life" through local chat; not that there weren't any before this instance.
Several of my female colleagues and friends have shared their experiences of getting harassed in voice chat. What's more, is that some of them have stopped playing the game because of the same reason. So, the last thing we need is PUBG Mobile flaunting itself as Tinder and adding fuel to this situation.
PUBG Mobile Is A game, Let Us Not Turn It Into Anything Else
Let's not kid ourselves, PUBG Mobile is just a game and not a platform where you can go with an intention to find a date. So, there's no sensible reason to promote the game as a dating app. Instead, the game should have a reporting system to specifically report creepy and desperate people; only then we could get serious players in the game.
What are your thoughts on the game? Do let me know!