If there were rumors of an impending return sparked by PUBG Corp's job listing, they have been put to bed, at least for now, by Tencent's latest announcement. The Chinese firm has announced that PUBG Mobile and PUBG Mobile Lite will go offline in India on Oct 30, 2020.
Not long ago, the Indian government banned PUBG Mobile along with 118 other Chinese apps for security reasons. Ever since then, the game's return has been constantly speculated by the Indian fans. Speculations grew stronger especially after PUBG Corp parted ways with Chinese publisher Tencent.
Following PUBG Mobile's ban from the Play Store and the App Store, players could still access the game using its APK file. However, that workaround is no longer valid as PUBG Corp terminates server support for India.
In a Facebook post, Tencent announced its decision to take down PUBG Mobile's servers for India. The post also revealed that the publishing rights of the game, for India, would return to PUBG Corp. Moreover, Tencent also included a statement emphasizing its commitment to data privacy.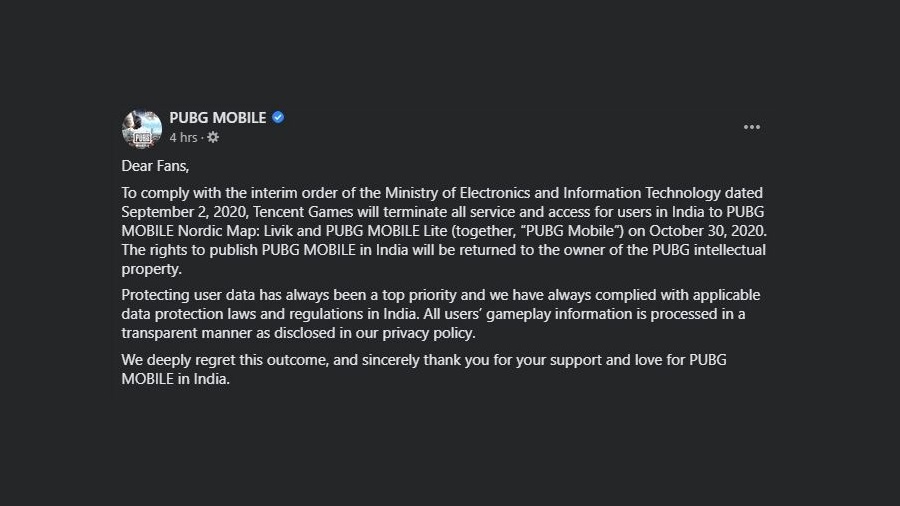 Although the post does ensure that the user data with Tencent would be responsibly handled, it doesn't really explain how. This makes it unclear whether the database of Indian users would be totally erased or passed on to PUBG Corp so that it can restore user progress in case of the game's re-launch.
Finally, PUBG Corp's breakup with its publisher, Tencent, in India is fully complete. Although this development hints PUBG Corp are looking for a new publisher, there is no official information to back this. So, this means, while a re-launch in India could be on the cards, there is no timeline set for it.