PUBG Mobile players are incredibly excited about the upcoming Update 1.0, which will revolutionize the game. We already know that the new update will finally introduce Erangel 2.0 while also releasing the Ultra HD graphics for the game.
However, players still don't know much about the 1.0 Update, which will be released on September 8th. For instance, the fan-favorite 'Infection Mode' is coming back in PUBG Mobile Update 1.0, which is pretty exciting.
"Infection Mode" was first introduced on PUBG Mobile last year with the 0.14.0 update. However, the game was only available for a limited time.
In the game mode, 12 players are divided into two teams, i.e., Defenders and Zombies. To win, Defenders have to protect themselves until the timer runs out, whereas Zombies have to infect Defenders to win.
PUBG Mobile didn't officially announce the comeback of Infection Mode for Update 1.0; however, the game mode is already available to play in the Beta version. So, it's quite evident that the game mode will be released in the global version of PUBG Mobile as well. Also, players will have to be at Level 5 to unlock the 'Infection Mode.'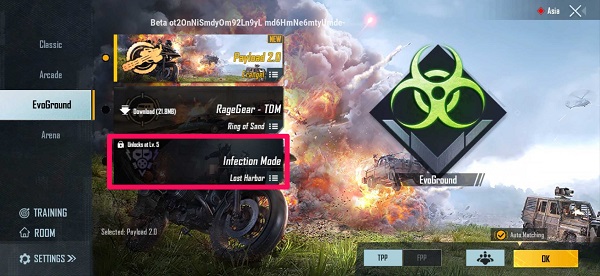 Besides the Infection Mode reintroduction, PUBG Mobile Update 1.0 will also release an upgraded version of Payload game mode.
The Payload 2.0 game mode is going to make things a lot more exciting on PUBG Mobile. That's because it will introduce helicopters, UAV, Anti bomb Suit, Radar, and a lot of other fantastic features in PUBG Mobile.