Email privacy concerns are on the rise and there are different solutions for different concerns. For instance, Apple's Hide My Email gives more control over who can mail you. There are email protection services like DuckDuckGo Email Protection that remove trackers from your mail. However, if you want a truly private email service, many consider ProtonMail to be one of the best options available.
Recently, reports pointed out that ProtonMail shared the IP address of a user with French agencies, leading to the arrest of a climate activist. Users are now concerned that the service isn't as private as advertised.
We've also recommended ProtonMail as one of the best privacy apps for Android and iOS. ProtonMail lets you sign up without providing any details, which means the company has no information about you. At first, this looks like the perfect email service for someone who doesn't want a digital footprint. However, Proton is bound to log an IP address if the law asks for it. So a user's details are only logged when there's a legal order asking ProtonMail to do it.
Reading Between The Lines
The whole ProtonMail case is built around the fact that the company has to follow the law. While Proton didn't give out information to international agencies, it was compelled to do so for Swiss channels. Here's an excerpt from a ProtonMail blog post, clarifying the issue.
Due to Proton's strict privacy, we do not know the identity of our users, and at no point were we aware that the targeted users were climate activists. We only know that the order for data from the Swiss government came through channels typically reserved for serious crimes.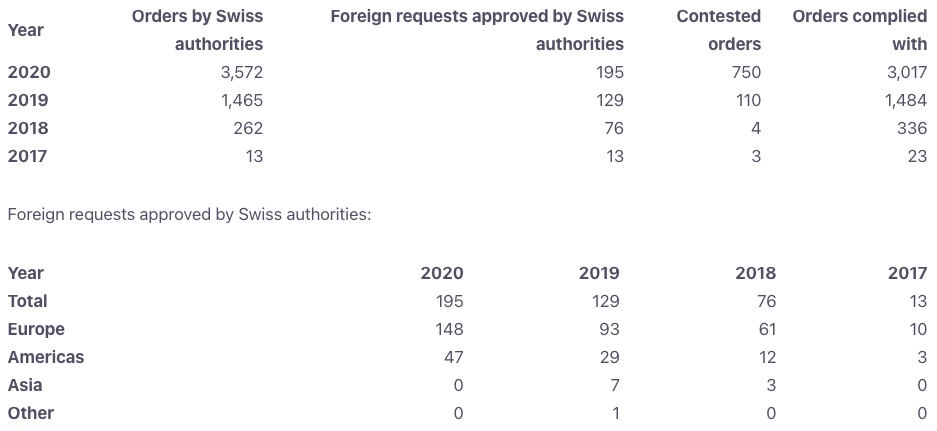 The site also has a transparency report that shows the number of data requests made to ProtonMail by Swiss as well as international agencies. The numbers show that Swiss authorities passed more than 3,500 orders for data collection in 2020. In 2017, this number was as low as 13 orders. ProtonMail complied with over 3,000 orders in 2020, contesting more than 700 orders.
It shows that Swiss, as well as international authorities, are seeking user data more actively. The above screenshot of ProtonMail's transparency report stats confirms this. In simpler terms, ProtonMail didn't trade user privacy but complied with the law.
The company also updated its privacy policy, removing the part that says it doesn't log IP addresses by default. This is part of the clarification drive that the company has undertaken after the arrest of climate activists. So if you're looking for a more secure way to use the service, this next section should help.
Is There A Way To Use ProtonMail More Privately?
ProtonMail is encrypted by default so the company cannot read or share the contents of your emails, attachment, and calendars. However, if you want more privacy and absolute anonymity, you can also use a VPN along with ProtonMail to mask your IP address.
Here too, you'll have to be careful and choose a VPN that doesn't log user data. You can also use ProtonVPN, which the company says "cannot be compelled to log user data". So if you want absolute privacy, you can use a VPN along with your email service to keep your data safe.