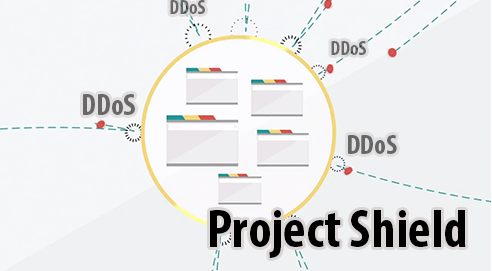 DDOS aka Distributed Denial of Service (DDoS) attack is an attempt to make an online service unavailable by overwhelming it with traffic from multiple sources. Attacker target a wide variety of important resources and present a major challenge to making sure people can publish and access important information.
W
e have seen many
DDOS attack in past
few months which includes a long lasting attack on code repository service
GitHub
. Many sites providing controversial facts were affected by the attack and are still susceptible to attack at any time. Google has launched
Project Shield
to help protect small news and human rights websites from DDoS attacks.
Google Says –
Project Shield is an initiative launched by Google Ideas to use Google's own Distributed Denial of Service (DDoS) attack mitigation technology to protect free expression online. The service allows other websites to serve their content through Google's infrastructure without having to move their hosting location. We are currently seeking new websites to try the service as trusted testers.
Websites need protection can apply for early invite at https://projectshield.withgoogle.com/public/#application-form. Once a website has been sent an invite to become a 'trusted tester', they will receive an invite to join the initiative and instructions on how to configure their website for the DDoS mitigation.
Though Google does not guarantees uptime or protection levels but still its an great initiative. Google has designed its infrastructure to defend itself and this initiative is aimed at extending free protection to third-party websites. After receiving an invite to sign up, there are a few steps required to set up the service. All the information web masters need will be emailed to them. A webmaster with admin privileges and basic technical knowledge (e.g. comfortable configuring a web-server and modifying DNS records) should be able to set up the service in about 10 minutes.
During the testing process, Project Shield will be free. Google might charge in the future, but participants will get 30-day notice. "We're hoping to offer the service to charities and non-profits at a reduced fee or at no cost in the future, but this is still under development," Google said.
Project Shield is built on Google's PageSpeed service, a frontend tool that offers developers faster loading times. Sites hosted by Project Shield would sit behind PageSpeed's infrastructure, allowing Google to pool resources if any one site fell victim to an attack. Unless an attack were strong enough to bring down all the PageSpeed sites, it wouldn't be able to bring down any of them. It's a similar model to existing DDoS services like Cloudflare, although the more recently launched PageSpeed service is working from a smaller base of sites.