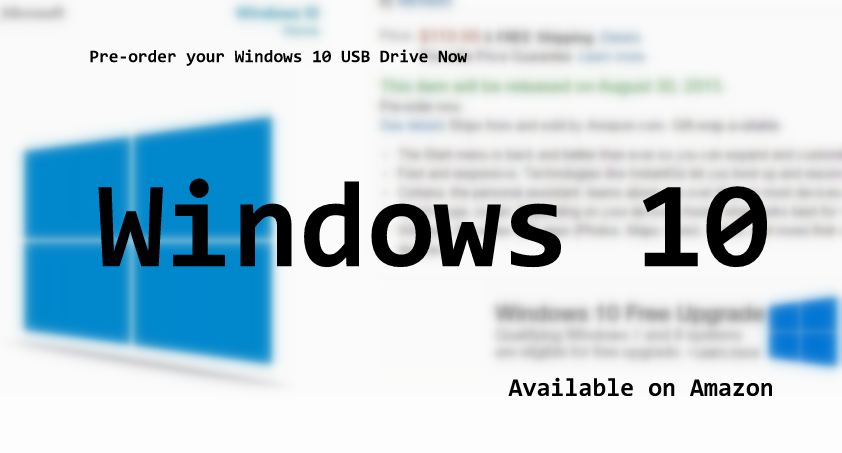 Windows 10 will be available in a physical media, and no, it won't be just the DVDs this time. The company has stated that Windows 10 copies will be available on USB drives shortly after the launch.
A
mazon is already showing preorder offers for Microsoft Windows 10 on USB Flash Drives. The weird thing though is that no other major online retail stores including Microsoft Store has offered any details of such sales yet. A spokesperson from Microsoft has confirmed that the retail prices for Windows 10 would be same as Windows 8.1, in the US.
Amazon's preorder offers genuine Windows 10 Home at $119.99 and Windows 10 Pro for $199.99 in English and Spanish. Windows has recently released Splendo-a fully-functional and PC stick running on Windows8.1
Windows 10 has generated quite a hype in past few months with its cool features like "Continuum", that will allow you to have a desktop experience on your smartphone, and the free upgrades from Windows 8.1, even for the pirated versions.
The shipment date of Windows 10 USB Flash Drives is, however, not understood. Windows 10 is releasing worldwide on July 29. The Flash Drives even on pre-ordering now would take extra two weeks to ship i.e. on August 16, as shown on Amazon's website.
It is quite possible that Microsoft will issue an official announcement for the retailing of Windows 10 in USB sticks on Microsoft Store and other stores and give an earlier date than August 16.
Also, Microsoft CEO Satya Nadella has expressed his views and ambitions for the company's future and "Why and How Microsoft is better than other companies?" during Worldwide Partner Conference.
So if you want to own Windows 10, you can preorder your Windows 10 USB Stick right now, just follow the links.
Microsoft Windows 10 Home | USB Flash Drive
Microsoft Windows 10 Pro | USB Flash Drive
For more updates on Gadgets and Tech, Subscribe to fossBytes.[newsletter_signup_form id=1]