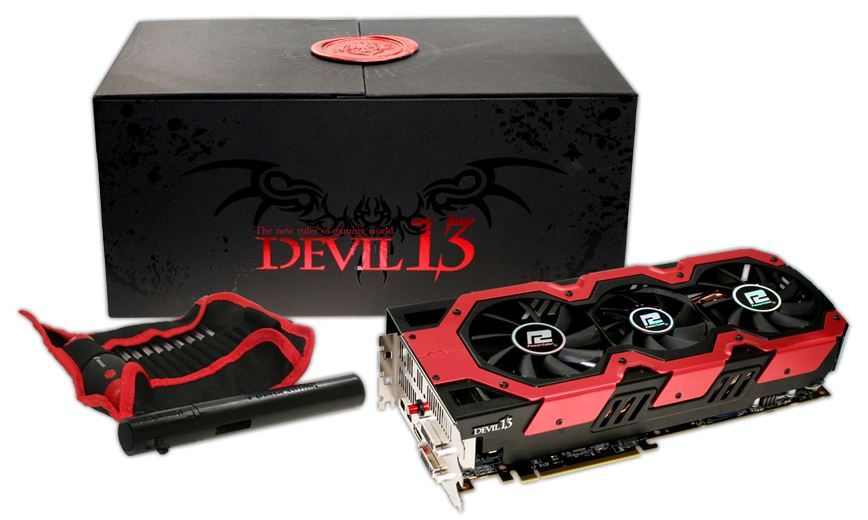 Short Bytes: PowerColor is set to release the most powerful graphic card in the market for the consumer class on September 17. The PowerColor Devil 13 utilizes two AMD Radeon R9 390 "Hawaii" GPUs, an incredible power module and an efficient cooling system to give you a humongous raw power.
A
MD and its manufacturing partner PowerColor has created the world's first consumer-class graphics card with 16 GB storage. The company's latest power performer comes with two AMD Radeon R9 390 "Hawaii" GPUs and gives your PC a professional touch.
The PowerColor Devil 13 Dual Core R9 390 power kit also comes with a high-end gaming mouse, the Razor Ouroboros as a gift. The Devil 13 is built to dominate the gaming world with 16 GB GDDR5 memory and dual graphic processors with 1000 MHz clock each.
The monster gaming parcel utilizes four 8-pin PCI-E power connectors that deliver an astonishing 600W power to the board. So, an efficient cooling system becomes essential to keep the Devil 13 to drive itself into a furnace. The heat sink for the new PowerColor Devil 13 consist of 3 Double Blade Fans atop aluminium fins, 10 pieces of heat pipes and 2 pieces of die-cast panels.
Also read: 4GB, 8GB Or 16GB; How Much RAM Do You Need?
The GPUs with integrated 16 GB GDDR5 were already available for the professionals, but the new Devil 13 will unleash the power for the high-end gamers of the consumer class.
The Devil 13 packs a punch with its massive 15 phase power delivery,  PowerIRstage, Super Cap and Ferrite Core Choke to provide stability to extreme graphics. It's not all about raw the power, the PowerColor Devil 13 Dual Core R9 390 also has a bright red color LED backlight that pulsates on the Devil 13 logo, giving it some aesthetics.
With all these features squeezed into one kit, PowerColor Devil 13 is set to rule the extreme gaming world. Well, for now. Wait for Radeon R9 Fury X2 that will come with two 'Fiji' graphics.
You can get the Devil 13 for $779, September 17 onwards.
Also read: Intel Core i7 Skylake Processor Reaches Record-breaking 7GHz Clock Speeds