As we have been praising this Tesla Model S rival for quite some time now, let's take a step ahead and explore what it's really like on the road. Today, we'll be discussing the real-world review of one of the most impressive electric cars Porsche Taycan Turbo EV.
Ollie Kew from renowned automotive publisher Top Gear tested multiple aspects of Porsche Taycan Turbo and shared his review. A video of the same is available on TopGear's YouTube channel.
Let's tell you guys what the experts say about this German masterpiece.
Porsche Taycan Turbo EV Review
Before we begin, let me give you a quick intro about this electric car for a better understanding. Taycan is the flagship electric sedan from the famous German automaker Porsche.
Currently, it's offered in four variants. However, Ollie took the 'Taycan Turbo,' which is the second top variant in its portfolio, following 'Turbo S.'
We are all well aware Porsche is a luxury brand and therefore Taycan Turbo comes with a hefty price tag of $150,900 or £115,860.
As we're done with the introduction, it's time to jump on to the specs of this luxury electric car.
Porsche Taycan Turbo Specs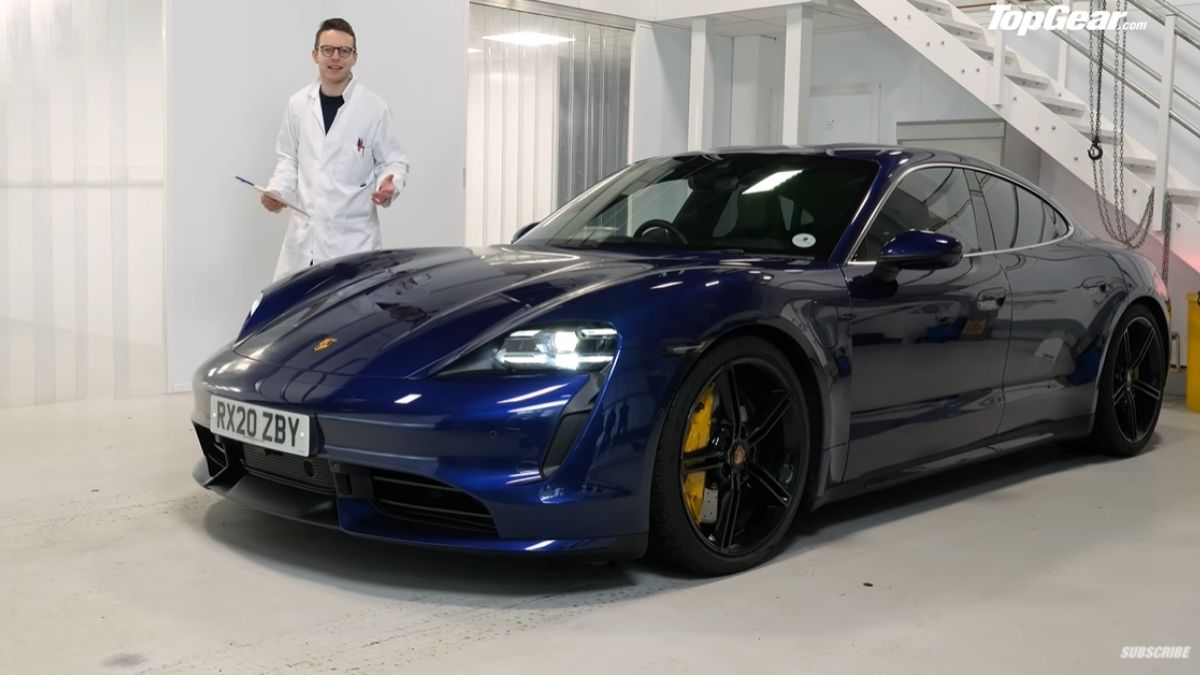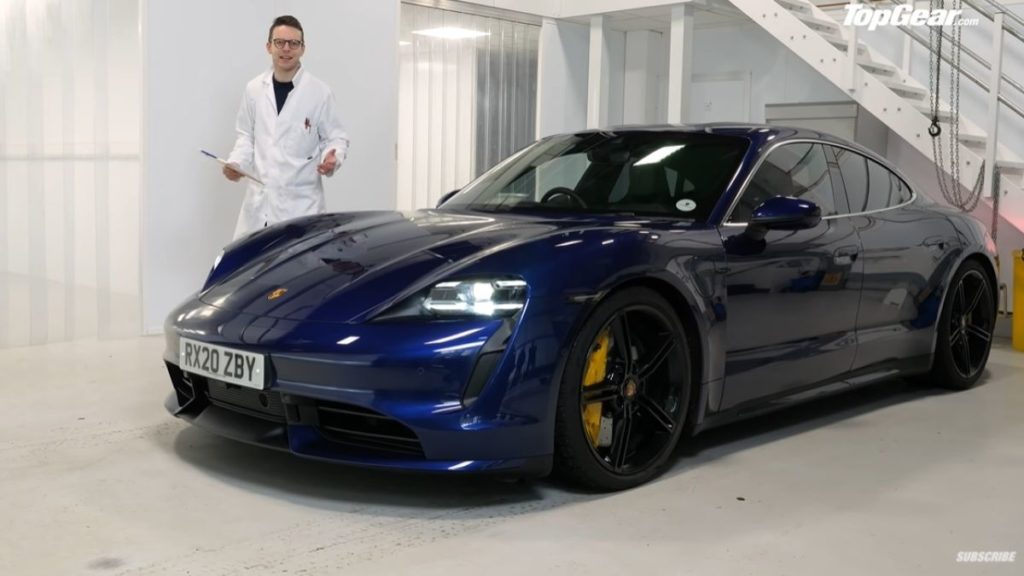 The turbo variant comes with an option of two battery packs: a standard 73 kWh and a performance battery plus with 93.4 kWh capacity.
With the standard 73 kWh pack, you get an EPA electric range of up to 212 miles, whereas the bigger battery can boost the driving range up to 275 miles.
The dual-motor setup with AWD configuration is provided as standard across all variants.
In terms of power output, it can generate 616 BHP (670 BHP under launch control mode) and 850 Nm of torque.
Furthermore, the top speed of the Porsche Taycan Turbo is rated 161 mph.
How Does It Drive On Motorway?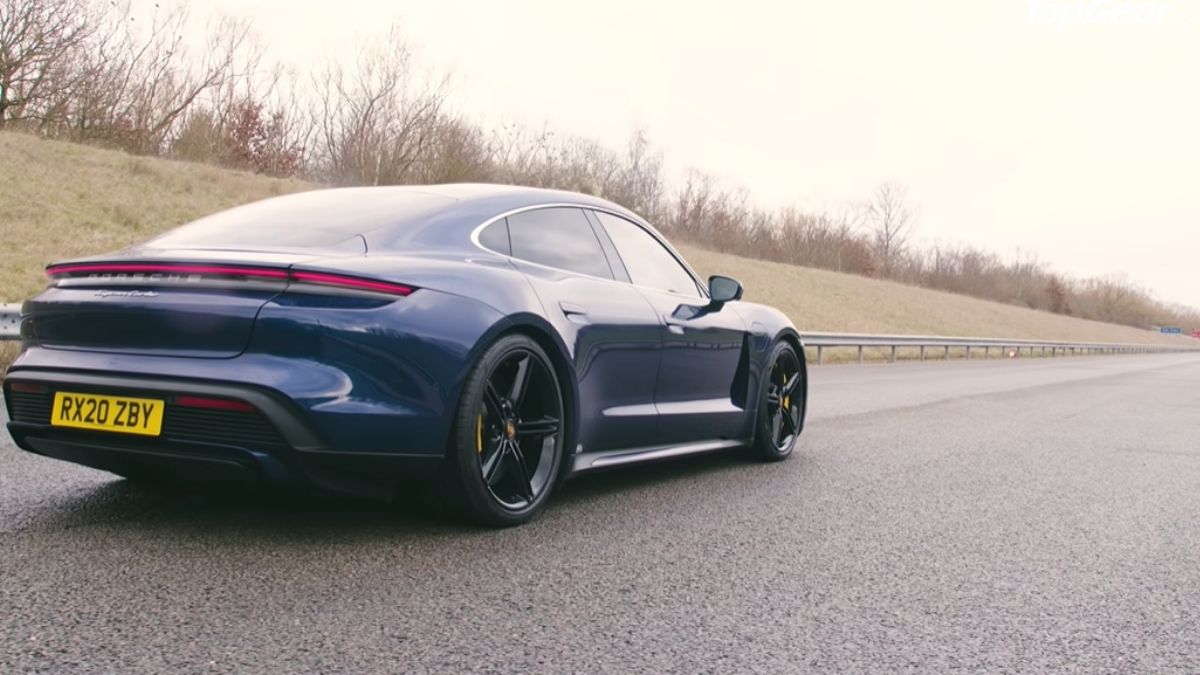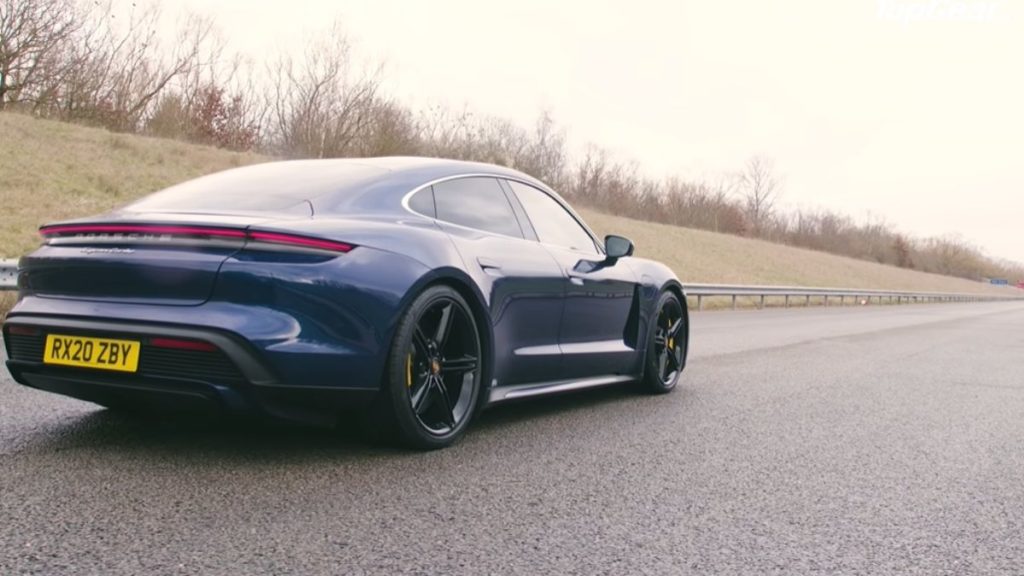 While driving at 70 mph on the track, Ollie Kew said it's 'freakishly good.' Even at 105 mph, Taycan was stable, quiet, and comfortable. Ollie said even at such a high speed, you can move the steering with one finger.
He added: 'It's lower than Panamera and quieter than Porsche's luxury limo.
Currently, only Tesla Model S Plaid or Rimac can faster Taycan. Furthermore, he said, it's flat, composed, and undramatic. According to Ollie, no EV is as fun to drive as Taycan.
How's It In Terms Of Practicality?
Well, we would not be very impressed. There isn't much room on the rear seat; the legroom and the headspace seem somewhat compromised.
In Ollie's opinion, the trunk space is almost the same as you would get in the Ford Focus. Plus, rear visibility isn't something that can highly impress you.
Porsche Taycan Turbo: Acceleration Test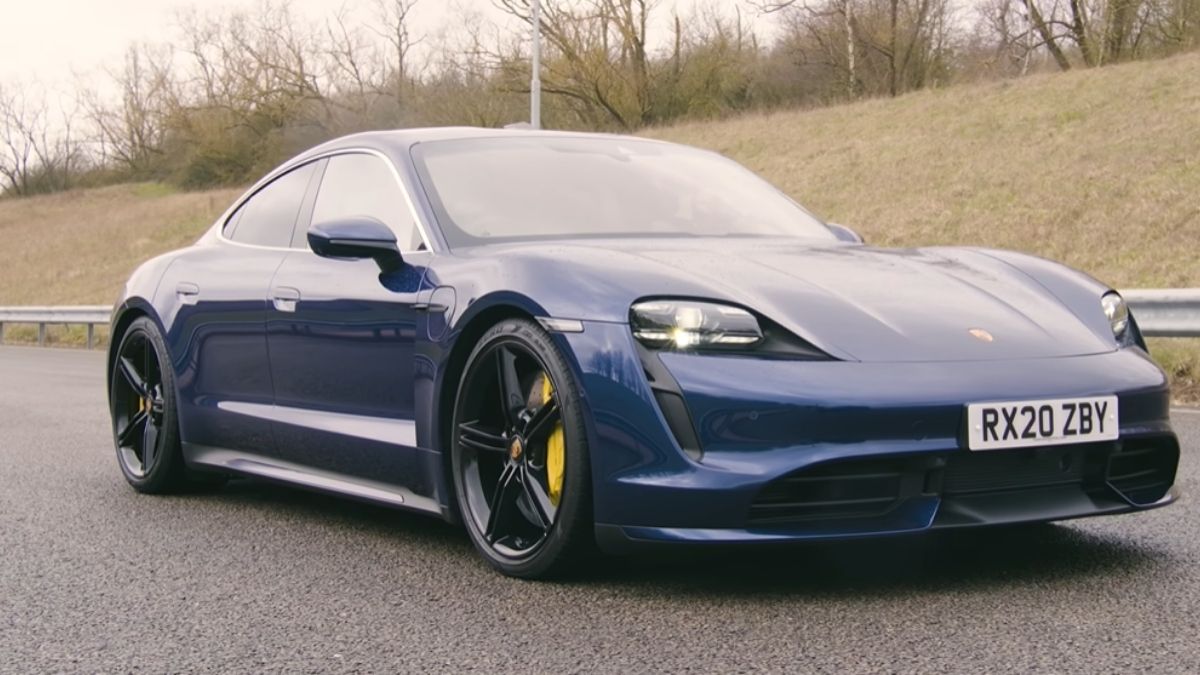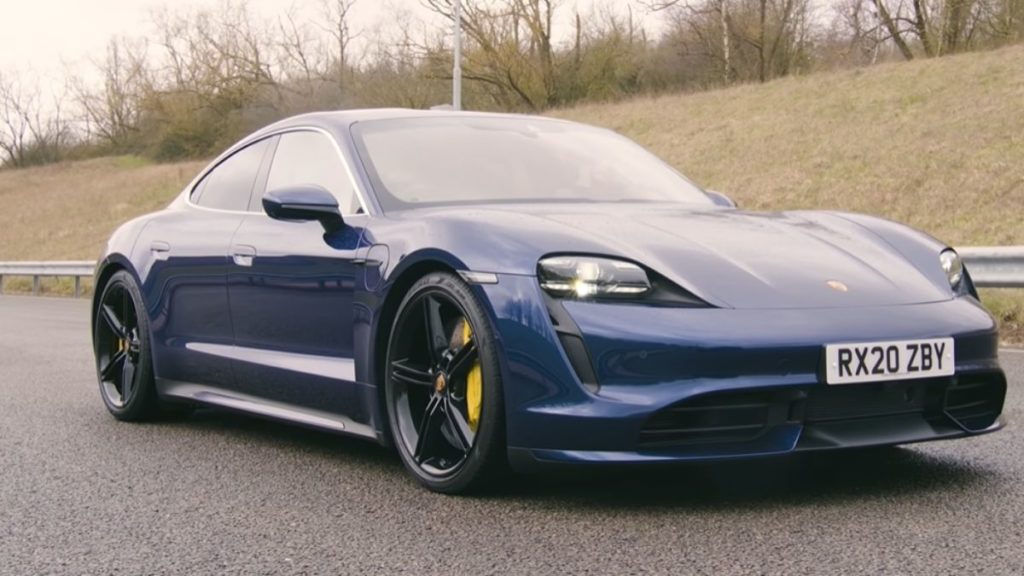 As per the on-paper specs, it can sprint from 0 to 60 mph in just 3.0 seconds with launch control. However, that's the best-case scenario figure, and it's hard to achieve for an amateur driver.
Therefore, Ollie kept normal daily driving conditions without modifying anything to achieve better results.
He was in England and as usual, there was light rain. In that weather condition, he accelerated from 0 to 60 mph in 3.66 seconds and 0 to 100 mph in 7.89 seconds, which is still impressive considering the atmosphere.
Innovative Features And Design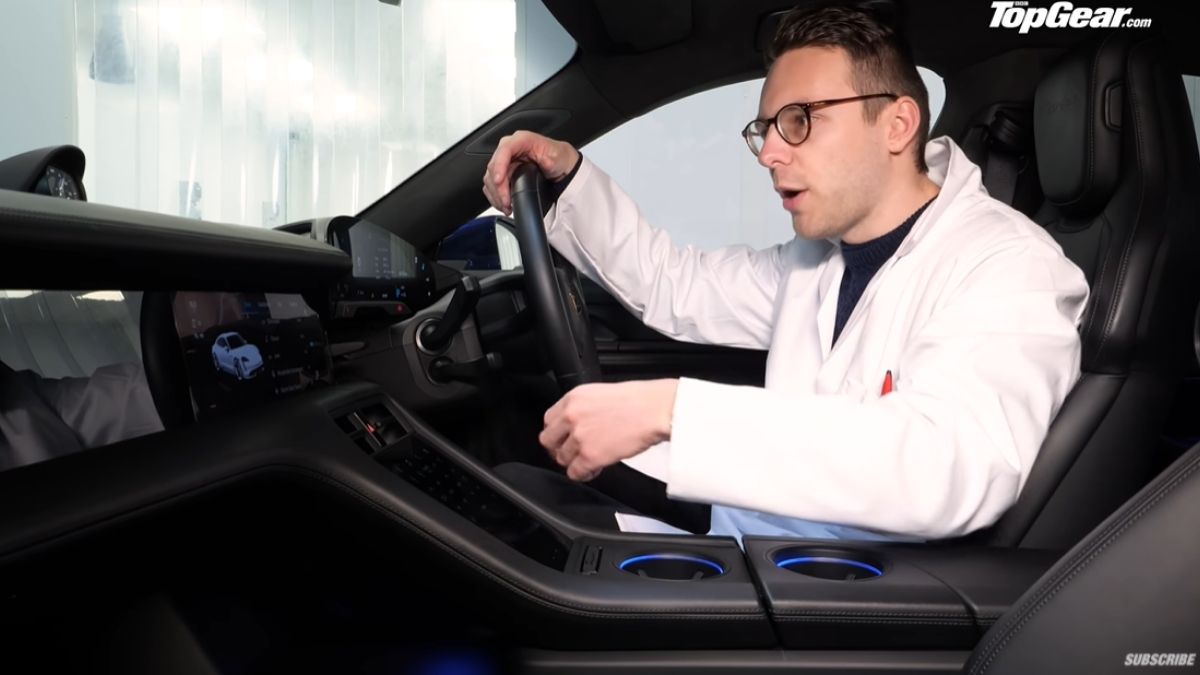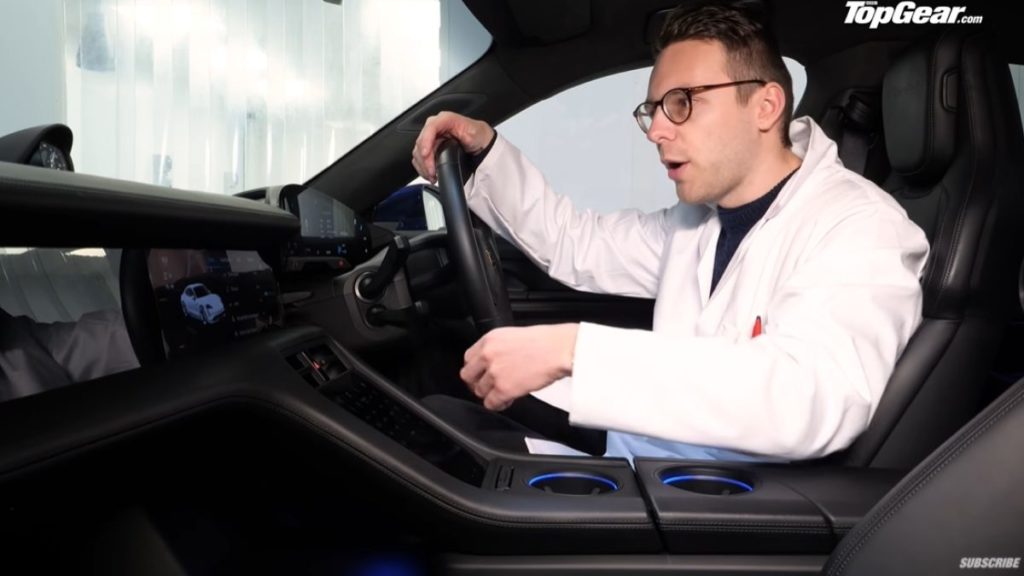 In terms of looks, like the rest of the Porsche cars, it looks fantastic.
One small yet impressive feature we witnessed was its charging flap on the left fender. The charging flap silently slides up as soon as you slide the bottom of a slab provided adjacent to the flap.
Speaking of the interior, the touchscreen is the same as you get in the Porsche 911 and Panamera. The automaker shifted the gear selector behind the screen in order to provide some extra space on the center console. Overall, the interior appears to be of premium quality.
Is The Porsche Taycan Comfortable?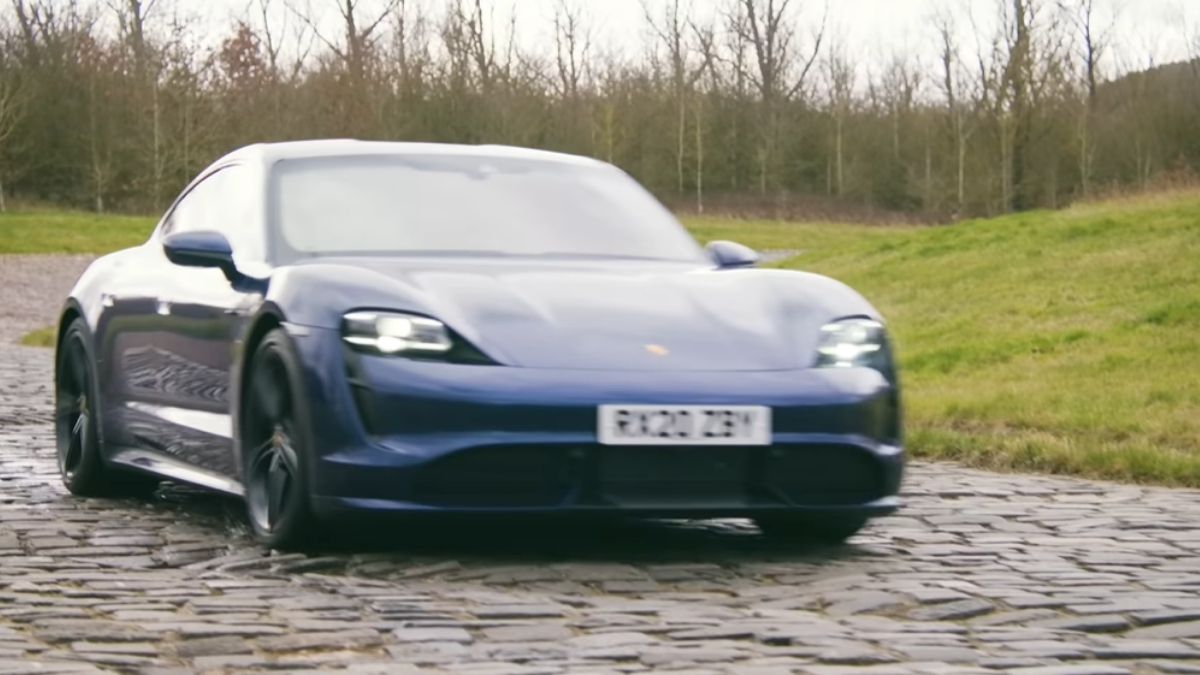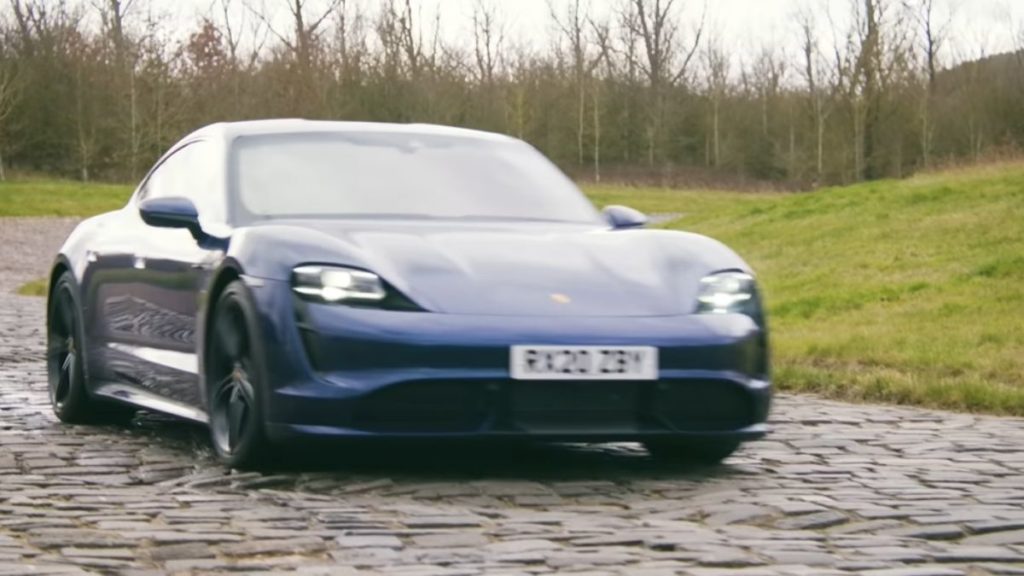 To further check the comfort level of Taycan, Ollie took it on a Belgian pave road. He said that it's impressive and comfortable as all Porsche Taycan models come equipped with air suspension as standard.
Charging
Porsche Taycan takes about 11-12 hours for charging from 0 to 100% using a 9.6 kW AC charger that you can install at home.
However, with the help of 50 kW and 270 kW DC fast chargers at stations, you can juice up batteries from 5 to 80% in just 93 min and 22.5 minutes, respectively.
Verdict
According to Ollie Kew, Porsche Taycan is the most sorted all-around EV in the world. It can play luxury GT and still be a proper Porsche sports car.
The guy from Top Gear said that the exquisite interior of the Porsche Taycan knocks down Tesla's build quality.
However, the electric range is a bit of a downside and it would be great if Porsche could improve its driving range.
Also, the mid-range variant Porsche Taycan 4S seems like a better option as you get the same premium interior along with affordability.
Source: Top Gear