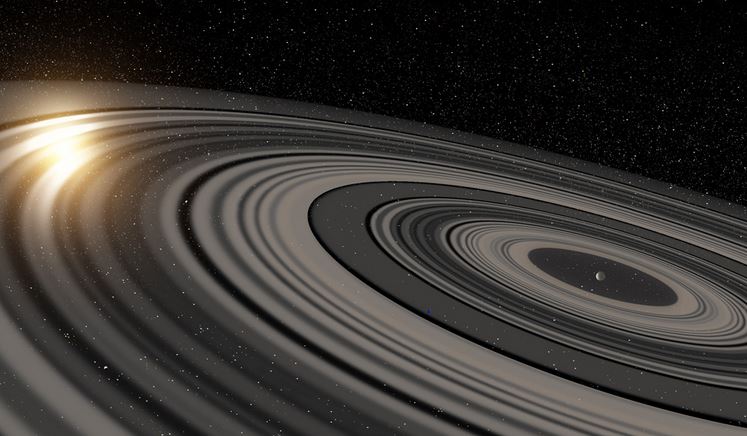 When you think about planets with rings, you immediately think of Saturn- with its magnificent large ring system. New study shows that along with Saturn, three more planets – Jupiter, Uranus, Neptune – have a ring system, though only more faint and therefore, less visible. Yes, that's right. Jupiter has its own system of rings. Observations also suggest that the minor planet Chariklo, that orbits between Saturn and Uranus might have its own ring system.
Saturn has the largest ring system in all of the solar system. The ring system of Saturn was known about as far back as 1610 by Galileo. But Galileo did not have a powerful enough telescope to observe the system properly. Christiaan Huygens, the Dutch mathematician and scientist, eventually became the first person to describe Saturn as having a disk surrounding it.
Also read: Did the Crater Impact in Mexico Cause the Extinction of Dinosaurs?
Spectroscopic observations in the 19th century claimed that the ring system comprise smaller rings, each one made of tiny particles, with sizes ranging from a few micrometers to meters, orbiting Saturn. They are mostly composed of water ice containing chemicals and other contaminants. Wholly, Saturn has 12 rings with two divisions. Observations also suggest that two of its moons fall inside the ring system.
The rings on Jupiter were not discovered until 1979 when The Voyager 1 space probe conducted a flyby of the planet. The system can only be observed by the most powerful of telescopes as the rings are mainly composed of dust and are hence very faint. Scientists also believe that one of its moon – Himalia – could have its own system of rings. This system of rings are not limited to planets after all!
The rings on Uranus are believed to be relatively young – about 600 million years young. They are thought to have originated as a result of collisions thereby causing fragmentation of a number of moons that the planet once had. After the collisions, the moons probably broke into a number of particles, which eventually formed the narrow and optically dense rings. Uranus is presently thought to have 13 rings which are very faint, most being a few kilometers wide and mostly containing large particles about 0.2 to 20 kilometers in diameter.
The rings on Neptune were discovered only in 1989 when The Voyager 2 space probe conducted a flyby of the planet. The planet contains 6 rings – very dark and likely composed of organic matter processed by radiation. Four of Neptune's moons are embedded in its ring system.
Also the minor planet Chariklo – an asteroid that orbits the sun between Saturn and Uranus has 2 rings orbiting it, a result of collisions that produced debris. Pluto is not known to have any ring system.
The ring system in Planets is actually much more common than previously thought.
---
Stay tuned for trending and latest technology news from fossBytes.
---