Google Pixel 4 is certainly not coming to India, but few developers are trying hard that smartphone users can at least enjoy its amazing camera features.
One such feature is Astrophotography that can capture night sky images with extreme details. Few developers have built GCam (Google Camera) ports that bring the Pixel 4 feature on several Android devices, including many Redmi and Xiaomi devices.
For those who don't know, GCam is Google's proprietary camera app that is available for all Pixel devices. For a long time, geeks have been developing unofficial ports of the Google camera app that allow users to utilize Pixel camera features on their current Android devices.
In the latest ports of Google Cam 7.0, many Xiaomi users have managed to get Pixel 4 astrophotography features on their devices.
Apart from Astrophotography, downloading the latest GCam version will also bring in other Pixel's camera features such as Super Res Zoom, Night Sight, Pixel's Iconic Portrait mode and more.
Xiaomi phones supporting GCam 7
Google Camera Mods only run on smartphones that have support camera 2 API Support. This includes MIUI devices such as Redmi Note 7 Pro, Redmi K20, Redmi Note 5, Pocophone F1, Redmi 8, Redmi 8 Pro and many more.
This also includes Xiaomi and Redmi phones that pack the latest Snapdragon series such as 400s, 600s, 700s, 800s, etc. You can check whether your phone supports Camera 2 API support by downloading Camera2 API Probe app from the Google Play Store.
How to install GCam 7.0 on your Xiaomi device?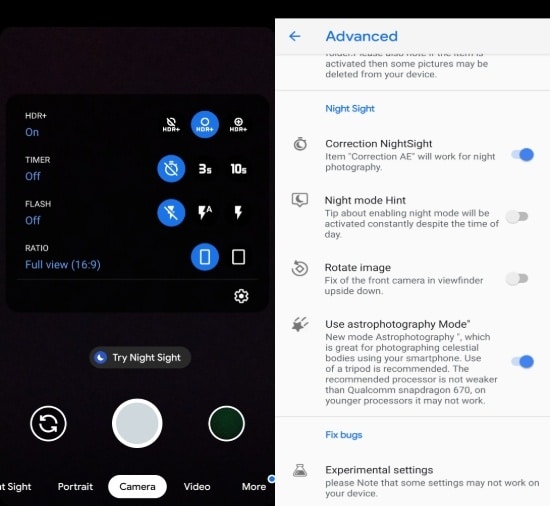 Just download the supported GCam port and install the APK file on your Xiaomi device.
Until now, a lot of developers have come up with GCam ports that turn Xiaomi devices into Pixel. I used the GCam 7.0 port from Parrot043 on my Redmi Note 7 Pro and managed to run the astrophotography feature.