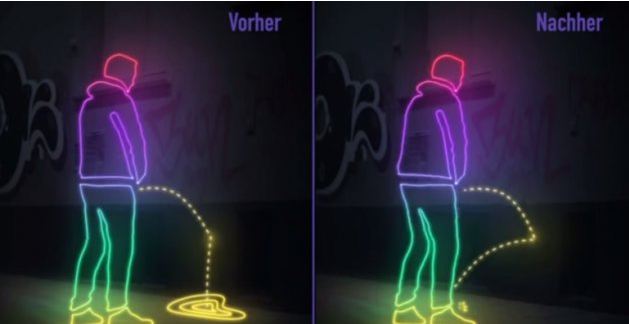 Everyone gets irritated when someone pees at public places and if you try to advise them, they start fighting about why should we care. German city Hamburg has found an amusing but effective way to cope up with this problem. They are using nano-paint coating on its walls to avoid public pee to avoid the repeated cleaning of the walls of the city.
Hamburg's top entertainment destination St. Pauli red light district attracts nearly 20 million visitors a year. This area is famous for its mix of popular nightclubs and legal prostitution. People enjoy late night parties clubbing and then relieve themselves against the walls, leaving them to smell badly.
Also read: A Smartphone Dongle for Fast and Cheap HIV and Syphilis Tests
These pee-proof walls of St Pauli have been covered with a super-hydrophobic coating and provided with signs reading the following:
"Do not pee here. We pee back!"
When people pee on these walls, it splashes it back on that person teaching him a lesson to remember.
The super-hyper hydrophobic coating covering this pee-proof wall is known by the name 'Ultra-Ever-Dry.' It was first developed back in year 2012 by the US company Resource Energy Group and was used on Nissan cars. The paint costs USD 446 a gallon i.e. 3.7 litres.
https://www.youtube.com/watch?v=uoN5EteWCH8
Also read: Free Internet Provider Outernet Launching Its Own Satellites
---
What do you think about this pee-proof wall? Write in comments.
Stay tuned for latest technology news from fossBytes!
---