With the increasing demand for bandwidth across a wide range of devices used in consumer and enterprise domains, PCI Express, the high-speed serial computer expansion bus standard has also evolved over the years.
PCI Special Interest Group, a body that sets standards for PCIe, has announced PCI Express 6 that promises four times the bandwidth offered by PCIe 4.0 and twice of PCIe 5.0.
It is worth noting that PCIe 4.0 enabled devices have not seen the light of day. PCI-SIG also finalized the specifications of PCIe 5.0 in May this year.
PCIe 6.0 – Bandwidth Of 256GB/s & PAM4
PCIe 6.0 will deliver the data rate of staggering 64GT/s and will also maintain backward compatibility so that you don't have to throw away your old cards.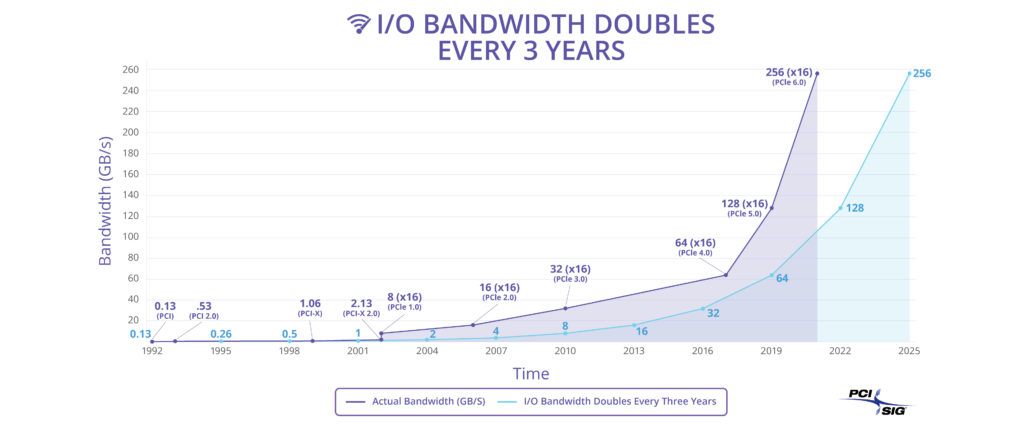 In terms of bandwidth, it supports up to 256GB/s via a 16 slot. It is a massive improvement over the previously announced PCIe standards and PCIe 6.0 could easily be one of the most important announcements in recent years.
PCIe 6.0 also utilizes Pulse Amplitude Modulation with 4 levels (PAM-4) encoding and deploys the existing 56G PAM-4 which is commonly used in the industry.
It also brings low-latency Forward Error Correction (FEC) to boost bandwidth efficiency.
It is still much time before we get to see PCIe 6.0 in devices. PCI-SIG is targeting 2021 to finalize the standards and it will take a year or two after 2021 for the first PCIe 6.0 devices to appear.