In 2021, PC sales broke many records despite facing chip shortages. According to Canalys's report, a record-breaking 341 million PCs were shipped in 2021, the highest since 2012. Lenovo, HP, and Dell were the biggest winners in 2021, with the most PC sales.
Apple, too, had a great year with the largest growth number year-over-year at 28.3%. PC shipments grew 15% year over year in 2021 and were up 27% over 2019. Many people switching to work from home might be one of the main reasons for such growth.
"For the market to post double-digit growth over an impressive 2020, despite the constant cloud of supply constraints, speaks volumes about how strong PC demand has been over the last 12 months."

Canalys Senior Analyst Ishan Dutt
One of the more interesting takeaways from the report was that "ownership of two or more PCs per person has become more common in developed markets."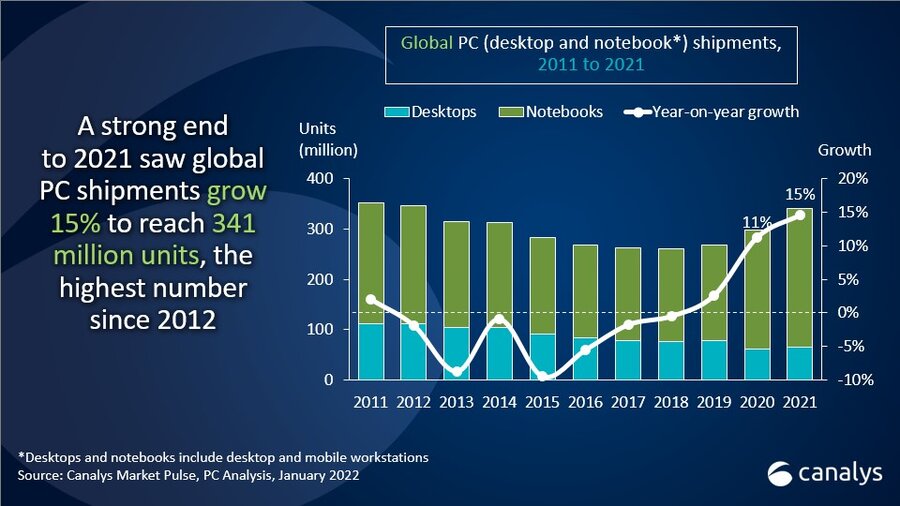 PC Sales in 2021
Despite continued chip shortages, Lenovo came out on top with a record 82.1 million units shipped for 2021. HP came in second with 71.4 million units shipped for all of 2021, up by 9.5% over the previous year. Dell is coming in third to make up the final big three in the PC market with 59.3 million units shipped.
Despite having the biggest annual growth due to the popularity of its M1 Macbooks, Apple still came in fourth. The company shipped a total of 29.0 million units in 2021.
Completing the top 5 list for PC sales was Acer, with 24.4 million units shipped in 2021. The company also had the second-biggest annual growth after Apple at 21.8%.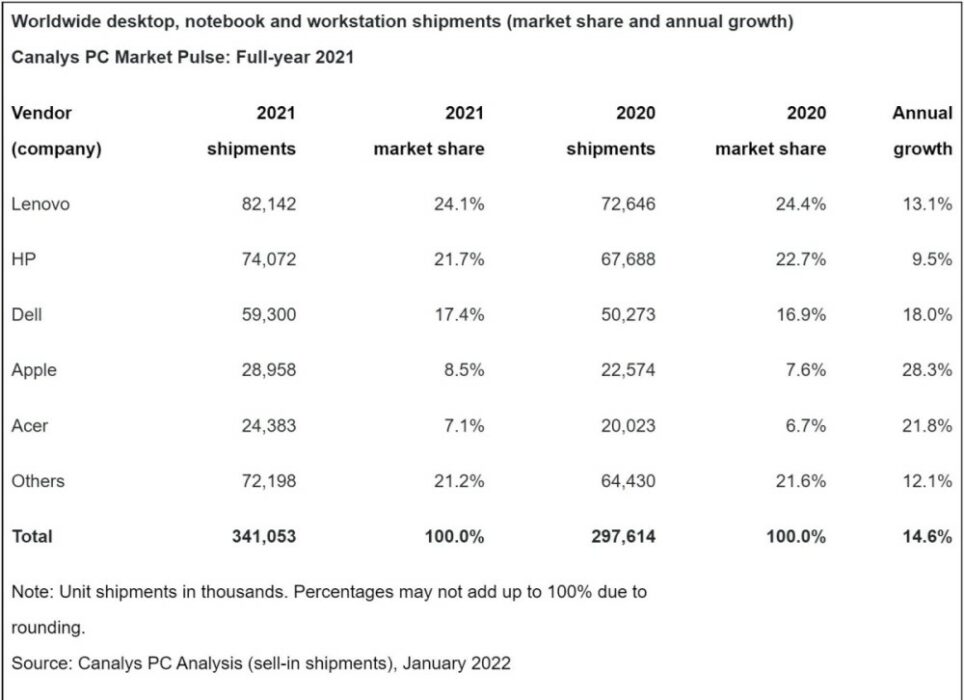 Interestingly, Lenovo, HP, Dell, and Acer all account for 70% of the total PC market. At the same time, 21.6% of the market share is left to companies like Razer, ASUS, Microsoft, MSI, etc.
"While 2021 was the year of digital transformation, 2022 will be the year of digital acceleration. Demand for technology has boomed in the past two years, the effects of which continue to disrupt the supply chain, affecting not just availability of PCs, but also smartphones, automobiles and servers. We will see revenue growth in the industry from spending on premium PCs, monitors, accessories and other technology products that enable us to work from anywhere, collaborate around the world and remain ultra-productive."

Canalys Principal Analyst Rushabh Doshi