OnePlus has steadily established itself as one of the most popular and prominent smartphone manufacturers in India and the US. Powered by its de-cluttered Android fork OxygenOS, the company has been releasing value for money smartphones for quite some time now. Besides all the premium features it brings to its flagship devices, one of the best things about OnePlus phones is OxygenOS.
The latest OxygenOS 11 update comes with several features already available in other Android forks like MIUI, EMUI, and Samsung's OneUI. However, it is difficult to believe that with the help of OxygenOS 11 features, you can experience a near to stock Android experience as the company has started adding bloatware.
OnePlus has emerged as one of the top OEMs to offer Android 11 experience to its users soon after its release in the form of OxygenOS 11. Here are the OxygenOS 11 supported devices.
OxygenOS 11 Supported Devices
OnePlus 6
OnePlus 6T
OnePlus 6T McLaren Edition
OnePlus 7
OnePlus 7 Pro
OnePlus 7T
OnePlus 7T Pro McLaren Edition
OnePlus Nord
OnePlus 8
OnePlus 8 Pro
OnePlus 8T
If you have an OxygenOS 11 supported device, here are some features you should use:
8 Best OxygenOS 11 Features
1. Always-on Display – Top OxygenOS 11 Feature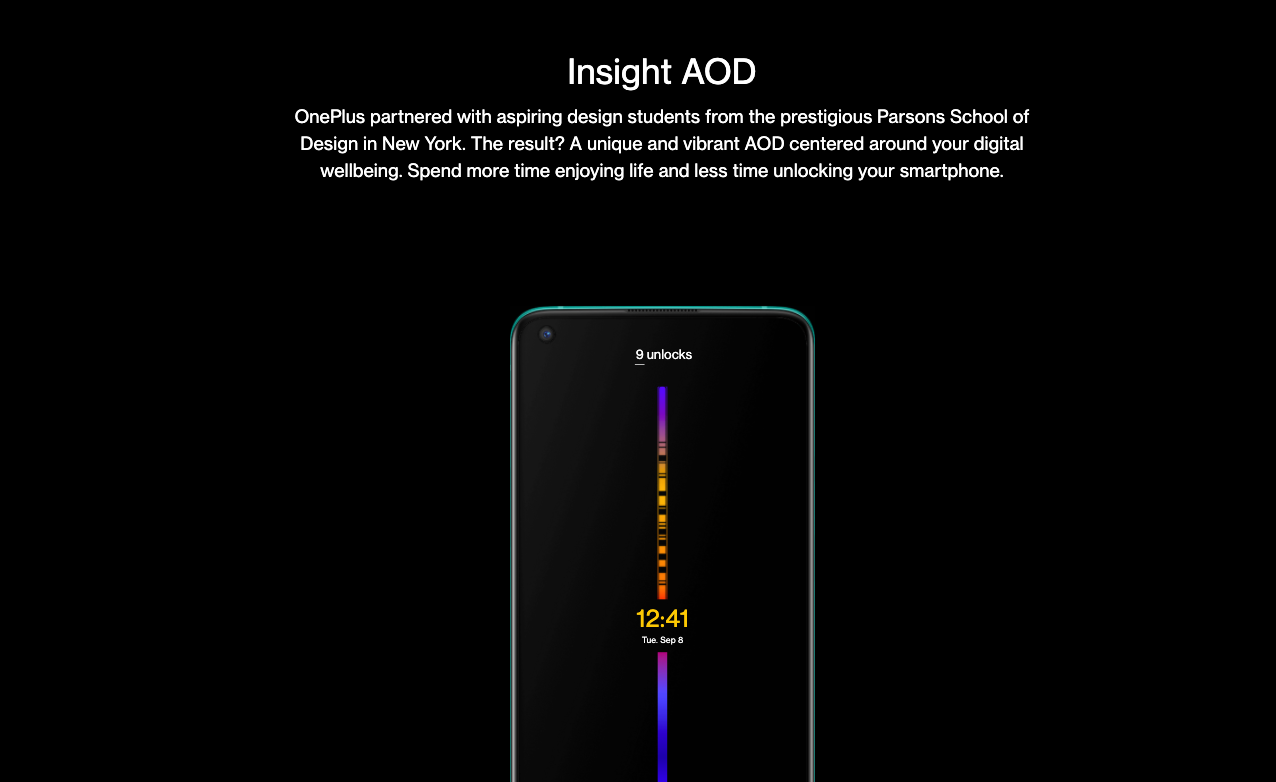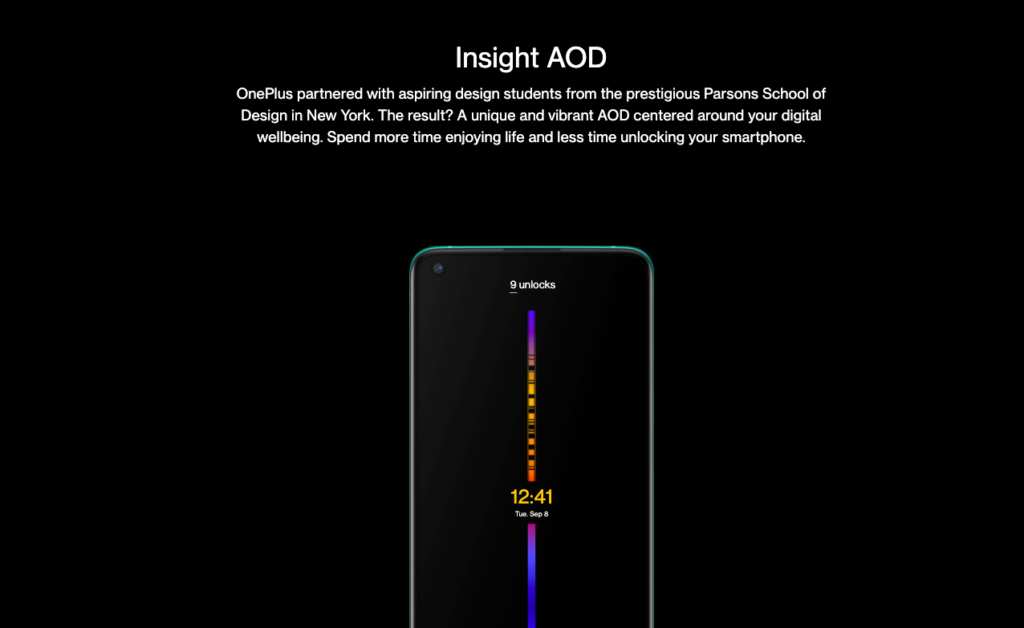 OnePlus is late to the party, but with OxygenOS 11, it has finally introduced the Always-on display feature to its smartphones. The company has borrowed the design for this OxygenOS 11 feature from Samsung's OneUI and added its personal touch.
Users can choose from 12 different AOD styles and there is also an option to schedule Always-on Display. OnePlus has focused on Digital Wellbeing with its Insight Always On Display feature of OxygenOS 11. AOD has the option to show the number of times you have unlocked your smartphone.
AOD is one of the best OxygenOS 11 features OnePlus has brought for its users as they don't have to turn on the display of their phone every time to check time or notifications.
2. Enhanced Dark Mode – Schedule Dark Mode With OxygenOS 11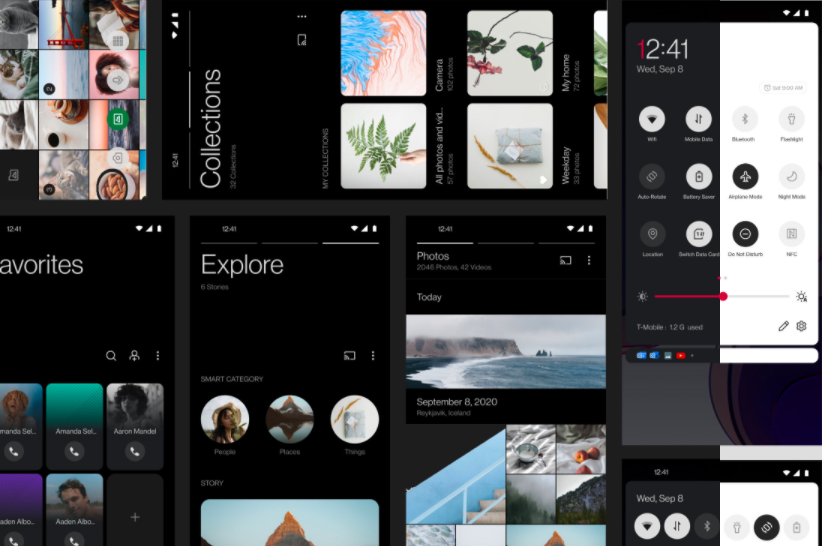 OxygenOS 11 brings improved dark mode to OnePlus smartphones. The smartphone manufacturer says its new and enhanced dark mode dynamically changes contrast, readjusts color tones, and makes it easy to read content by adding distinctive layers.
According to OnePlus, the OxygenOS 11 dark mode feature is certified by Web Content Accessibility Guidelines to offer a comfortable viewing experience to users. Another big change in the dark mode in OxygenOS 11 is that now you can schedule dark mode by visiting the Display section under the Settings menu.
3. Zen Mode 2.0 – Best OxygenOS Feature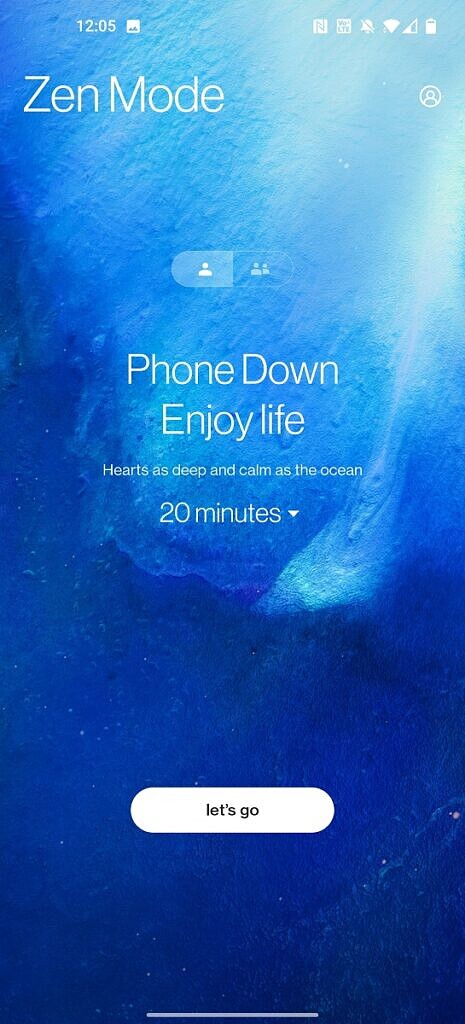 Zen Mode is one of the best features of OxygenOS, where you can live a distraction-free life without your phone continuously beeping notifications. OnePlus has updated Zen Mode in OxygenOS 11, and now you can invite your friends into Zen Space and relax together.
The latest Zen Mode brings 5 new themes – Ocean, Space, Grassland, Meditation, and Sunrise. However, the option to invite other friends is only available for OnePlus users. Moreover, you can schedule Zen Mode and choose a time duration for it from different options.
4. Smart Gallery – Organize your photos smartly in OxygenOS 11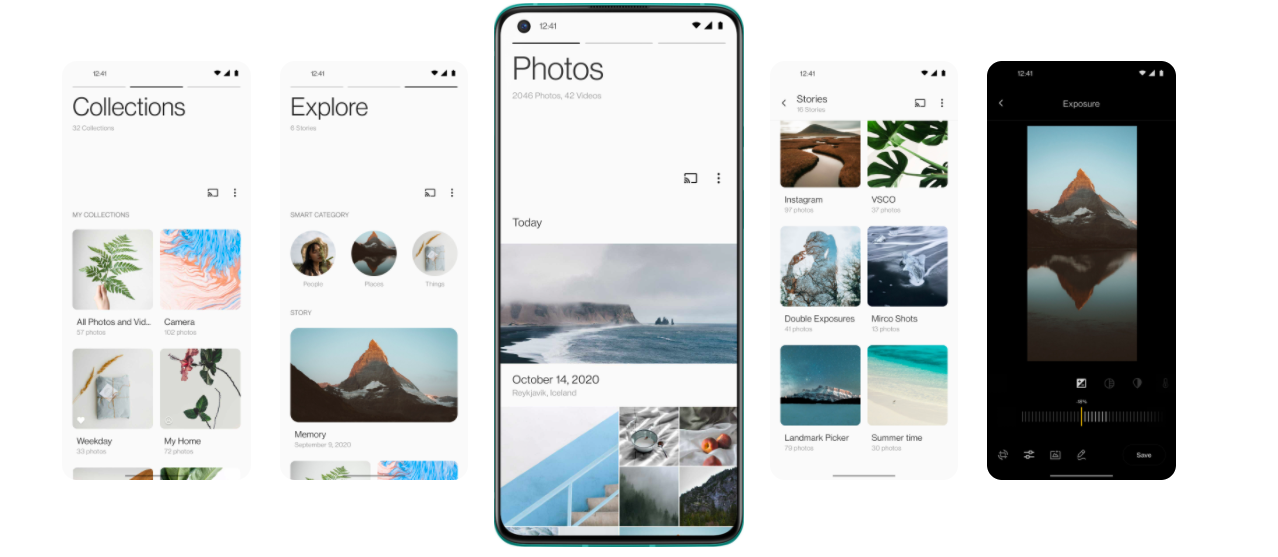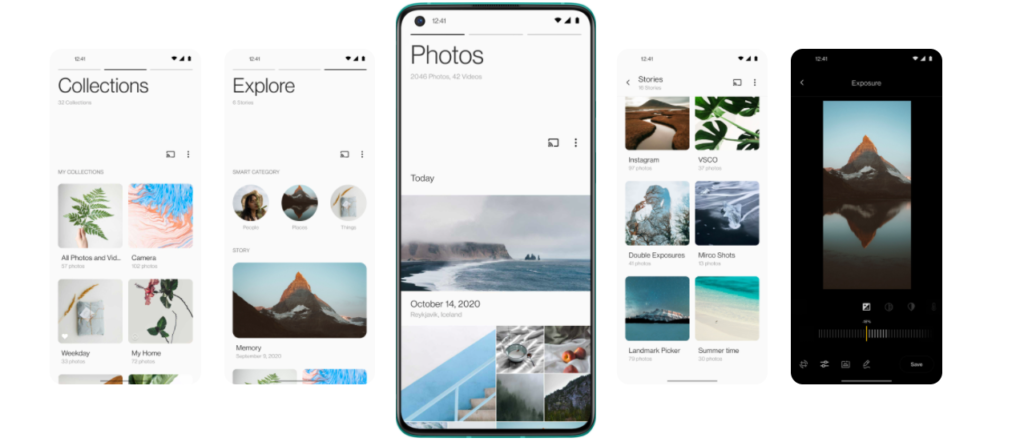 Gallery app in OxygenOS 11 has received an upgrade in the form of Smart Gallery in which, OnePlus says, your photos are organized intuitively in a sleek magazine design. It has also added a Story feature in OxygenOS 11 gallery app which creates a story from a collection of your photos to help you cherish your memories.
This is similar to Google Photos' Highlight feature. The Gallery app has also been revamped with a new UI in OxygenOS 11.
5. New Sans Font – Improved readability in OxygenOS 11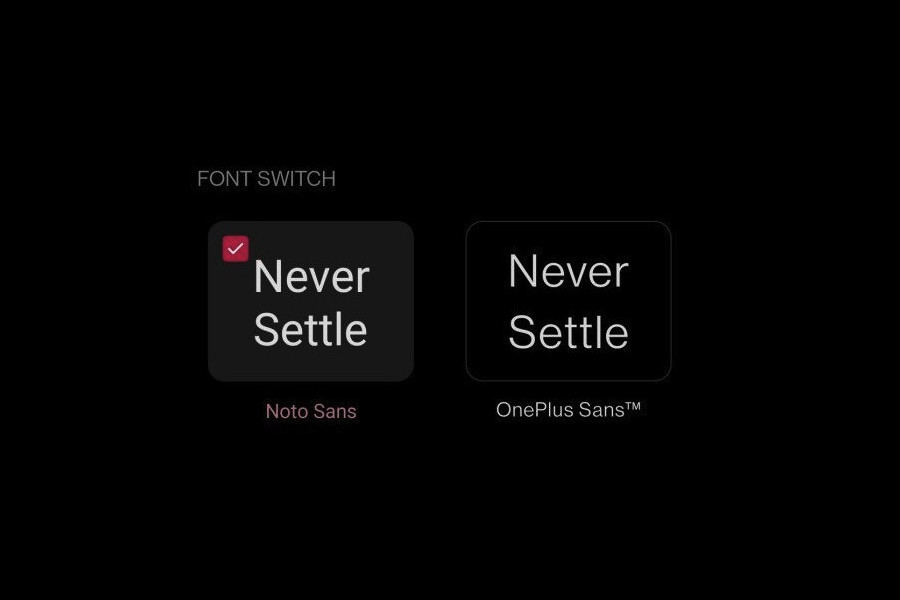 To improve readability and overall user experience, OnePlus has added a new Sans font in OxygenOS 11. The new font has wider spacing and an improved typeface. You can choose the new Sans font by visiting the Customization menu in the Settings. The font looks cleaner and focuses on making content more visible to eyes for reading purposes.
6. Dynamic Live Wallpaper – Automatically changing wallpapers in OxygenOS 11
With OxygenOS 11, OnePlus has introduced its version of Dynamic wallpapers that change automatically depending upon the day's time. Apple also introduced this feature in iOS 13. The colors of the wallpapers change when you turn on your device's screen and again when you unlock it.
The live wallpaper OxygenOS 11 feature is currently available for the OnePlus 8 and OnePlus 8T. Still, folks at XDA Developers have found a way to make it available for other Android devices as well. You can check it out here.
7. Customizable Swipe Down Gestures – A utility OxygenOS 11 feature
To make it easier for users to access widgets and notifications, OnePlus has added customizable swipe down gestures in OxygenOS 11. Now, you can customize the gesture to either access notifications or Shelf by swiping down on the notification pane.
In OxygenOS 10, there was only one swipe down gesture that allowed you to access the notification pane by swiping down anywhere on the screen. But, in OxygenOS 11, OnePlus has added another option that could be used to access Shelf, a pane with frequently-used widgets.
8. Revamped UI for default apps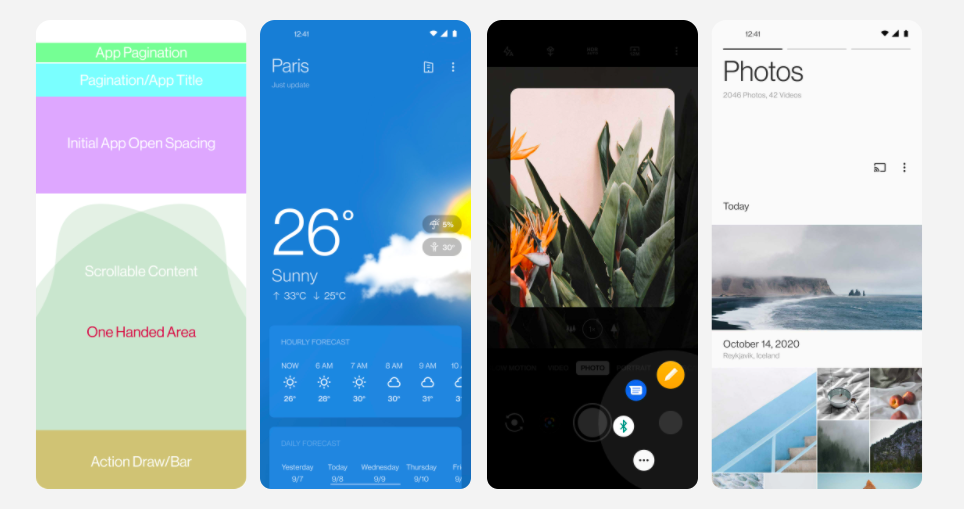 This is not an OxygenOS 11 feature per se but something that makes the UI more cleaner and aligned for single-handed usage. OnePlus has revamped the UI of several default apps, including Weather, Notes, and Gallery. There are new and bold icons to enhance the overall user experience of OnePlus users.
The above list of OxygenOS 11 features is not exhaustive. There are several other tweaks that OnePlus has done in its latest OxygenOS update to improve the user experience and aesthetics of its smartphones.
OxygenOS 11 Features: Similar to Samsung's OneUI
There is a very striking similarity between OxygenOS 11 and Samsung's OneUI. It seems that OnePlus is moving away from the stock Android experience it is known to offer. The OxygenOS 11 update has brought disappointment for many who sought OnePlus for a clean UI as the company has included 'unremovable' apps like Facebook and Netflix.
However, you can remove bloatware from OxygenOS 11 with a little bit of tinkering with the OS.
OxygenOS 11 FAQs
1. What is OxygenOS 11 release date?
OnePlus released OxygenOS 11 on October 10 for OnePlus 8 and OnePlus 8 Pro. It is rolling out the beta as well as a stable version gradually to all OxygenOS 11 supported devices.
2. How to download OxygenOS 11?
If your smartphone is in the list of OxygenOS 11 supported devices, you will get the update as soon as the company releases it. You can check by visiting Settings>System>System Updates menu.
3. Which devices will get OxygenOS 11?
OnePlus has released the list of devices supporting OxygenOS 11, and the latest OS will be available to OnePlus 6 and later released devices.
4. Is OnePlus offering OxygenOS 11 for OnePlus 7 Pro?
Yes, OxygenOS 11 update is available for OnePlus 7 Pro.
5. Will OnePlus 6 get OxygenOS 11 update?
Yes, you will get OxygenOS 11 update for OnePlus 6 according to OnePlus' official OxygenOS 11 supported devices list.