Short Bytes: Opera has launched a new, experimental web browser that tries to reimagine the web browser as we know it. Named Opera Neon, this desktop web browser does away with the traditional tabs and replaces them with round bubbles on the right side. You also get an inbuilt screenshot grabber and a gallery to view them. This futuristic web browser is available for download on Windows and macOS.
A
fter Google Chrome arrived on the web browser scene and conquered it, the innovation in browsers slowed down. The basic idea of how a web browser should work has remained unchanged for a long time. But, in the recent times, we have seen new attempts like
Vivaldi
and Brave. Now, Opera has launched
a new web browser
named Opera Neon.
Opera Neon is an experimental web browser that relies on some relatively newer ideas to change how we work on a web browser. The first screen of Neon makes the same statement. There are no tabs, the background of your desktop automatically becomes your new tabs page background. Instead of tabs, you'll see round bubbles on the right.
On the home screen, there's no discrete address bar. To enter URLs and perform searches, there's a line above the shortcut bubbles.
On the left side, there are some browser tools, including the ability to snap the screenshot of websites, a gallery to view the snaps, and downloads. My personal favorite feature is a button called the Player, which shows all the songs and videos available to play in all opened tabs.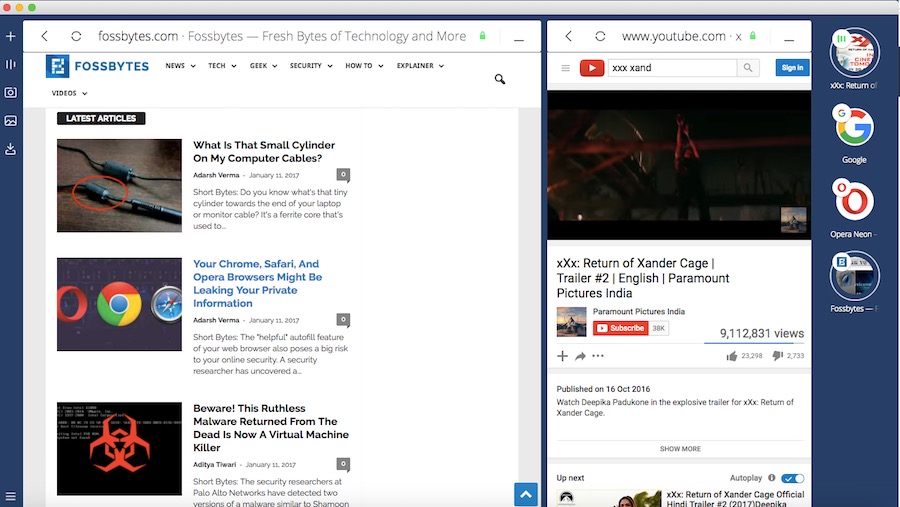 Opera Neon also packs built-in split-screen browsing. Simply drag a website from right side to an opened web page and Neon will let you split the browser screen in two.
Opera isn't projecting Neon as a full-fledged web browser replacement. But, it surely looks like a collection of some cool ideas.
If these features appeal you, you can try out Opera Neon on Windows and macOS. Don't forget to share your opinions and feedback in comments.
Now Watch: How To Make Mozilla Firefox Superfast