Online sales such as Flipkart Big Billion Days and Amazon's Great Indian Sale have become an essential part of our shopping experience. But there is a lot more that goes on behind the scenes than what we are aware of. This will help you make a more informed decision about buying things online and being a responsible buyer. So let's take a closer look at how these companies operate their big festive sales.
Have you ever waited for an online sale to buy the product you want? Did you ever notice how smartphones that are on sale get their prices reduced after a while? Have you noticed how some products are only a little bit cheaper than usual but the tag shows it at a considerable discount? So today, we are going to talk about the great scams that are online sales—especially the festive season sales such as Flipkart Big Billion Day Sale and Amazon's Great Indian Sale.
How Amazon and Flipkart market their online sales?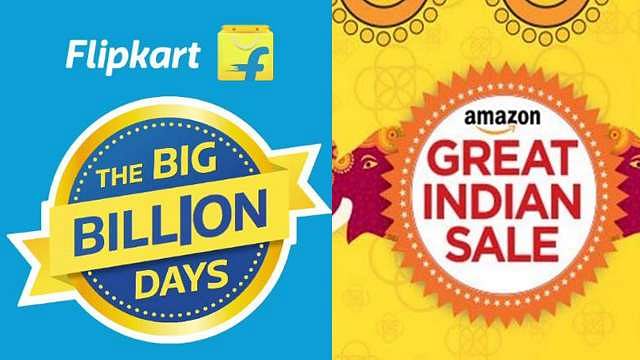 Whether it is Flipkart or Amazon, with each sale, there are only 2-3 smartphones that are discounted while the rest of the products are close to the initial pricing. This helps in marketing the sale of flagship products at a minimum purchase price even though the discounted price is hidden under various terms and conditions like exchange policies, EMIs, bank offers, etc.
Flipkart offered iPhone 12 for a minimum price of Rs 49,999 for its Big Billion Day sale. This was a huge marketing move as Apple cut iPhone 12's price from Rs 79,000 to Rs 65,900 after iPhone 13 was announced. However, the sale marketed the price at Rs 49,999 without disclosing the catch.
The catch was that users had to avail smartphone exchange and a bank offer to get the total discount price. Not to mention the fact that the product you are getting is from an older inventory. Products from an older inventory lose some of their real-world value and cost the company more money to store them longer.
That's why online sales are the best way to get rid of this surplus inventory so that companies can make space for other products. Add on the fact that buyers are exchanging their original smartphones, which are still in pretty good condition this becomes a bad decision from an economic standpoint. Buyers could sell the same smartphone for a much higher price on eBay or OLX.
Deceptive prices for online sales
Online sales are being made to look better and pull in more and more customers. But what goes on behind the scenes is something else entirely. The following are just a couple of examples of the reality of these sales.
You might have noticed that when online sales come around, some sellers hike up the original price of their products. This causes the discount price to appear more attractive at 25-30% off while not being that different from its original price. If they kept the original price, it might have been closer to 10-15%. However, not many people notice the change in original price that appears with a strikethrough (e.g., $1000).
Many sellers take advantage of such big online sales to entice customers who don't know any better. Sellers often provide discounts on the MRP of the products during big online sales. Whereas the actual market value without the sale might be less than the MRP, so the effective discount you are getting is not that big.
The discounted price is not that different from the original, but the product is often featured on the website even then. Most products that are discounted heavily or are available at ridiculous prices due to exchange offers are the ones that did not have good sales previously. Due to that, there is quite a lot of stock that is still leftover from before.
Online sales are just tools to get rid of the initial inventory
Speaking of stock, many products are launched right before Flipkart BBD or Amazon Great Indian Sale. These products are then discounted to make it seem like customers are getting a good offer. In contrast, the reality is that the products are launched at a hiked-up price, and after a month or two, the base price decreases. For example, Poco F1 was launched at Rs 21,000 and was later sold for Rs 15,000. But after a few months, the product's base price went down to Rs 15,000.
These smartphones that are on sale were manufactured quite a while ago. We get it on sale because manufacturers have to get rid of the stock as its value will decrease soon. That's why companies put their products on sale just before the product is about to fall in value.
Conclusion
Big tech companies like Flipkart and Amazon make quite a lot of profit from these online sales. To make matters worse, they even give a handful of sellers preferential treatment to eliminate the competition. Amazon has even gone as far as copying other popular products and rigged search results in its favor. This resulted in many products from AmazonBasics appearing in the top search results.
These festive sales are not only fooling the customer but also hurting the economy. Small retailers suffer the most as they rely on the festive season to get the most deals. Sales go down each year, and small or even medium-sized retailers are forced to shut down their businesses. This is now hurting our economy and millions of lives.