OnePlus has released Android 11 based OxygenOS 11 Beta updates for its OnePlus 8 series just one day after announcing HydrogenOS 11 in China. These Android 11 developer preview builds offer an early look at all the OxygenOS 11 features we'll get to see.
The new HydrogenOS 11 looks similar to Samsung's OneUI in terms of the user interface. OnePlus has added features like Always On Display, live wallpaper that changes according to time, and has brought a user interface overhaul to its native apps.
OxygenOS 11 Features
Some of the features that we can see in OxygenOS 11 are:
Live wallpapers
ORM Memory Management system
New Zen Mode themes
Optimized dark mode with the option to turn it on/off in quick settings
Download OxygenOS 11 For OnePlus 8 Series
If you own an OnePlus 8 or OnePlus 8 Pro and want to try your hands on OxygenOS 11 features, here are the links to the OxygenOS 11 beta updates –
Download OxygenOS 11 For OnePlus 8
Download OxygenOS 11 For OnePlus 8 Pro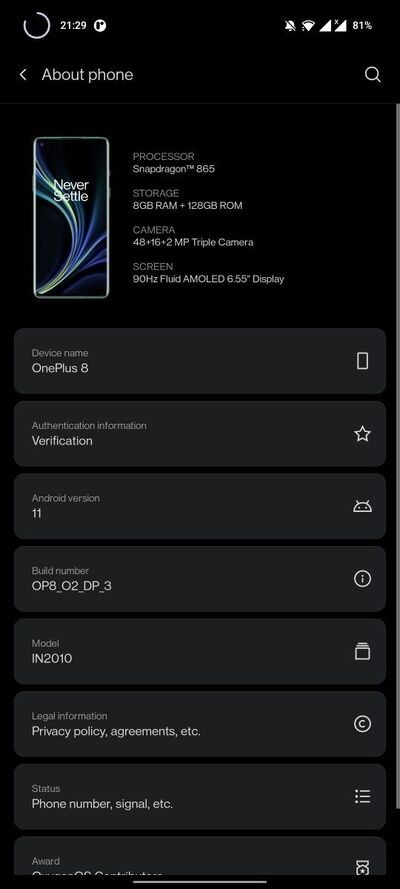 After downloading the above files, go to Settings > System > System Update and then choose the 'Local Upgrade' option by tapping on the gear button on the top right corner of the screen.
Kindly note that the upgrade process will wipe off the entire data; therefore, it is recommended that you take a backup of the data before proceeding with the upgrade.
OnePlus is expected to release OxygenOS 11 for its smartphones sometime in Q4 2020. It is speculated that OxygenOS 11 update will be available for all OnePlus smartphones starting from OnePlus 6.