Time and again, OnePlus has shown Android users what a flagship killer device coupled with premium design and a reasonable price looks like. Now, we are looking at another beast from Oneplus which will unquestionably change the course for premium smartphones like Google Pixel 3 XL, iPhone XS, Samsung Galaxy Note 9 and many more.
Yes! We are talking about OnePlus 6T. Let's digest all the rumors overflowing on the Internet and compile the real facts about OnePlus 6T.
Latest news about OnePlus 6T –
October 22th, 2018 - OnePlus 6T first Camera sample out
OnePlus CEO Pete Lau shared an image on the Chinese news website Weibo which appear to be captured from the OnePlus 6T.
The image is of downtown Shenzhen city lights caught at dawn. The EXIF data of the image is not available, however, you can see the detailing of the sky and the vibrant colors which suggest the superior quality of OnePlus 6T camera. Read the whole story here. 
October 19th, 2018 - OnePlus 6T launch event rescheduled after clash with Apple iPad event
OnePlus has announced in a blog post that it has changed the OnePlus launch event entire schedule to October 29th. This comes a day after Apple announced that it will be holding the iPad event on October 30th.
OnePlus CEO Pete Lau said in the blog post " "If we chose to stick to our original timeline, launching the OnePlus 6T on October 30, we would be overshadowed by Apple," The new schedule is October 29, at 11 AM EDT in Newyork. Read the whole story here.
How much OnePlus 6T will cost you
[OnePlus 6T Price]
Over the years, OnePlus is making incremental price changes for their flagship devices. Their first device OnePlus One started with a price for $299 and their present flagship OnePlus 6 starts for a price of $529.
However, if you look it another way, they have maintained a small incremental price change over the years. For instance, OnePlus 5T was $479. Before that OnePlus kept the same price tag of $479. OnePlus 3T started for $439 and so on.
Going by their track record, OnePlus 6T will likely to keep a starting price of $600 which is ~$70 addition form the previous model. However, CNET has previously reported OnePlus 6T will arrive for $550.
Whatever might be the case, OnePlus price segment is still substantially low than devices with same specs.
When is OnePlus 6T coming –
[OnePlus 6T Release Date]
Despite the speculation that OnePlus device is arriving on October 17th, the company has now confirmed the OnePlus 6T is set to launch on October 30th. OnePlus will hold an exclusive launch in New York as well as in New Delhi.
After the launch, the device will start shipping on November 6th, a week after its official release. Presently, the device is already available for pre-booking on Amazon India. Also, the device is going up for sale on November 2nd on Amazon India.
OnePlus 6T Specs and Features
Screen Unlock [In-display Fingerprint Reader]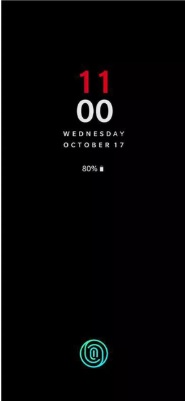 First and foremost, let's talk about the most-awaited feature of OnePlus 6T – in-display fingerprint reader or what OnePlus like to call it "Screen Unlock."
As a matter of fact, we have seen it already seen it on Vivo and Oppo devices. However, considering the promising interview of OnePlus CEO Pete, its safe to assume that OnePlus screen unlock will be far better and snappy, in comparison to other devices in the market
Pete said that OnePlus uses optical fingerprint module, which houses a small lens that registers your fingerprint as you push your finger on the device glass. Essentially, the sensor behind the lens reads the exact dimensions and shape of your finger, taking help of the screen which acts as a light source.
In the same interview, he also mentioned the OnePlus 6T processor chip would have something called "Trust Zone" where all the fingerprint data will be stored. In other words, the data will remain within the device rather than going to the OnePlus servers. Keeping the screen unlock data on the phone will also help to identify perpetrators much faster.
Teardrop Notch [ Design Changes]
Yeah! I still consider it as a separate part of a device. Ever since, I saw the deep, ugly notch on the latest Google Pixel 3, my disliking towards the design disaster is now more than ever.
However…I actually felt quite okay when looking at the OnePlus 6T teardrop notch. While I still don't like the concept at all, OnePlus small little cut-out can be ignored if you get a ridiculous amount of screen-to-body ratio. Overall, OnePlus 6T is only a few millimeters away from an infinity display which isn't bad at all.
Apart from the notch, there are minimal changes in the overall design. Like the predecessor OnePlus 6, the device will come with a glass back and tiny bezels. The bottom chin of OnePlus 6 seems to be a little bit smaller.
Going by the rumors, the device is expected to come with 6.4-inch AMOLED screen, combined with a  2340×1080 px resolution and reportedly, a 91.5% screen-to-body ratio.
No Headphone Jack
A rather sad upgrade or as I will like to call it "a degrade" in the new OnePlus 6T device is the drop of the headphone jack.
OnePlus has been one of the device makers who still kept a headphone jack in their flagships. Unfortunately, that is going to change soon enough with the release of OnePlus 6T.
It appears like there was some major strategy shift within the company on how to tackle the competitive market. Not so long ago, OnePlus itself was announcing the importance of headphone jack.
On the good side, the company has launched new USB Type-C headphones (Wired and Bluetooth) to help us forget about the 3.5mm headphone jack. I don't know about you guys, but I will never accept the idea of killing headphone jack. And FYI, few smartphone manufacturers still believe in sending headphone connector instead of bundling a headphone jack; hopefully, OnePlus won't follow the same steps.
Wireless Charging and Water Resistance [Yes or No]
Wireless Charging is gradually becoming a necessary feature of any device. Some premium devices have managed to make it their own, other devices makers are following.
To me, it feels like an important feature to include in a high-end device. If you are going with glass back, then why not do a little more and add wireless charging. OnePlus, on the other hand, have some different opinions about wireless charging.
OnePlus CEO Pete Lau has previously confirmed OnePlus 6T will not offer Wireless charging. One time, a OnePlus representative said "we don't really feel the need to add wireless charging. We're not going to add a feature just for the sake of it."
Even if they say so, I wouldn't be so sure for future OnePlus devices. What they did with the headphone jack, could happen to Wireless Charging as well; change of heart.
And about that water resistance, OnePlus 6T will have water resistance, however, it won't include any kind of IP rating. In other words, if your future OnePlus 6T falls in a bucket full of water, you can only pray.
Under the Hood [Hardware and Software]
As of now, we know OnePlus 6T will come with a Snapdragon 845 chipset and will continue to go along with 6, 8GB RAM and storage options like 64 GB, 128GB and 256GB. Also, OnePlus has confirmed the device will have a 3700mAh battery life, a 10% increase form the OnePlus 6.
You could say that there won't be much hardware changes from the OnePlus 6. But there is a big surprise for every OnePlus fan. OnePlus 6T will have Android Pie right out the box.
Presently, OnePlus 6 is running Android Pie, and soon all the previous-gen OnePlus devices will be receiving the Android 9 Pie update as well. The upcoming OnePlus device will have some new software features such as a revamped UI and improved Navigation gestures.
What Do You Think?
What are your views on the upcoming features of OnePlus 6T smartphone? Share your views in the comments section below.