Till now, we have seen several Oneplus 6T leaked pictures and rumors out of which the confirmed ones are  – an in-display fingerprint scanner, a waterdrop notch above a massive display, no headphone jack, and the price tag of $550.
But today, we have got not one, but two significant leaks for our OnePlus 6T fans. Thanks to MySmartPrice, we now have an opportunity to look at high-quality CAD renders of the new device. These OnePlus 6T renders will give you the exact idea, on how the device will actually look like.
As you can see for yourself, there is no fingerprint sensor on the back which clearly tells that the device will, in fact, come with an in-screen scanner. You can also notice that there is no headphone jack as well.
Again, we see the little waterdrop notch that was first seen on Essential PH-1. Personally, not a big fan of the notch ( I mean, did you see the Google Pixel 3 one, right!?).
One thing you might have noticed, OnePlus has a dual camera setup. As it turns out, all the previous renders were all fake. The new leak also gives out the dimensions of the upcoming OnePlus device.
While OnePlus 6's physical dimension is 55.7 x 75.4 x 7.8mm, it seems like OnePlus 6T's dimensions will be 157.5 x 75.7 x 8.2mm. This extra thickness might be because of higher battery capacity and in-display sensor. OnePlus 6 battery capacity is 3300 mAh.
OnePlus 6T Release Date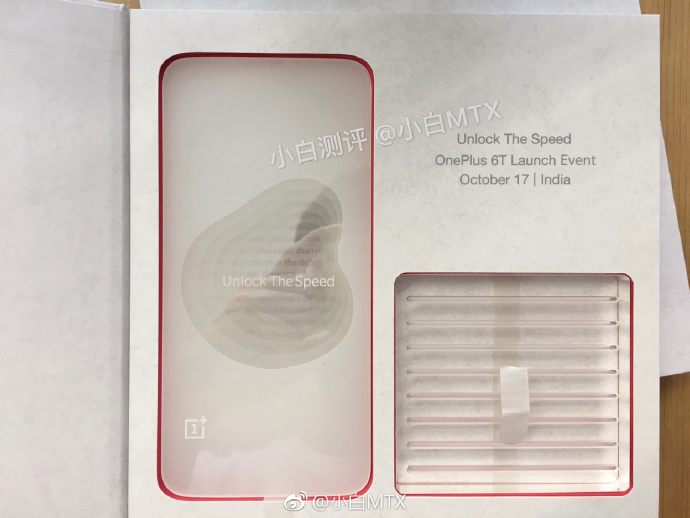 Let's get to the important part – OnePlus 6T release date. Apparently, there is a OnePlus exclusive invitation, circulating on the Internet.
First spotted by MySmartPrice on Chinese news site Weibo, the leaked invite comes with a tagline "Unlock the speed" along with a statement that OnePlus will hold off an exclusive launch event on October 17th in India.
So, there you go. OnePlus 6T is now coming on October 17th. This also means we would see something entirely different on the OnePlus January 15th event and we are excited to find out what it is.