OnePlus kept its promise of offering the Android 10 update to its 2017 flagship devices – OnePlus 5 and OnePlus 5T. In May, the Chinese OEM rolled out the Android 10 update for OnePlus 5 and 5T. Android 10-based OxygenOS 10 bought features like new navigation gestures, dark mode, brand new UI, and a couple of other Android 10 features.
However, along with features, the update has also introduced a couple of bugs, including call recording issues that are troublesome for several users. Many OnePlus 5 and 5T users have complained on Reddit and OnePlus forum that the call recording feature has started malfunctioning after the Android 10 update.
A user writes on OnePlus forum: "The Call Recorder is recording a Robotic Voice after installing Android 10 software update, before it was working properly."
The users who are posting comments on the forum are having call recording issues for as long as 20 days.
Also Read: OxygenOS 10 Features: Top Features To Increase Productivity
Another user has submitted a bug on the OnePlus forum writing, "I have facing call recrding problem and majority calls are not recorded. and some call record audio are playing slow voice.please solve the problem." (sic)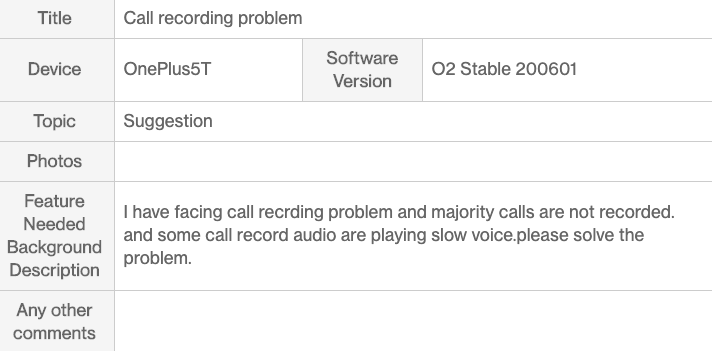 Although the issue does not affect the normal functioning of the smartphone, several people use the call recording feature and that is why there are hundreds of complaints about it on Reddit as well as the OnePlus forum. Meanwhile you can check out our list of best call recording apps for android that you can try.
OnePlus is yet to acknowledge this issue and roll out a fix for it. We hope that the company will soon issue an update for the same.