There is an app for every imaginable or unimaginable activity today. Be it fitness, meditation, sports, or any other activity. But Oneleaf is a startup that wants to improve your mental well-being through its app. You can access its content library and take action toward solving personal wellness problems like quitting smoking, losing weight, and more.
The idea of digitally solving your problems doesn't sound convincing at first. How could an app solve a problem which requires specialized therapists who have spent years mastering the craft and treating each patient differently? Well, TechCrunch reported that the company has already raised $4.6 million from angel investors.
Does Oneleaf really work?
Simply discarding the app without trying is not the correct approach. Take, for example, Headspace, which is an app that promotes self-meditation and guides you through the process. Similarly, Oneleaf will also merely guide you through the process via recorded audio courses for each problem.
Oneleaf partnered with licensed hypnosis professionals to create programs and combine them with digital touch-ups to help end users relax and focus. Since the program is created by industry professionals, it will be more reliable than just playing soothing audio.
There is a batch of 21-hour programs available with the app that can aid you in getting rid of bad habits. Each program is split into multiple sessions so that you can listen to each one and advance to the next session after reflecting on the previous one.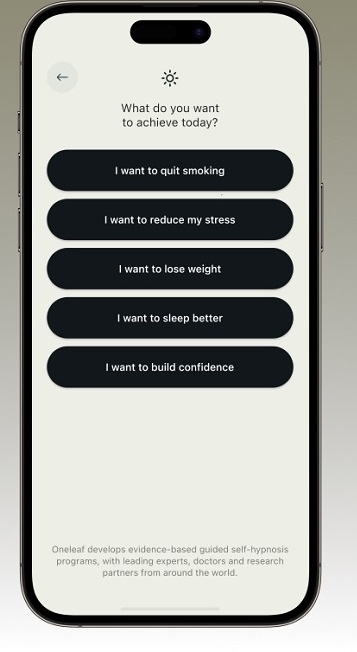 The main angle that Oneleaf is trying to target is the accessibility of hypnosis therapy. You can download the app and begin healing. Its efficacy is another question, although and only a hypnosis expert can answer that. We feel that Oneleaf will slowly turn into a platform that will connect its users to the right professionals.
Currently, it is just an audio library, but if users feel some positive impact and want to connect to a real human, the app could act as a mediator between that transaction. Oneleaf already has 10000 downloads. The number sounds very less, but for a niche product like this, it is a good response. However, it will have to resort to marketing to spread the word.