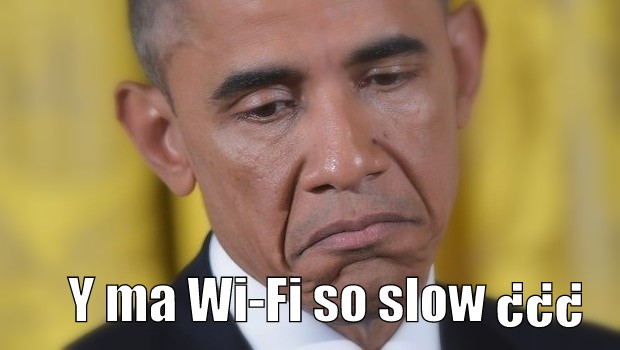 Short Bytes: The condition of WiFi in White House — the most protected building on earth — is a little sketchy. During an interview airing before the Super Bowl 50, Obamas talked about various issues in the 200 years old building including the dead WiFi spots in the building.
W
hen you are the president of the United States of America, you get to live in the White House, the official home of every U.S. president since John Adams in 1800. It may be the symbol of American strength and leadership, but the WiFi in the White House is just as bad as yours.
In a recent interview with CBS' Gayle King airing before Super Bowl 50 on Sunday, President Barack Obama and first lady Michelle Obama talked about the problems they are facing in the 200 years old building. Traditionally, Mr. Obama does an interview ahead of the Super Bowl every year.
About the condition of WiFi, President Obama revealed that there are "lot of dead spots" in the building. Earlier, King asked about the basic amenities in the White House in jest — only to realize that things were not pitch perfect.
"Well, no, the— the— the whole— tech thing, we've been tryin' to get that straight for the next group of folks, because it is an old building. And — so there are a lot of dead spots where Wi-Fi doesn't work," President Obama said.
The first lady added to the reply by calling "it a little sketchy" and told how her daughters Sasha and Malia "get real irritated sometimes".
Obamas, we all feel your pain. Well, here's something that you might find helpful: You can find the best place to put your WiFi routers — explained by physics, or you can try choosing the correct channel. We also have a collection of 10 best ways to improve your WiFi router's performance.
Try these out and thank us later ;)
What about you? Do you find your home WiFi irritating? Tell us your views in the comments below.