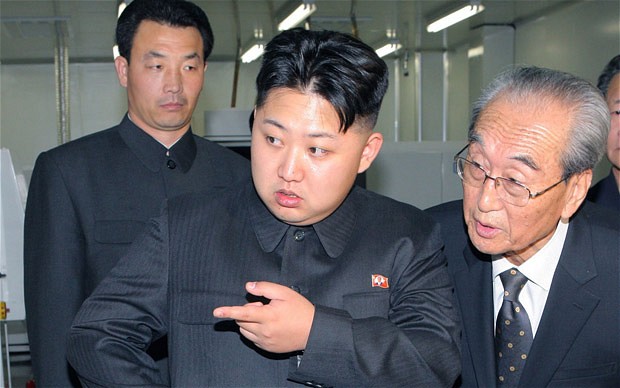 Short Bytes: North Korean leader Kim Jong-Un claimed that they've been successful in developing a Hydrogen Bomb while he visited a military facility in Pyongyang. This news has made a worldwide impact, as it acts as a potential threat to their long time southern rival and the neighbouring nations.
N
orth Korea has been in the news for their nuclear capabilities, but according to a recent claim made by their leader Kim Jong-Un, they have successfully included a hydrogen bomb into their weapon collection.
The H-bomb or Thermonuclear bomb is called so as the energy released from a nuclear fission (splitting of nuclei) is used for a subsequent nuclear fusion (joining of nuclei) reaction, facilitating a substantially large impact radius than the atom bomb. And obviously, the name Hydrogen bomb finds its significance by the fact that a hydrogen atom is used in the fusion process.
Kim Jong Un did acknowledge the work of his grandfather Kim II Sung who transformed North Korea into a "powerful nuclear weapons state ready to detonate a self-reliant A-bomb and H-bomb to reliably defend its sovereignty and the dignity of the nation", as he was quoted by KCNA.
North Korea's recent nuclear achievements have posed a dormant threat to the neighbouring nations, and that they have been on a bitter note with their southern counterpart since the 1950s. However, the Defence Ministry of South Korea doesn't realize any of the claims made by Kim Jong-Un.
We are closely monitoring and tracking any and all of North Korea's nuclear activities. So far, we have not noticed any unusual movements or activities,
– said a Spokesperson representing Defence Ministry of South Korea.
The Chinese Government was also reluctant to make any comments, though they made some efforts discerning the authenticity of the claim, "The situation on the Korean peninsula is very delicate, complex and fragile. We hope all concerned will make effort that contributes to peace and stability", as told to the reports by Huan Chunying, a Spokeswoman from the Chinese Foreign Ministry.
Despite North Korea's bold comments regarding the hydrogen bombs, some experts do find it as a mere publicity stunt, only to satisfy the purpose of seeking global attention. It is important to note, North Korea did some nuclear testing in 2006, 2009 and 2013, but they were penalized by the United Nation for the act and all the trade activities concerning their weapon development program were banned.
"It's hard to regard North Korea as possessing an H-bomb. I think it seems to be developing it," said Lee Chun-geun, a research fellow at the Science and Technology Policy Institute, Washington.
BBC reports,
John Nilsson-Wright, Head of the Asia Programme at Chatham House, was sceptical, saying it fitted into a previous pattern of bold claims from the North Korean leader.

The comments were likely to be an "attention-grabbing effort to assert North Korean autonomy and his own political authority", he told the BBC.
Although, North Korea conducted nuclear tests in the past, but talking about the H-bomb is a completely new scenario and doesn't "fit" into the current situation considering their economic status. It is hard to gulp that fact as the world is talking about Hydrogen fuel based cars as an alternative to save the environment, and they are still developing nuclear weapons that will be beneficial to nobody.
Also Read: Elon Musk's Crazy Idea: "Let's Drop Nuclear Bombs on Mars to Make it Habitable"