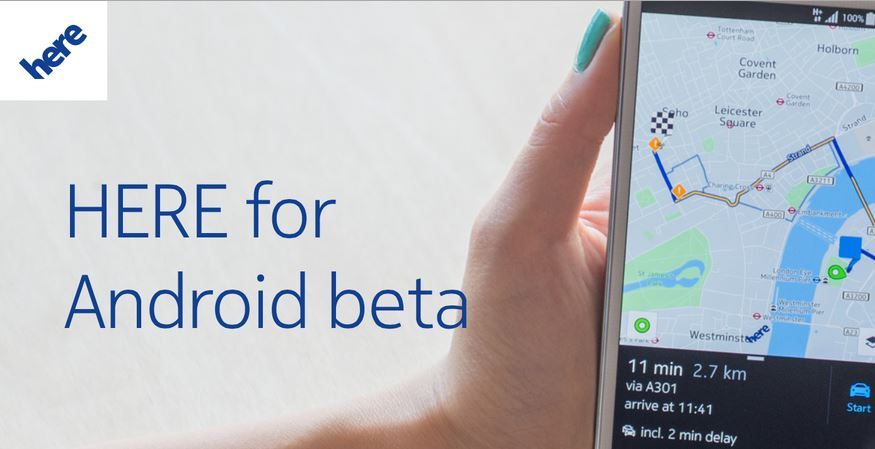 After selling its smartphone business to Microsoft earlier this year, the major service part Nokia kept in its territory was the navigation and mapping business. Nokia has said that more than a million users have used beta release of HERE maps for Android since its release and now HERE for Android is arriving for free on Google Play store across the world.
HERE for Android now available for free on Google Play https://t.co/LnKn51Kp1o pic.twitter.com/PSefLSK2Uc

— HERE (@here) December 10, 2014
Before Here maps, Google Maps belonged to that elite category of apps which don't face any fear of competition. But Here maps from Nokia is an excellent service and is a worthy competition of Google Maps. Here has added 18 more countries to its navigation system and now it is providing services in total 118 countries. New territories added are: Algeria, Angola, Bangladesh, Burkina Faso, Côte d'Ivoire, Cyprus, Iraq, Libya, Mauritania, Mauritius, Nepal, Paraguay, Saint Helena, Senegal, Sri Lanka, Suriname, Zambia, Zimbabwe.
Also Read: Nokia N1 Android Tablet: Nokia's Comeback Inspired by Apple
Today, Nokia officially made this global launch announcement on Here's blog. Here for iOS will be coming in Spring 2015. They've improved the stability and performance of the app, and fixed a voice-related navigation bug.
Where HERE stands out?
The big win for Here maps is its offline maps. You can select whatever state, country etc. you desire and click on "Download maps." These maps will occupy some storage space, but they are pretty handy when there is no internet connection, network problem or if you want to avoid roaming or data charges.
Here Beta creates a running timeline of your trip. A running timeline will let you know how early (or late) you're from your predefined time of travel.
It is a free app which is like a breath of fresh air, but it lacks some smaller features like deeper search options like those of Google. Here Maps is neither better nor worse than Google Maps. Both Google Maps and Here Beta are excellent choices.
Download Here maps beta for your Android device below:
Google PlayClick here to download
Share this story with your friends and tell them about HERE maps from Nokia- the Google Maps alternative!