Around a month ago, I was casually scrolling through YouTube Shorts, and I tripped on a BlowerBaby 2 video from Anthony Gugliotta titled "This camera accessory blows," and my mind was flooded with loads of use cases for the product. That's when I reached out to NITECORE for a review unit, and here we are. They sent us BlowerBaby 2, which I'll be referring to as BB2 throughout the review, and BlowerBaby Mini, alongside NIA004 brushes, which I'll be reviewing in this review.
I despise dust. As someone who lives in the subcontinent, it's no exaggeration when I say I'm about to lose it due to dust. The fact that I stay very close to the main road doesn't help either. I dust my PC and table weekly and then start sneezing for a few hours straight because I've got a dust allergy and a mild asthma problem. However, the BB2 and BB Mini have made it easier for me to clean my PC and my A6300 camera's sensor.
NITECORE BlowerBaby 2 Review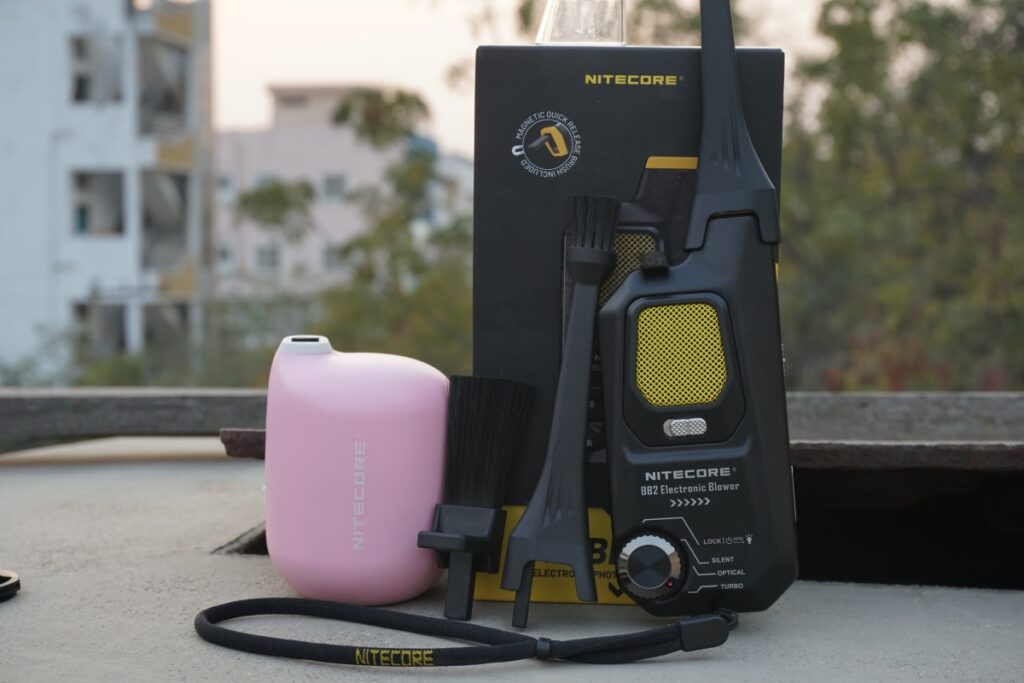 Before we jump into the review, here's what you get in the box:
NITECORE BlowerBaby 2.
Type-C cable.
A Lanyard.
User manual.
The packaging was really nice, with black and yellow accents all around the box. The yellow accented arrows on the sides look aggressive; NITECORE hit it out of the part with BB2 packaging. A high-quality lanyard and USB-C cable with a velcro strap add to the unboxing experience.
Build quality
The body of BB2 is made of aluminum with a matte finish. The front of the blower houses a removable dust filter, which, upon removal, reveals the fan, which sucks the air inside to throw it out. You get a NITECORE branding below that, and further down, there's a rotating knob using which you can adjust the speed of the blower, something that was absent in the original BlowerBaby.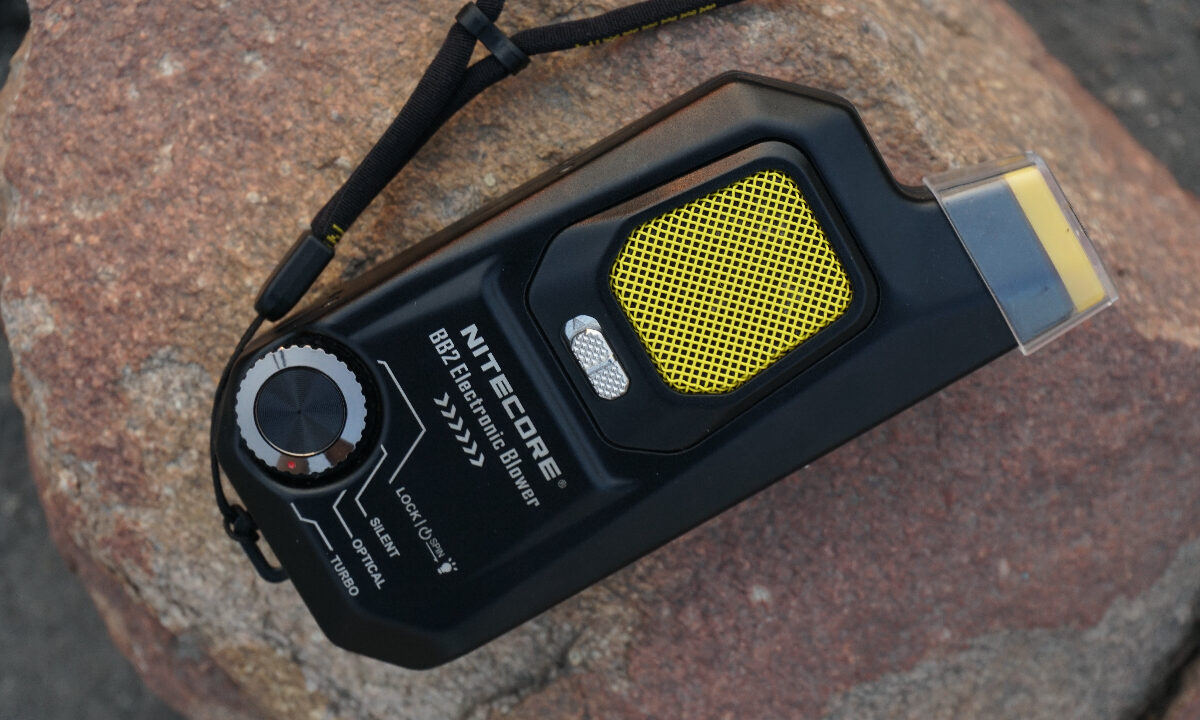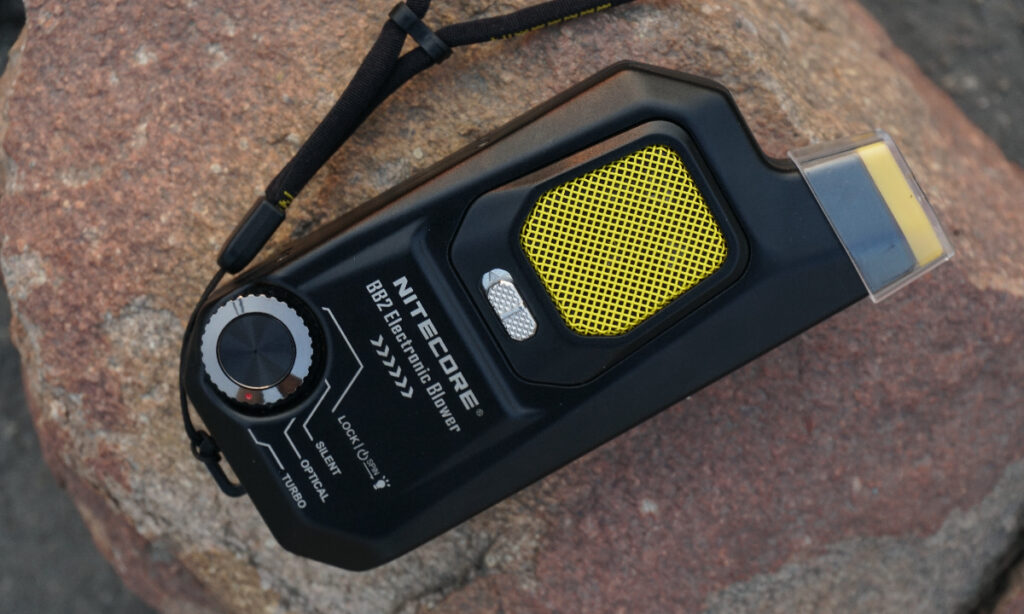 The knob itself is of high quality and is satisfying to rotate. It has four stages — Lock/LED, Silent, Optical, and Turbo. The left side of the blower is clean. The bottom houses a lanyard hook, while the right side contains a USB Type-C port, a power button, and a slider to bring up a pre-included removable magnetic brush to dust off stuff while blowing. Right beside the brush lies an LED light that can be turned on by holding the power button and rotating the crown from Lock to Silent mode.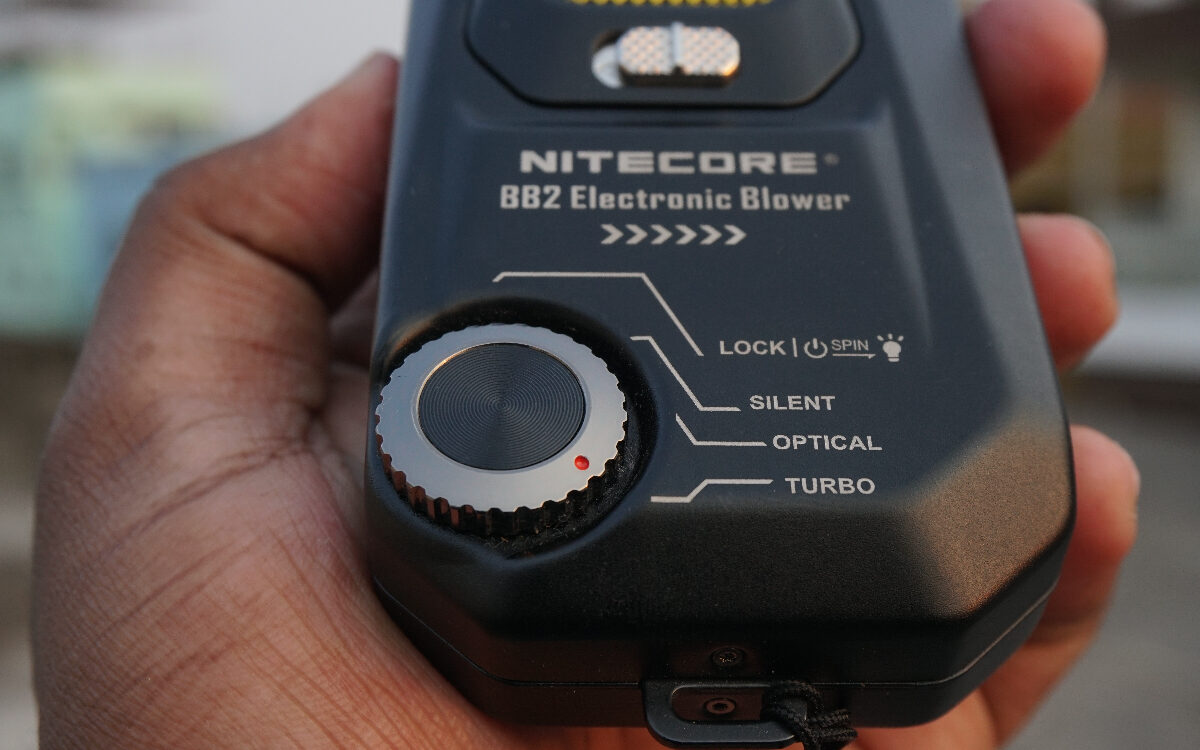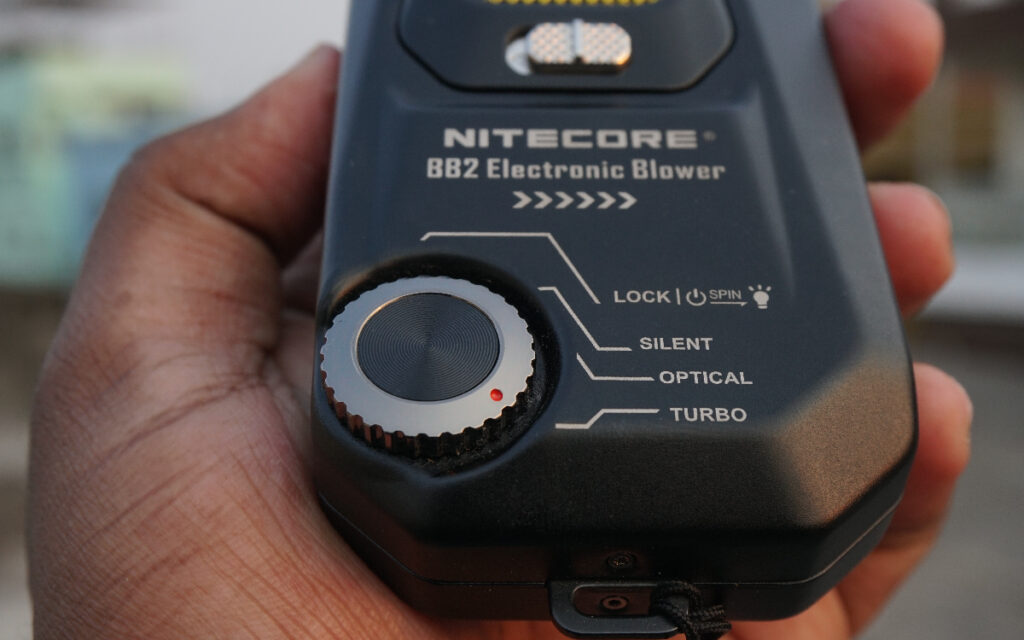 There's an LED light embedded inside the power button, which shows you the amount of battery remaining, and the quality of the power button and the slider above it is okay-ish. NITECORE claims they're made of stainless steel, but in my experience, they felt a bit plasticky. Also, the power button could've been smaller in length because, due to its extended size, you get the wrong idea/feeling that it's two buttons in one, like a volume button on smartphones. The brush slider could've been smoother.
NITECORE BlowerBaby 2: Performance
NITECORE claims the BB2 can whoosh out air at 80 km/h, which is very fast. However, we couldn't test the claims as we didn't have an anemometer. We can presume from the air release that it's not quite 80 km/h, but again, there is no way to find out without suitable equipment.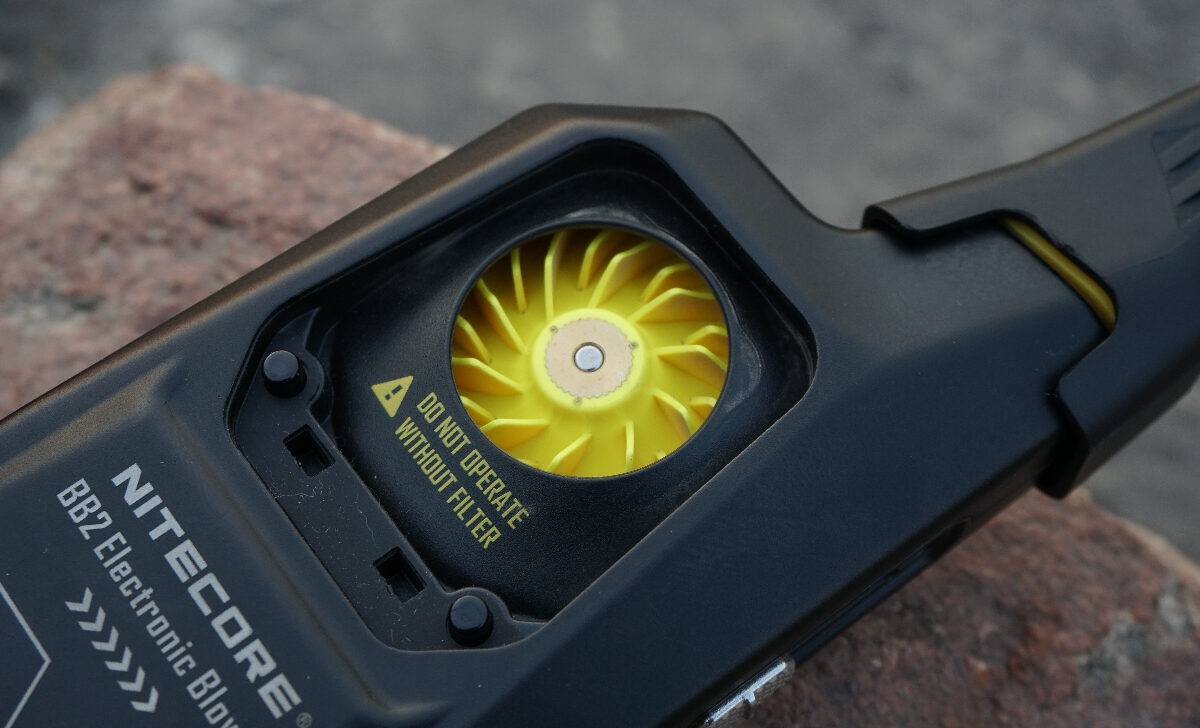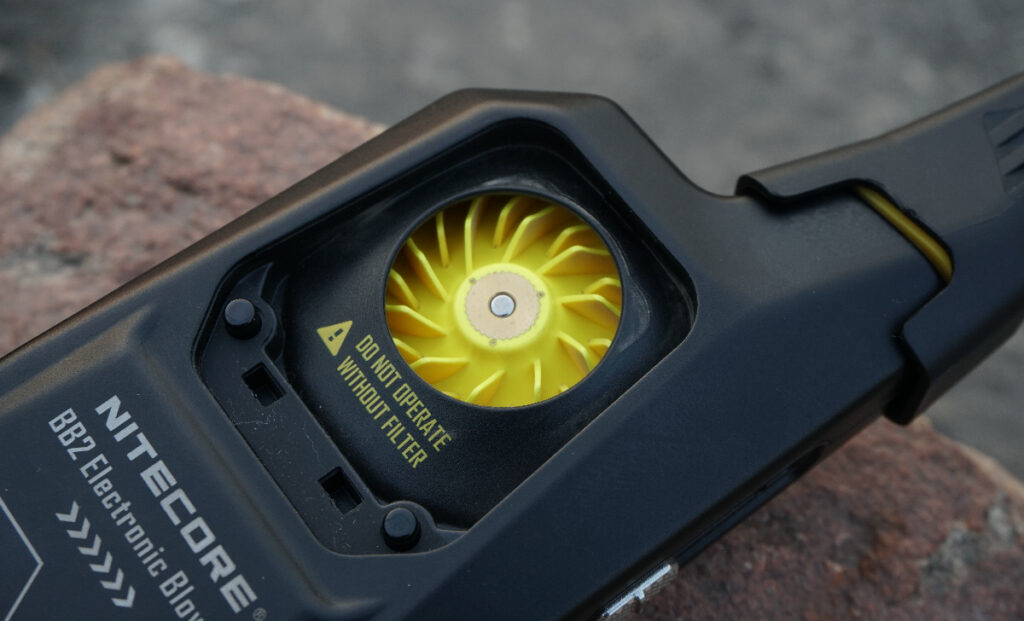 The silent mode is pretty quiet, but not quite enough not to alert people. It's good for cleaning dust off the camera sensor, as you wouldn't want to go full throttle on the sensor because that'll damage it. The optical mode bumps up the speed significantly and is good for sweeping off the dust from the camera body; hence it's a tad bit louder.
The show's star is the Turbo mode which is excellent for heavy dusting, the grooves in your lenses, PCs and dust meshes, and surfaces caked with dust. The built-in brush is fine, but we wouldn't recommend using it on the camera sensor as it's a tad bit hard.
Beyond calling a Camera Cleaner
While I did use the BB2 to clean my camera lens, most of my time with the device was spent cleaning my PC, and it worked wonders. Cleaning a PC can be challenging, and you must use the right tools. Blowing the dust is a preferred method of cleaning instead of sucking it with a vacuum because the latter could fry the components due to static.
The dust in the heat sink, fans, and case surface are hard to eliminate. I've tried using the manual $3 rocket blower, and while it does the job, it tires your hands soon. Also, the force of air is not cut enough to remove months' worth of built-up dust. The BB2 does an excellent job cleaning dust from tricky corners thanks to its blowing speed.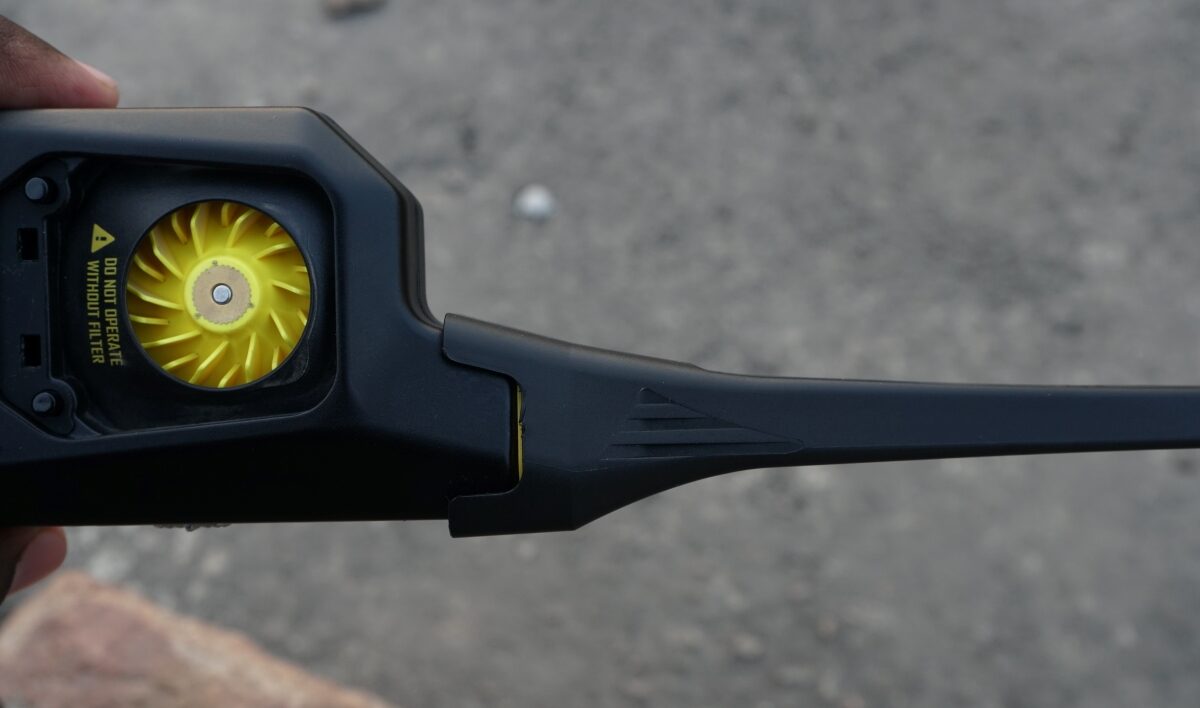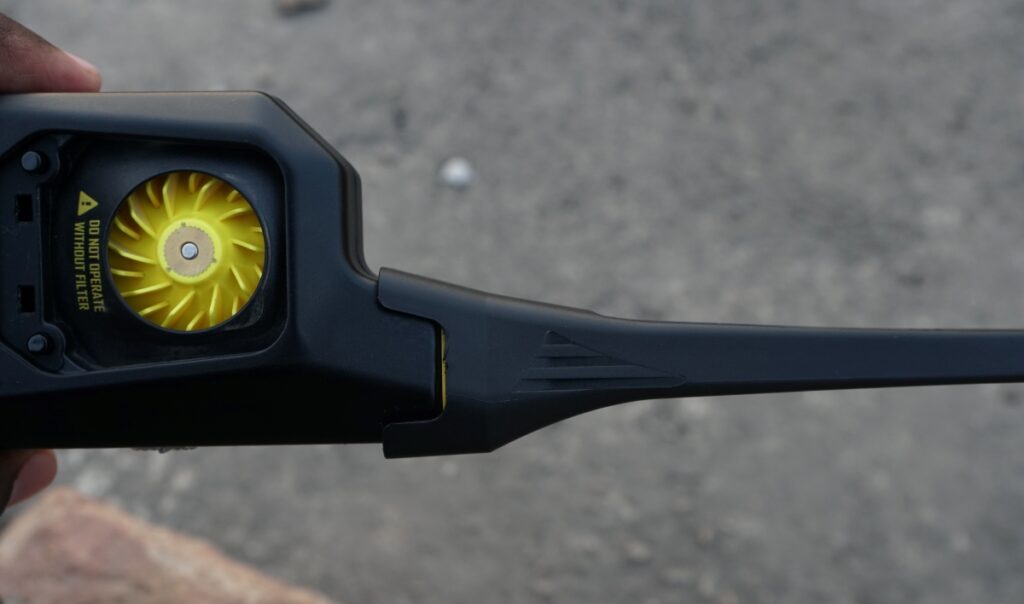 NITECORE also sent us their NIA004 cleaning kit, which consists of three accessories — A Crevice Nozzle, an Extended Dusting Brush, and an Extended Nozzle with Brush — all of which proved to be of great help. The extended dusting brush helped me clean my keyboard, whereas the nozzle brush helped me reach difficult locations inside my PC and blow the dust off. The LED is not exceptionally bright, but it gets the job done.
Battery Backup
NITECORE claims the battery lasts for around 210 cleaning uses. While we weren't able to get a concrete number of minutes or hours of battery life, when I used the device while cleaning my PC, constantly turning it on and off for about an hour, the battery indicator jumped from Green (above 50%) to Blue (Below 50%). Hence, if I had to evaluate and make an assumption, you can get at most 35 to 40 minutes of battery life on continuous usage, which is pretty decent.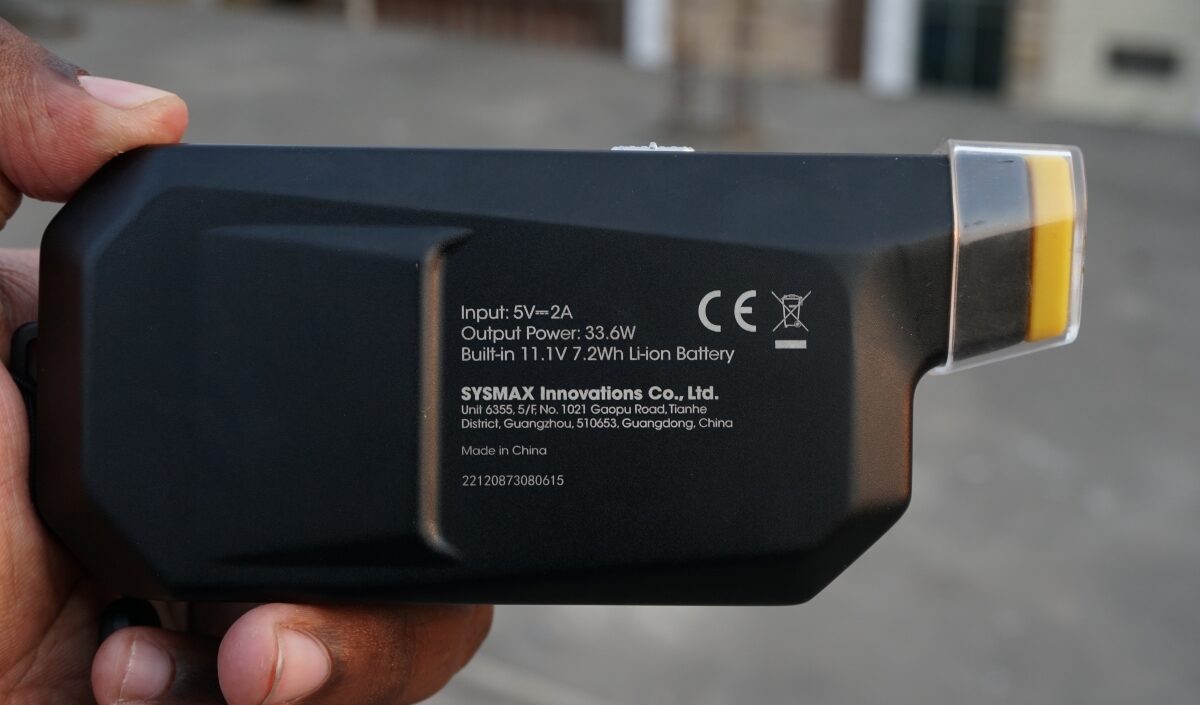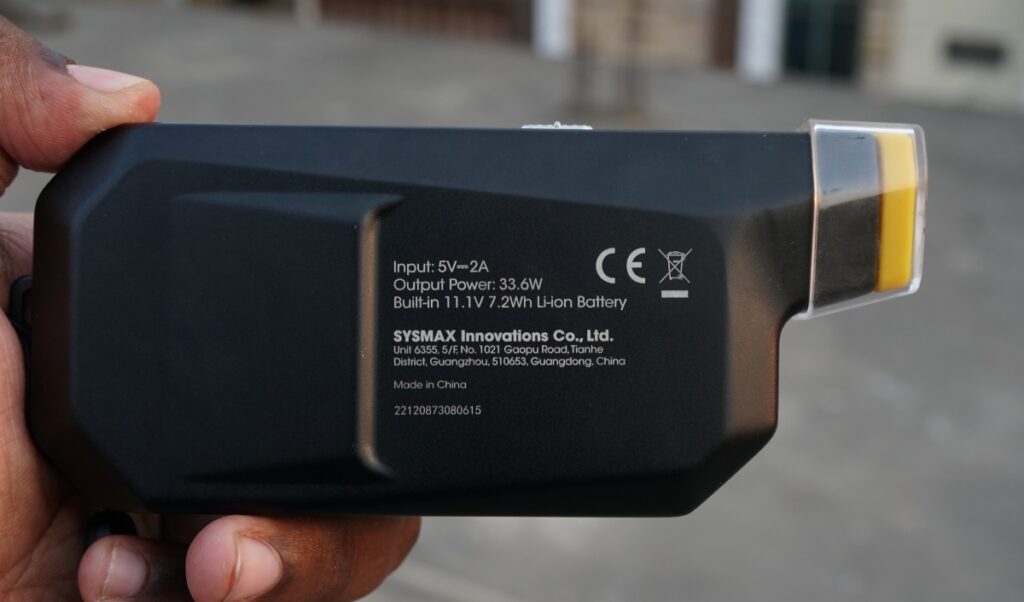 The battery is a 7.2Wh unit capable of outputting 33.5W of power. The device charges via the Type-C cable at 5V 2A, and in my testing, the device took around two hours to charge from 0-100%, which is pretty decent. A unit of canned air doesn't last much longer, so this is a much better solution.
Should you buy the NITECORE BlowerBaby 2?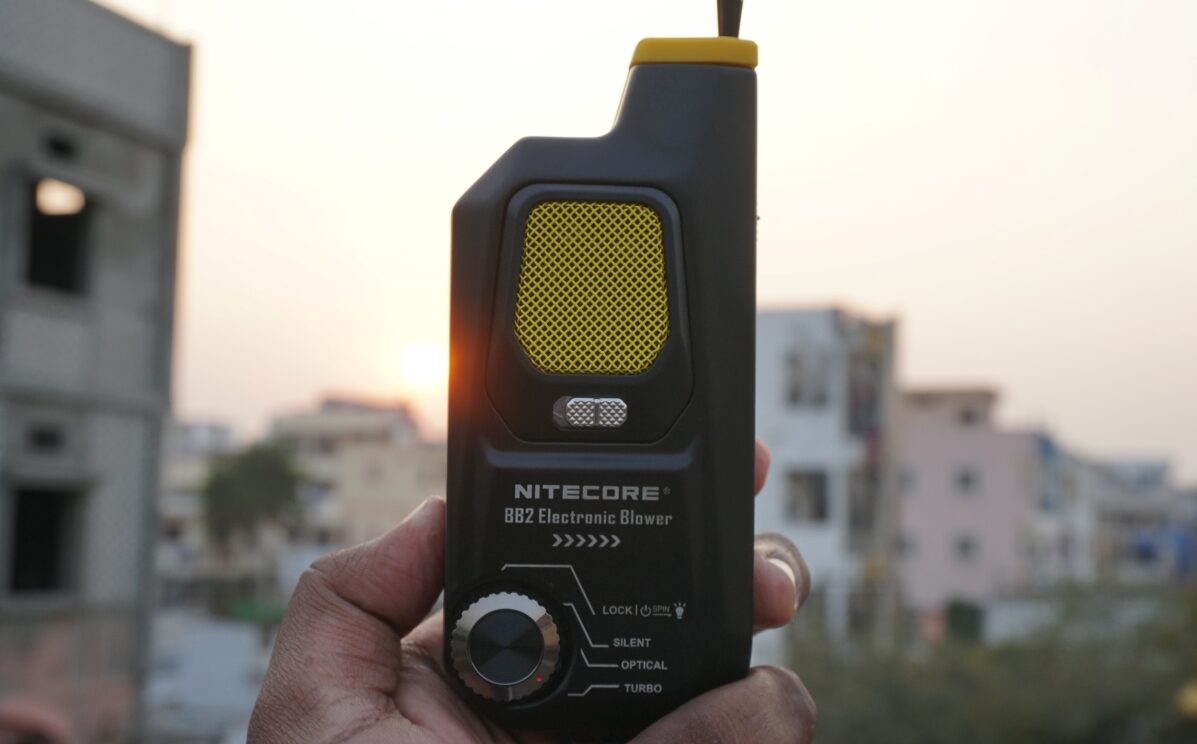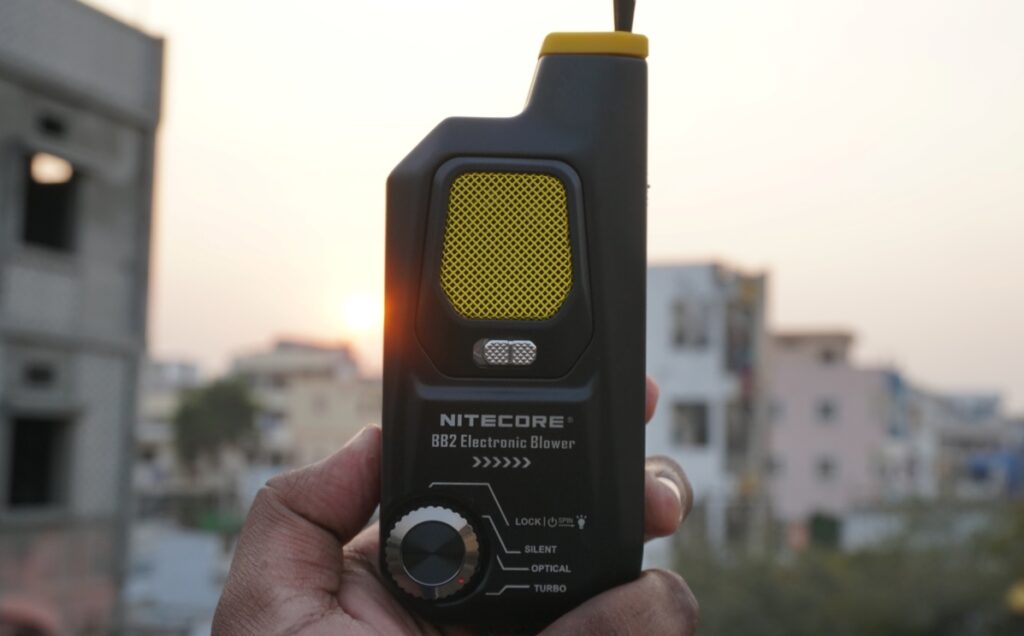 For an asking price of $90, the BB2 isn't exactly cheap, but given all its use cases, it isn't a bad buy either. Cleaning your camera lenses, body, and sensors aside, this device packs a lot of punches and can help you clean other devices, too, such as your PC, keyboard, laptop, or phone's charging port.
It weighs 219 grams, is small enough to fit the tight pockets of your camera bag, and keeps your lenses free of dust, which, if you're a photographer, should be of great help. While a few things can be improved with respect to the build quality, it's a great accessory overall. If you think the BB2 is too expensive, BB Mini is at your rescue.
NITECORE BlowerBaby Mini: Review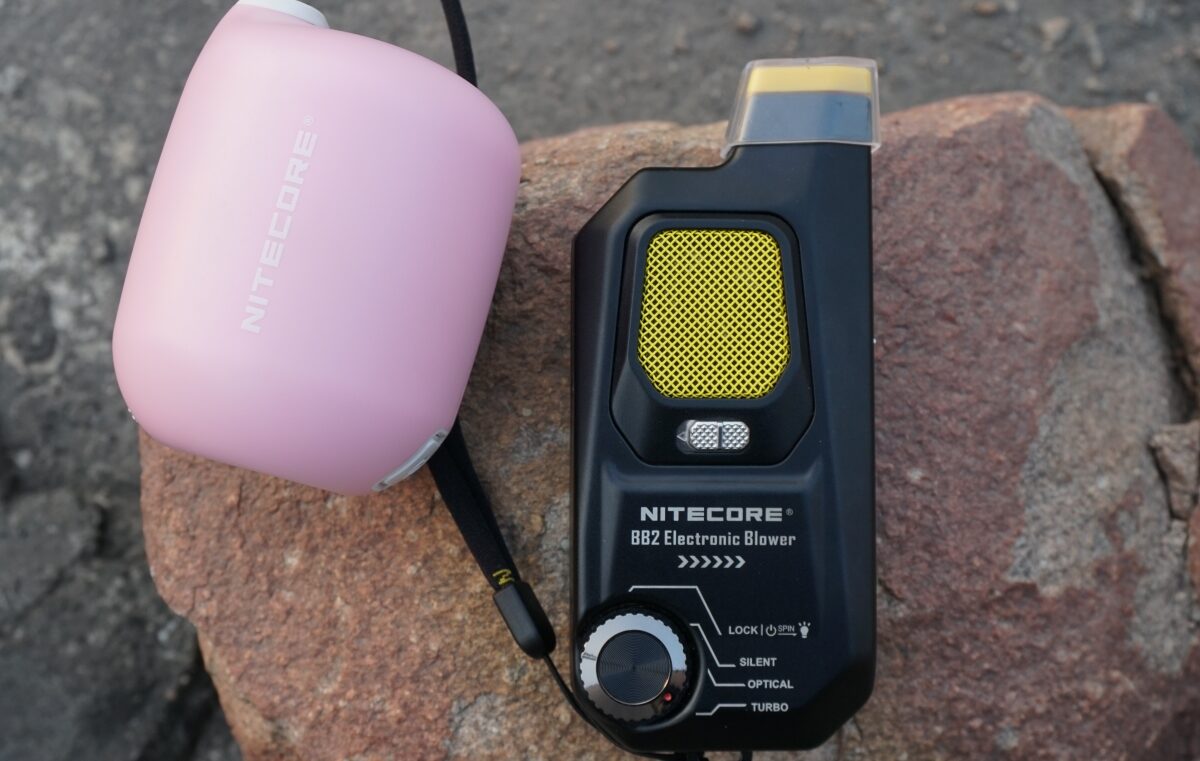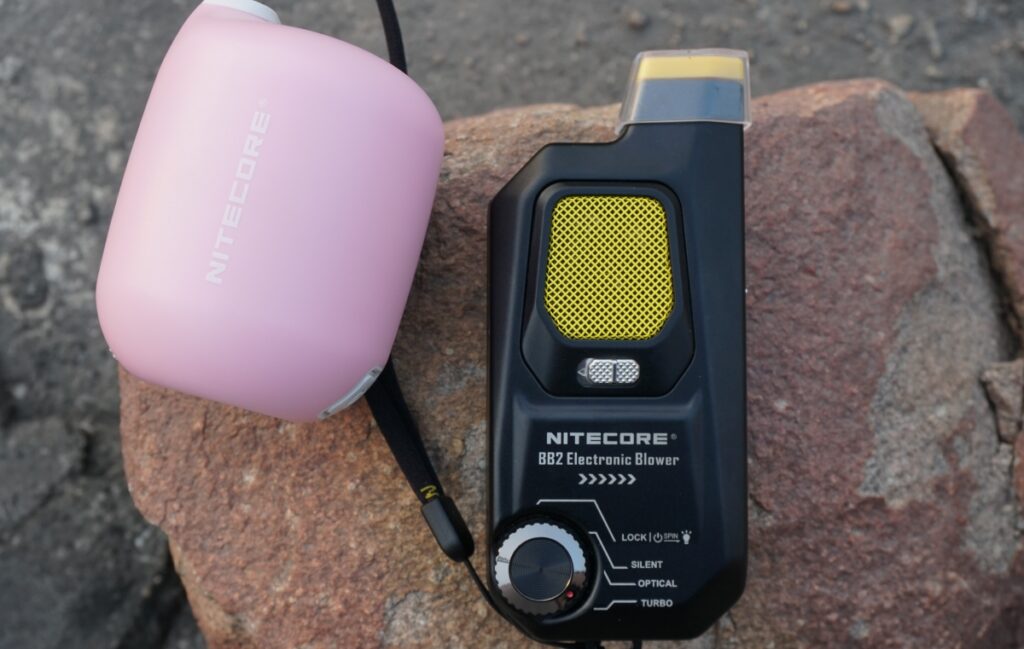 As the name suggests, BB Mini is a winded-down version of BlowerBaby 2, both in terms of power and features. However, it's twice as inexpensive, coming at around $40. Hence, if you don't want to spend too much on BB2, the BB Mini is an option.
The BB Mini can throw air at 65km/h and 35km/h and has a slightly bigger battery (8.88Wh) than the BB2, thanks to its wider blueprint. NITECORE claims that it can last 150 times or around 30 minutes of continuous usage at full speed, which is almost the same as what we got in our testing.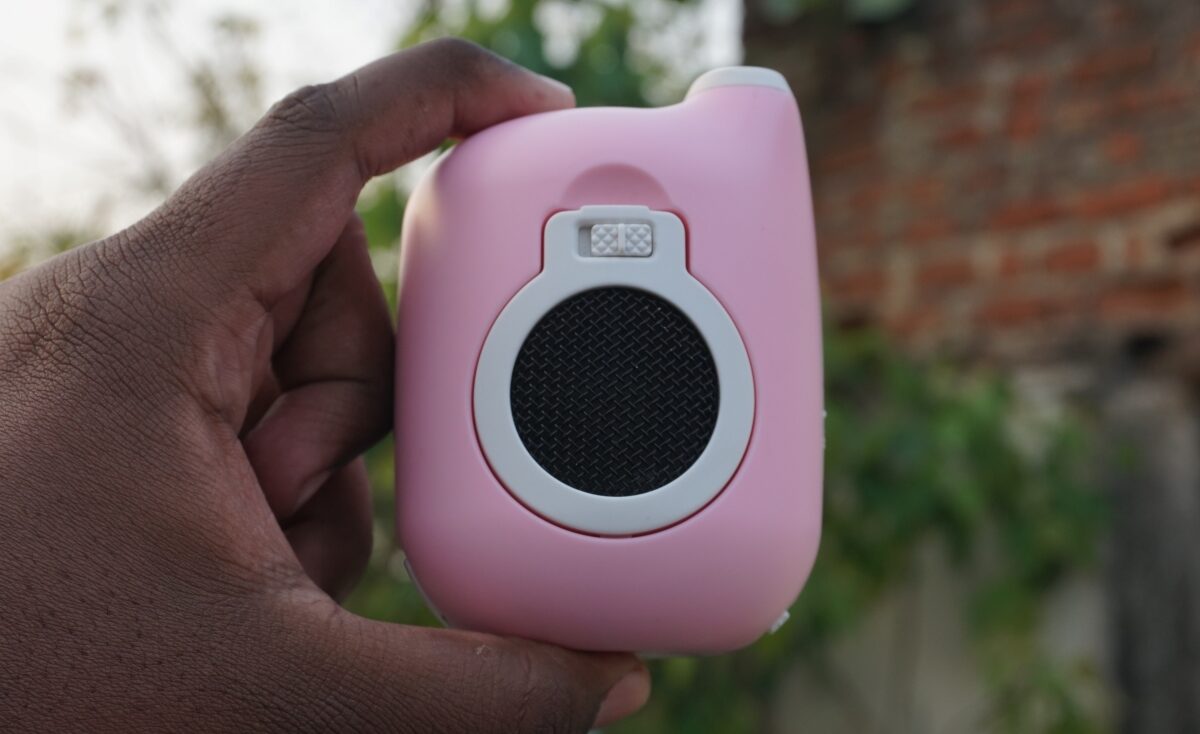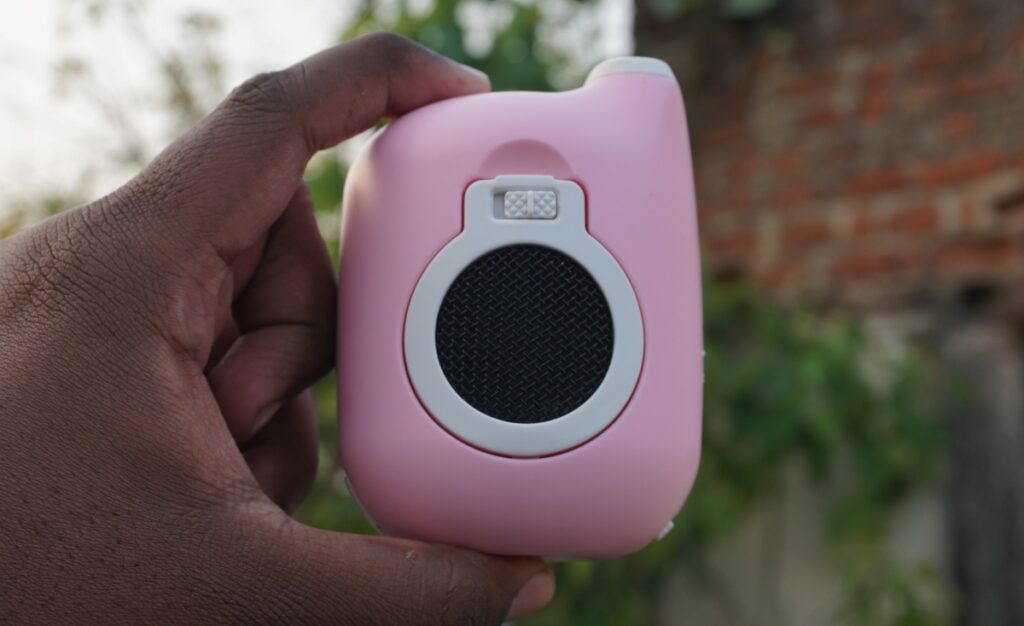 The device features a dust filter, a power button that controls the speed and shows you the battery level, a USB Type-C charging port at the bottom, a lanyard hook, a lock unlock button to prevent accidentally turning the device on, and a mechanism to pop out the brush is far smoother than BB2.
The air throw isn't very strong, but it's strong enough to remove dust off the keyboard, camera sensors, and bodies. Overall, the device is cheaper, plenty powerful, and pretty compact. NITECORE sent us what they're calling the Sakura color variant, which looks adorable.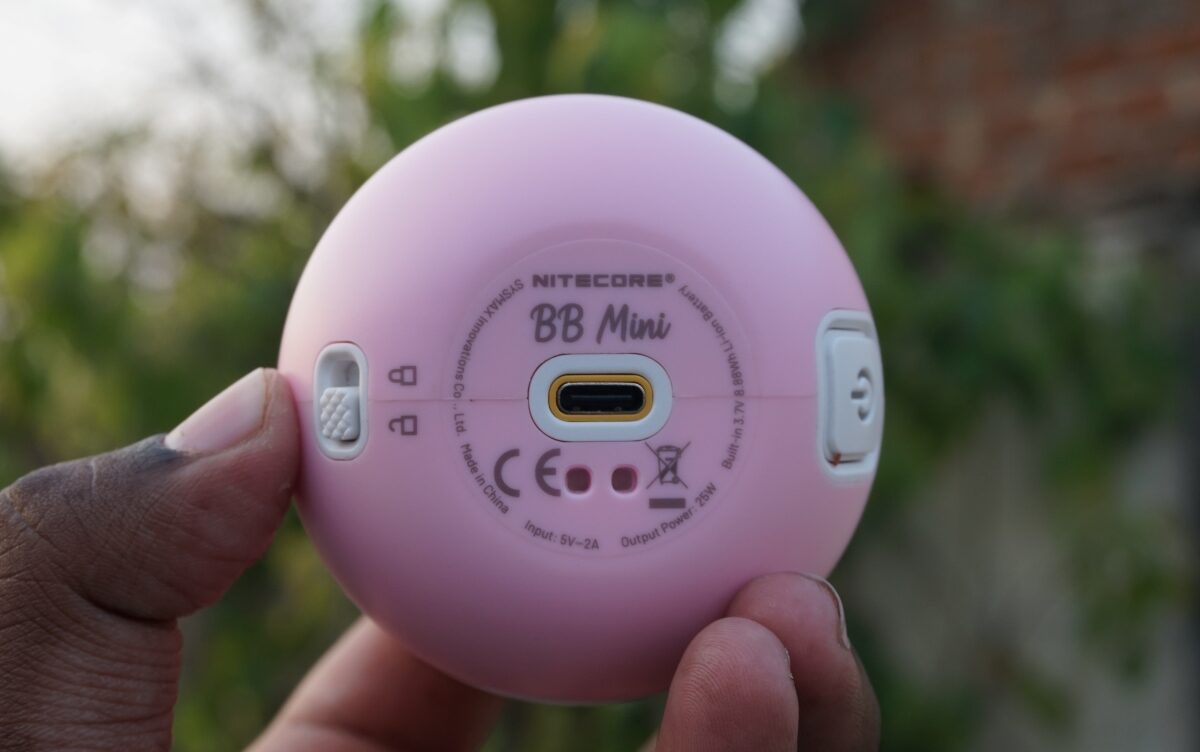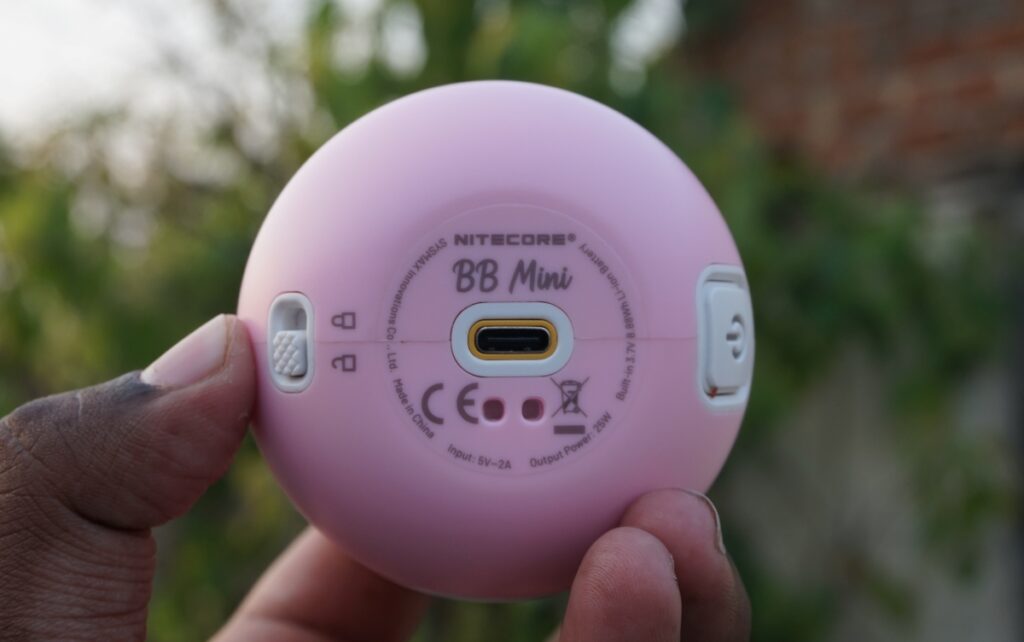 NITECORE BlowerBaby 2 Review
Summary
The BlowerBaby 2 checks many boxes and is better than manual rubber hand blowers that do not pack a lot of power. The power output of BB2 makes it a versatile device that can get not only rid of the dust on Cameras but also on keyboards, PCs, and usually anything that needs dusting for the fact. At $90, it's a tad bit on the expensive side, though.