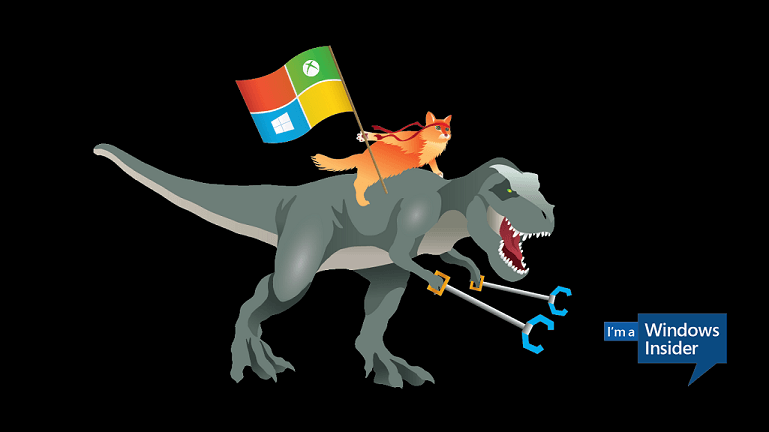 As a thank you gesture, Microsoft has released three new Ninjacat wallpapers for Windows 10 Insiders. Actually, it's available for everyone as a part of releasing dedicated wallpapers for Windows 10. This comes after the release of the latest Windows 10 Preview Build 10240. Writing about the same, Microsoft mentions that this build has received the highest ever satisfaction ratings and it wants to thank the people taking part in the testing. From the past few days, I've been testing Windows 10 Build 10240, and I totally agree with Microsoft.
T
he existence of Microsoft's Ninjacat was first revealed when a cat riding a fire-breathing unicorn was seen on some employee's laptops. The same Ninjacat became more and more popular with time, and Redmond decided to sell the Ninjacat stickers. Today, the company has decided to unleash its awesomeness in the form of these Ninjacat wallpapers.
The Ninjacat has become famous as a cat that rides enormous creatures and waves a Windows flag.
The three Ninjacat wallpapers feature a Ninjacat riding a fire-breathing unicorn, another one riding a T. rex, and the third one riding a mighty whale (narwhal). These Ninjacat wallpapers are available for download in different resolutions: PCs, tablets, phones and Microsoft Band.
Microsoft has gone one step further and brought Ninjacat to the Skype. Just send a friend (windows10) and an animated version of Ninjacat running pops up.
This isn't everything. Redmond has asked people to create their own Ninjacat images using the art supplied by them and tweet them with #windows10 and #ninjacat. Here are some of the pictures submitted by the fans:
In case you missed my new #Windows10 #NinjaCat wallpapers from yesterday https://t.co/XfEcxTXIng pic.twitter.com/OY07fMU90m

— Michael Gillett (@MichaelGillett) July 22, 2015
Heeeeeeeeeeere's #Windows10! #ninjacat pic.twitter.com/y55Co2Hkgu — NickGothard (@PurpleHippo587) July 21, 2015
Did you like these Ninjacat wallpapers? Tell us in comments below.
Click here to see our whole coverage on Windows 10.
Subscribe to fossBytes newsletter for more Windows 10 updates. [newsletter_signup_form id=1]