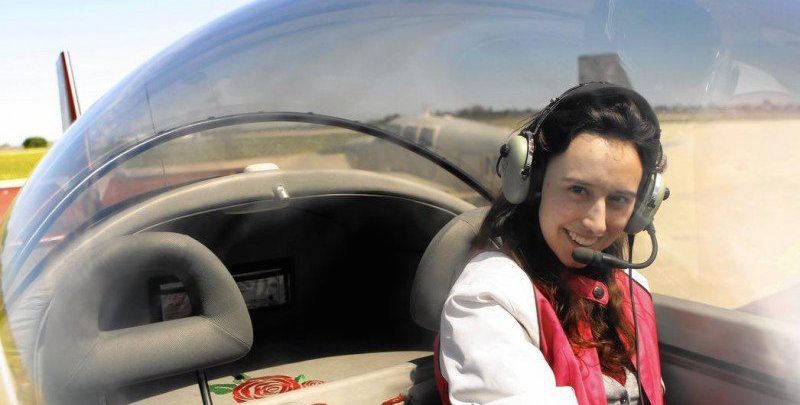 Short Bytes: Just 23 years old, Sabrina Pasterski is being termed as the 'next Einstein' by the Harvard University. From building her own aircraft to giving talks at Princeton and Harvard, Sabrina has many achievements in her bag. 
S
abrina Pasterski, born in 1993, at the young age of five years got enrolled in the Edison Regional Gifted Center in 1998. Continuing her studies, she graduated from Illinois Mathematics and Science Academy in 2010. In the mean time from 2003 to 2006, she took flying lessons and also started building her first aircraft kit.
Named as the next Einstein by the Harvard University, Sabrina Pasterski says,
When you're tired you sleep, and when you're not, you do physics.
She is one of those kinds who try to avoid social media. So, if you want to search her on social media sites like Facebook, Google plus, Twitter, Instagram or even on LinkedIn, you might not be successful. But if you want to know more about her, you can visit her website PhysicsGirl which she keeps updated with her accomplishments and accolades.
An MIT graduate and Harvard PhD candidate, Sabrina takes profound interests in answering some of the most esoteric questions in physics. If you think Physics is the mother of all the scientific fields then she is there to prove that as well. At very young age, Sabrina began experimenting which led to the construction of a single-engine plane when she was just 14 years old.
Impressed by her video on YouTube where Sabrina posted about the plane, MIT Professors Allen Haggerty and Earll Murman recruited her to work under them. Professor Haggerty says,
Our mouths were hanging open after we looked at it. Her potential is off the charts.
Some of the outstanding achievements about Sabrina are she was named among 23 women as a US Physics Team semifinalist. As an accomplished speaker, Sabrina has given talks at Princeton, Harvard (including the Faculty Conference), MIT, and Forbes Summit Philadelphia. Companies like Amazon, Blue Origin, Nasa have already offered her a job.
Also Read: 17-Year-Old Kid Tells How To Make A Real BB-8 Droid Powered By Arduino
We just hope that our next Einstein stands better for humanity and follows her passion.