Netflix has thousands of movies and shows spread across all sorts of genres. To find the right show, you can use the Genres drop down menu under the TV show section and Movie section.
However, many people don't know that Netflix also has hundreds of sub-genres which can be accessed through special Netflix secret codes. If you have been looking for Netflix shows and movies by sorting them through the standard genres, it's time to up your game with Netflix cheat codes.
What are Netflix cheat codes?
Basically, Netflix has created thousands of web pages to list titles based on their genres and their sub-genres. You might want to start off with simple ones like horror, comedy, or drama. But the streaming giant is taking it to another level.
For example, you can directly land on a Netflix page where you can find military movies based on real life. Or, you can find all the movies starring Tom Cruise.
This could be very helpful for people like me. I regularly browse Netflix's giant catalog trying to find something binge-worthy. But after almost an hour, I accept my defeat and resort to watching some random video or a web series on YouTube. How efficient, huh?
How do I use Netflix secret codes?
Netflix has assigned an ID number to each genre and sub-genre so that you can directly access their pages by typing the number along with the following URL.
https://www.netflix.com/browse/genre/IDNumber
The ID number for the category "military movies based on real life" is 1216900. So, the URL becomes something like:
https://www.netflix.com/browse/genre/1216900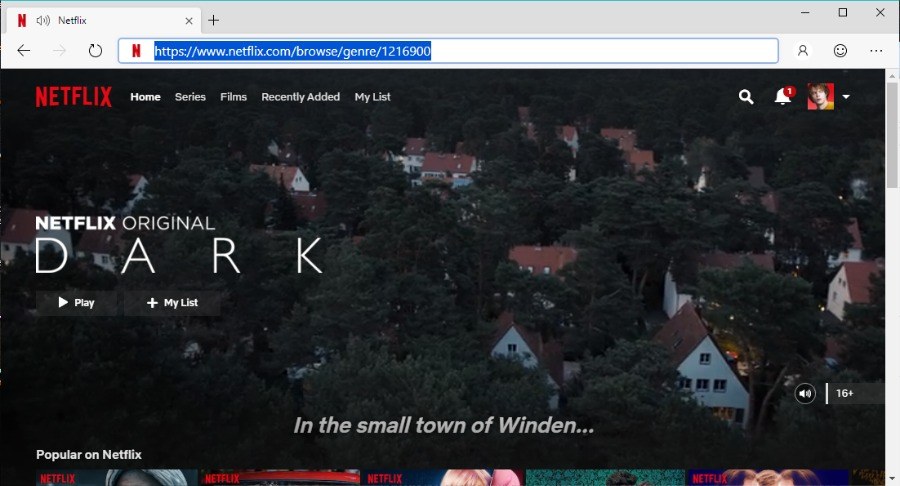 It's estimated that around 3,000 category pages exist on Netflix.
Awesome Netflix Secret Codes – Here's The List
Now, I can't suggest the best Netflix cheat codes to you because it depends from person to person. Some people might want to watch action movies while some would cling on to period dramas.
Anyway, here I have composed a list of Netflix secret codes that I think would be helpful to most of the users.
Action & Adventure: 1365
Action Comedies: 43040
Asian Action Movies: 77232
Classic Action & Adventure: 46576
Anime: 7424
Anime Comedies: 9302
Anime Action: 2653
Anime Horror: 10695
Anime Series: 6721
Anime Dramas: 452
Children & Family: 783
Disney: 67673
TV Cartoons: 11177
Kids' TV: 27346
Classic: 31574
Classic action & adventure: 46576
Classic westerns: 47465
Classic romantic movies: 31273
Classic dramas: 29809
Classic comedies: 31694
Comedy: 6548
Slapstick comedies: 10256
Horror comedies: 89585
Dark comedies: 869
Stand-up Comedy: 11559
Steamy romantic movies: 35800
Teen Comedies: 3519
Romantic Comedies: 5475
Documentaries: 6839
Biographical documentaries: 3652
Historical documentaries: 5349
Sports documentaries: 180
Dramas: 5763
Horror: 8711
Music: 1701
Romantic: 8883
Sci-fi & Fantasy: 1492
Sports: 4370
Art House Movies: 29764
Thrillers: 8933
TV Shows: 83
Science & nature: 52780
Indian movies: 10463
Experimental movies: 11079
Miniseries: 4814
Korean TV shows: 67879
Food & travel: 72436
LGBT Dramas: 500
Film Noir: 7687
World music concerts: 2856
Rock & pop concerts: 3278
Some Netflix Secret Codes for Christmas Movies
Christmas, Children & Family Films (1474017)
Christmas, Children & Family Films, Ages 5 to 7 (1477201)
Christmas, Children & Family Films, Ages 8 to 10 (1477204)
Christmas, Children & Family Films, Ages 11 to 12 (1477206)
Christmas, Children & Family Films, British (1527064)
Christmas, Children & Family Films, Canadian (1721544)
Christmas, Children & Family Films, European (1527063)
Christmas, Children & Family Films, Feel-good (1475066)
Christmas, Children & Family Films, From the 1990s (1476024)
Christmas, Children & Family Films, Goofy (1475071)
Christmas, Family-friendly Films (1394522)
Christmas Films, Romantic (1394527)
Try the extensions
Here, it would be very tedious to manually type the URL for thousands of categories. The easiest thing you can do is bookmark those pages.
But what if you want to explore a new category? You can take the help of some browser extensions which can make all the genres and sub-genres at the tip of your finger. You can try these Chrome extensions called Netflix Categories and FindFlix.
How to Find More Netflix Secret Codes?
You can find an extensive list of almost all the cheat codes here. But if going through the entire Netflix cheat code list is too much of a problem, you can also opt for the standard method.
For example, if you're on the horror movie page, you can simply click on any of the recommendations at the top and you'll end up in a new category of content.
Also, note that all categories have a specific code on Netflix. Simply take a look at the URL and you will discover the Netflix code for that category.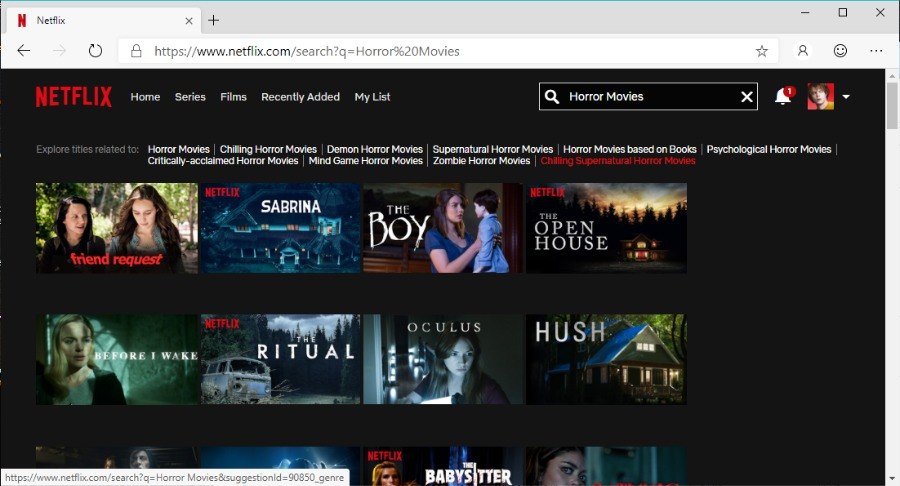 Why don't the Netflix category codes work on mobile?
Now, if you watch Netflix on your Android and iOS devices, then you might want to jump onto secret categories on these devices as well. Sadly, you can't do that because the apps don't work that way.
First of all, for obvious reasons you can't type the URL in the app. Even if you click on a link in your web browser, it will automatically open the Netflix app and take you to the home page.
I also tried to enter the ID number in the Netflix search bar. But as expected, it didn't work. Also, since you can't stream Netflix on your mobile browser, Netflix codes are not possible on Android or iOS.
Can you use Netflix codes on TV?
Another question that might pop-up in your mind is whether you can use these codes on your Android TV or while using Chromecast.
Sadly, just like the mobile app, you can't enter Netflix secret codes on your smart TV. The same story goes for Chromecast as it's also controlled by your smartphone.
All in all, you can use Netflix genre codes to find a new tv show or a movie. If you prefer watching anime, then you probably don't need to go through the tedious task of finding one as we already have a curated list of the best anime on Netflix as well as the best anime movies on Netflix.
FAQ
How do you unlock the secret menu on Netflix?
Netflix has secret sub-genre menus which can be accessed through Netflix genre codes. You just have to type "https://www.netflix.com/browse/genre/IDNumber" in your web browser and replace the IDNumber with the genre code.
How are Netflix secret codes created?
Netflix rarely talks about the secret codes but the popular perception is that they have been created with the help of machine learning and a bunch of hires by Netflix, who are itching to put each and every Netflix title under a category.