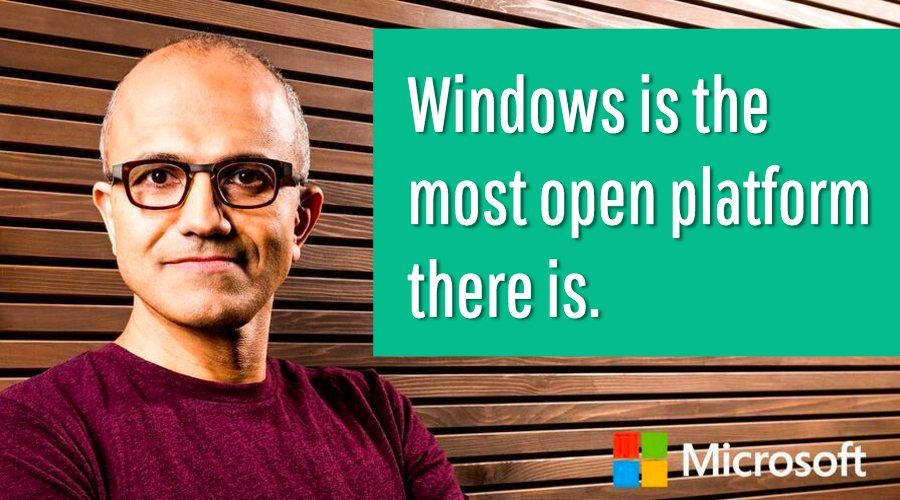 Short Bytes: Gartner Symposium ITxpo 2016 in Orlando, Microsoft CEO Satya Nadella talked about the strengths of Windows as  a platform. Calling it the "most open platform", he said that it's used to build products of billions of dollars worth. Well, we'll have to wait and watch how open source advocates react to this claim.
S
atya Nadella became Microsoft CEO in 2014. Since then, he has worked hard to establish Redmond as a company which is
open to different platforms and technologies
. At Gartner's annual symposium, via a telepresence link, Nadella shared his vision for Microsoft's different products.
Talking to Gartner analysts, Nadella said that "Windows is the open platform there is." He said that Microsoft has always taken this approach to bring the three major constituents of the tech world–users, IT, and developers. "When you bring them together, that's where the magic happens".
ZDNet reports that Nadella also talked about Microsoft's recent $26 billion LinkedIn acquisition. Nadella said that he personally "loves LinkedIn for LinkedIn" and calls Microsoft a custodian of the user data. The company plans to add value to LinkedIn's data and make it valuable for hiring, marketing and training purposes.
Coming back to Microsoft's openness, Nadella said that Microsoft wishes to become the platform that empowers every developer. Well, Nadella's statement will surely attract some passionate comments from the open source lovers who call Linux and OpenBSD as the most open platform.
To counter such arguments, Nadella said that Windows is used to build products of billions of dollars worth. Well, as ZDNet points out, this argument isn't going to convince open source advocates. On Nadella's part, it's also unlikely that he intends to hurt people who are willing to try out Linux on Azure. Simply, he wishes to attract more coders and makers on Windows platform.
Did you find this article helpful? Don't forget to drop your feedback in the comments section below.
Also Read: Top Microsoft Open Source Projects You Must Know