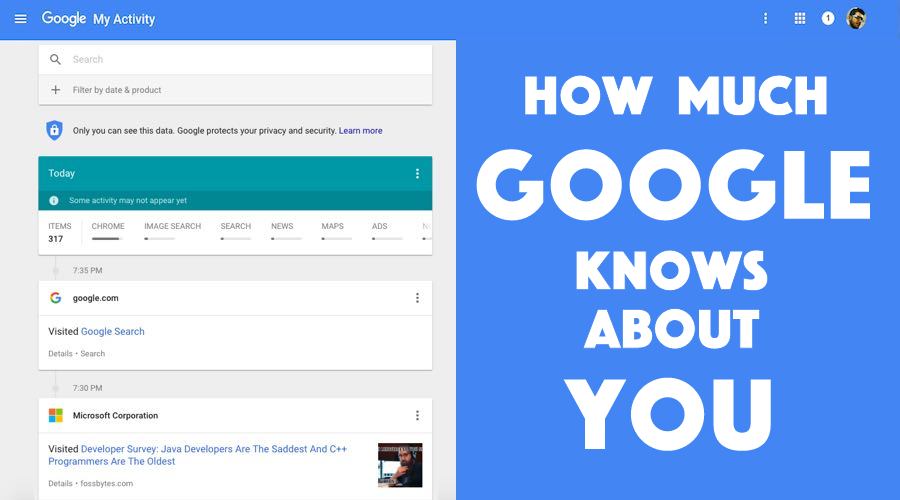 Short Bytes: Google has updated its My Activity page with a brand-new "Bundle View" look that allows you to see all your online activity at a single place. Here, you can sort the activities based on different filters and delete the stuff according to your choice.
E
verybody knows that Google is the king of our online world and it knows a great deal about us. It tracks our most activities like search history, the places we travel, and the websites we visit. Google tries to maintain a clean image by making everything public and giving the end-users complete control over their data.
In our previous articles, we have told you how to take a look at your browsing and voice search history and delete them. Now, Google is here with a new My Activity page that shows everything you do online.
Google has called this activity page a central place to view and manage your activity, the most visited websites, and your favorite videos.
The page lists the most recent activity first and groups the similar activities together. You can discover the things you've used in the past and delete specific items or entire topics in one go.
It's a well-known fact that Google uses all these information to serve you better services, suggest more helpful stuff, and display more relevant ads.
However, if you want to delete certain data that Google should exclude, feel free to delete such information.
This My Activity page lists information from Ads, Search, Play, Android, Chrome, YouTube, Image Search, Video Search, News, Maps, Books, Google Now, Finance, Help, Shopping, Developers, and Video Search.
Go ahead, visit the new Google My Activity page and take a look.
Did you find this article helpful? Don't forget to drop your feedback in the comments section below.
Also Read: Google Now Lets You Download & Delete Your Entire Search History